Lodging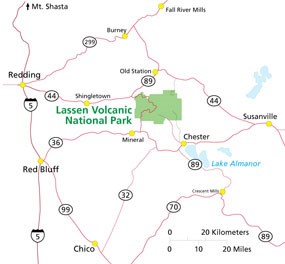 Accommodations in and around the Park
Campsites and camping cabins are the primary form of accommodation at Lassen Volcanic National Park.
Manzanita Lake Camping Cabins
New! Cabin reservations now available at lassenlodging.com
Enjoy one of twenty rustic cabins located on the north side of the Manzanita Lake campground, adjacent to Manzanita Lake, available mid-May through early-October. Reservations highly encouraged. Reservations are not currently available through recreation.gov as was the case in prior years. Cabin management has transferred to a new park concessioner, Snow Mountain, LCC. Please contact Snow Mountain directly with any questions regarding reservations at reservations@lassenlodging.com.
Drakesbad Guest Ranch
Drakesbad Guest Ranch in Warner Valley offers the only lodging within the park. Reservations are available early-June through early-October.
Management of the Guest Ranch has transferred to a new park concessioner, Snow Mountain, LLC. Please call them at (866) 999-0914 for reservations or visit their new website (in development) at lassenlodging.com.
Accommodations around the Park
View a list of businesses offering accommodations within a 60 mile radius of the park here. Please direct all inquiries to the individual businesses. For additional information about an area, contact the local Chamber of Commerce.
This list is not inclusive of all nearby lodging. Visit vrbo.com or airbnb.com for information on private rentals or hipcamp.com for public and private campsites near the park.

Last updated: May 10, 2019