Lodging
Campsites are the primary form of accommodation in Lassen Volcanic National Park. Camping cabins are available only at Manzanita Lake Campground. Drakesbad Guest Ranch provides the only lodging in the park.
Campgrounds
Lassen Volcanic National Park contains eight campgrounds. Six campground are located along the 30-mile park highway and three are located in the remote Butte Lake (northeast) and Warner Valley and Juniper Lake (southeast) Areas. Rustic camping cabins are available near the Manzanita Lake Campground.
Drakesbad Guest Ranch
Drakesbad Guest Ranch in Warner Valley offers the only lodging within the park. Reservations are required and are available early-June through early-October. Visit drakesbad.com, email reservations@lassenlodging.com, or call (877) 622-0221.
Accommodations Around the Park
Numerous communities around the park offer year-round lodging opportunities. In the winter months, it is best to arrange lodging before arriving as options and availability maybe limited.
Chambers of Commerce
See area map below for locations.
Burney (530) 335-2111
Redding (530) 225-4433
Mt. Shasta (800) 926-4865
Red Bluff (530) 527-6220
Chester/Lake Almanor (530) 258-2426
Susanville (530) 257-4323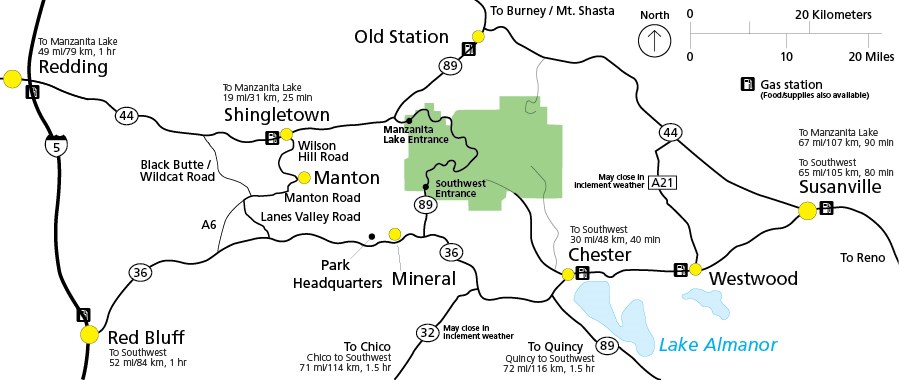 Last updated: February 21, 2021