Camping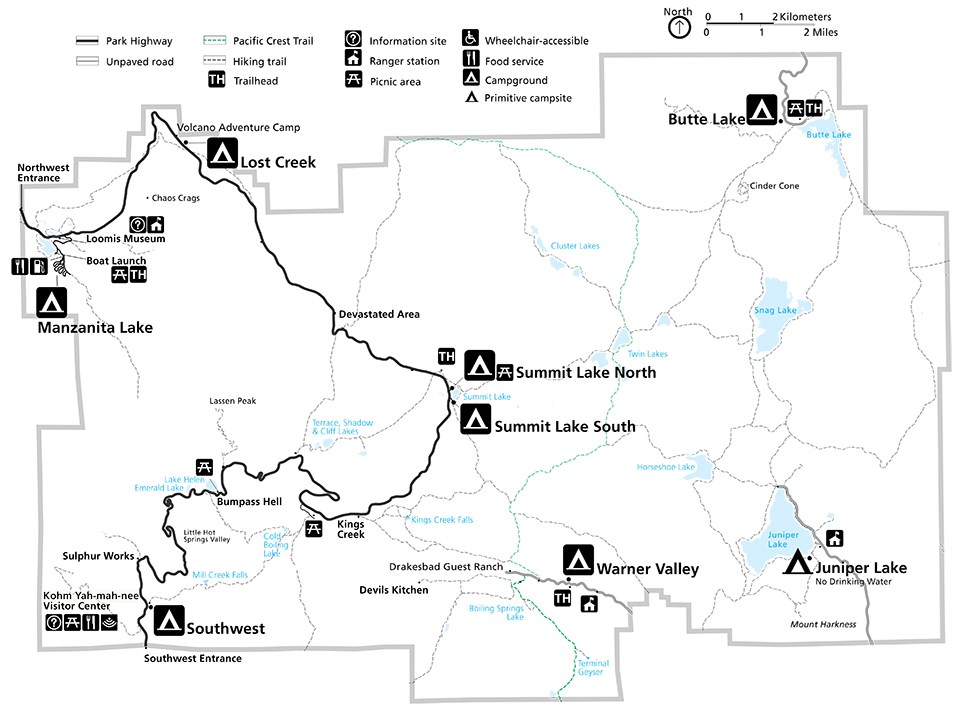 Lassen Volcanic National Park contains seven campgrounds. Reservations are highly recommended July through early September; reservations can only be made through recreation.gov. RVs and trailers are best accommodated at Manzanita Lake, Butte Lake, and Summit Lake Campgrounds. There are no hook-ups in the park; a dump station is available at Manzanita Lake. Southwest Campground is open year-round and changes to oversnow camping in the winter/spring snowy months. All other campgrounds are open approximately May/June through September/October. Opening and closing dates are dependent on snow depth and other conditions; changes will be reflected in the table below. Dispersed camping (sleeping in a vehicle along the road) is not allowed - you must stay in established campgrounds inside the park or obtain a backcountry camping permit.
Plan Your Camping Trip
The quickest way to find answers about camping in the park is to review this webpage. The most common questions about camping in the park are answered below:
Campground List
All Dates Are For 2021
| | | | | | | |
| --- | --- | --- | --- | --- | --- | --- |
| F | Flush toilets | | S | Shower and laundry nearby | DS | Dump station |
| V | Vault toilets | | A | Accessible sites available | B | Boat lauch nearby |
| R | Some reservable sites | | RR | Reservations required | N | No reservations |
Campground
Dates
Status
Elev.
# Sites
Fee
Features
Notes
Butte Lake
6/4-

10/18

Closed

6100'
101

$22

A, V, B, RV, R

Group sites

6/4-

9/6

Closed
6

$62 (*$35)

V, B, RV, RR
6 groups sites in B loop. No water after 9/7*

Stock corral

6/4-9/6
Closed
1
$37
RV, B, V, RR
Juniper Lake
6/25-

10/4

Closed
6800'
18
$12
V, B
Water is not available (lake only)

Group sites

6/25-

10/4

Closed
2
$32
V, B, RR
Water is not available (lake only)

Stock corral

6/25-10/4
Closed
1
$30
B, V, RR
Water is not available (lake only)
Lost Creek Group
6/11-9/20
Closed
5900'
8

$62

V, RV, RR
Manzanita Lake
5/21-snow closure
Closed
5900'
179

$26 / *$15

A, F, V, B, RV, S/L/S, DS, R
Pull-through RV sites available
*No water after 10/13

Group sites

5/21-6/28; 9/7-snow closure
Closed
5
$72
F, V, B, RV, S/L/S, DS, RR

Camping cabins

Closed
20
$76 - $101
A, V, B, S/L/S, DS, RR
Reservations at recreation.gov
Summit Lake
7000'

North

6/29-9/27
Closed
46
$24 / *$15
A, F, B, RV, R
*No water after 9/14

South

6/29-9/27
Closed
48
$22 / *$15
V, B, RV, R
*No water after 9/14

Stock corral

6/29-6/13
Closed
1
$37
RV, B, V, RR
*No water after 9/14
Southwest Walk-in
Year-round
Open
6700'
20
$16 / *$10
F, V, N
*No water mid-October through mid-May, or until snow-free.
Warner Valley
6/4-

10/11

Closed
5600'
18

$16

V, RV, N
Rough gravel road; low clearance vehicles and trailers not advised.
*Dry Camping Reduced Fee
Drinking water and flush toilets are not available when dry camping is in effect. The normal fee applies whenever water is available. The availability of water is generally dependent on overnight temperatures; water systems cannot function when temperatures are consistently below freezing level.
Campsite Reservations
Most campsites in the park are available by reservation only. Juniper Lake (except Juniper Lake Group), Warner Valley and Southwest Walk-in Campgrounds do not accept reservations. Campsites are usually available on a first-come, first-served basis once water systems are turned off for the winter snow season, at which point each campground is open to "dry" camping until its closure date.
View all reservable campgrounds in the park at Recreation.gov or click on a campground name in the table above to access its reservation webpage.
Campsite reservations are only available online at Recreation.gov or via phone at 877-444-6777.
Reservations can be made up to six months in advance of desired date. Reservations usually fill by April and remain full thorugh early September.
Bring a copy of your campsite reservation including the campground name and campsite number with you to the park. We recommend taking a photo of it with your phone in case you misplace it. Please contact a campground host or entrance station staff if you are unable to locate your reservation information. Please note that a campground host is not available at every campground.
If you would like to request a cancellation or refund, please contact Recreation.gov through the link in your confirmation email. Park staff and campground hosts are unable to create or modify campground reservations.
Camping Regulations
Check-in and Check-out
Check-out time is 12 pm. Check-in time is 1 pm. Campers may occupy a campsite at any time if vacant or once the occupant leaves. If you have a reservation, verify your name and dates listed on the reservation card on the campsite post. Contact a camp host (if available) or entrance station staff if there is an error. Campers without reservations can learn more about obtaining a first-come, first-served campsite. Campsites cannot be held and must be paid for upon occuping the site.
Rates
Rates vary by campground and are reduced for dry camping (when the drinking water is not available). Senior and Access pass holders receive 50% off camping fees; this does not include the dump station fee. Park entrance and campground fees are paid for separately. If self-registering, please fill out an envelope for your camping fees, payable at the campground. Camping fees must be paid within thirty minutes of occupying a site. Camping fees are not refundable and stays are limited to 14 days per year.
Campsite Capacities
Campsites are limited to 3 tents, 6 people, and 2 vehicles (including an RV or trailer) per site. Group sites are limited to a minimum of 10 and a maximum of 25 people and 6 vehicles. Vehicles must stay on paved/graveled areas. Additional parking is only available in the designated overflow parking lot near each campground.
Campfires
Fires are allowed only in designated campfire rings. Do not build rock rings or burn trash in the grate. Never leave fires or hot coals unattended and extinguish them completely when not attended to. If it's too hot to touch, it's too hot to leave. Learn more about how to maintain and extinguish your campfire at smokeybear.com.
Firewood
You may gather dead wood that is down on the ground within 30 feet of the road and less than 4 inches in diameter. Do not cut, saw, or break any standing trees, dead or alive for firewood. Chainsaw use is not permitted. Firewood is available for purchase at the Manzanita Lake Camper Store and gift store inside the Kohm Yah-mah-nee Visitor Center. Buy firewood where you burn it. Tree-killing insects and diseases can lurk in or on firewood. As a rule of thumb, it's best to only move firewood up to 10 miles. Learn more at dontmovefirewood.org.
Leave No Trace
Help care for your national park and campgrounds. Leave your campsite as you found it. Do not create trenches, level your site, or put nails in trees. Dispose of all trash and recyclables in provided bins. Do not burn trash or leave it in campfire rings.
Dispersed Camping
Camping is permitted only in the campgrounds listed above. Backpackers may camp in the backcountry with a permit. It is unlawful to camp outside of established campgrounds, including sleeping in your vehicle along the road or "boondocking". The surrounding Lassen National Forest permits dispersed camping (or camping outside of a developed area) in many areas.
Quiet hours
Respect your fellow campers by observing quiet hours between 10 pm and 6 am. Generators may be used only from 8 am to 10 am; 12 pm to 2 pm; and 5 pm to 7 pm. Do not run continually and please keep use to a minimum so other campers are not disturbed.
Food Storage and Wildlife
Store all food and scented items in the bear-resistant storage locker provided at your campsite. It is also safe to store food and scented items in hard-sided vehicles. Do not leave food and other items with a scent unattended on tables or around your campsite. It is illegal to feed, frighten, or disturb any wildlife. Read more about proper food storage in the backcountry.
Sanitation
Wash dishes at your campsite, not in restrooms or water spigots. Please do not wash clothes, hair, or bathe at water spigots or sinks. Strained dishwater must be disposed of in the grates located in front of each restroom or industrial sinks. Dispose of food particles in trash bins, not in the sink drains or grates. Coin operated showers and laundry machines are at the Manzanita Lake Camper Store. Gray water from RVs and trailers must be contained and may be disposed of at the Manzanita Lake dump station. Refuse receptacles are available throughout each campground.
Pets
Pets are welcome in park campgrounds, however they must be attended and physically restrained on a leash not longer than 6 feet at all times. Pets are not permitted on trails or inside park facilities. Read more about visiting the park with your pets.
Vehicles and Bicycles
Keep all vehicles, including motorcycles, bicycles, and trailers on paved areas at all times to prevent damage and reduce risk of wildfire. The speed limit on campground roads is 10 miles per hour; most campground roads are one-way. Bicycles are permitted on paved areas only. California law requires people under 18 years of age wear a helmet. Learn more about biking in the park.
Amenities & Services
Campsite Amentities
All campsites are equipped with a picnic table, fire ring, and bear-resistant storage locker. Store all food and scented items in the bear-resistant storage locker. These items may also be stored in a hard-sided vehicle. Storage lockers measure 4' x 3' x 2.5' (30 cubic feet). Group campsites are equipped with three picnic tables, three fire rings, and three bear-resistant lockers.
Campground Amenities
All campgrounds except Juniper Lake offer spigots and/or sinks for drinking water. Campgrounds with flush toilets also include one or more utility sinks for dish washing. All campgrounds have receptacles for trash and recyclables. Due to freezing wintertime temperatures, water may not be available at a campsite in early summer or late fall. If water is not available, a dry camping reduced rate applies (see dates and rates in the campground table).
Camper Services
The Manzanita Lake Area offers the most camper services. The Manzanita Lake Camper Store is located at the entrance to the Manzanita Lake Campground. Showers and a laundromat are available only at the Manzanita Lake Camper Store. Both take quarters; a change machine is located by the showers. The Manzanita Camper Store also offers camping supplies, food, and souvenirs mid-May through mid-October. The only dump station in the park is located on the road to Manzanita Lake Campground.

The Kohm Yah-mah-nee Visitor Center is located adjacent to the Southwest Campground and offers food, souvenirs, and a small selection of camping supplies. There are no services at or adjacent to the Butte and Juniper Lake campgrounds. Drakesbad Guest Ranch, near Warner Valley Campground, offers reservation-only dining and a small gift shop with a few souvenirs and snacks. Showers and a laundromat are available in the town of Chester, which provides access to the Juniper Lake and Warner Valley Areas. A dump station is located south of Chester at the Lassen National Forest Almanor RV Dump Station. View all park goods and services.
Accessibility
Wheelchair accessible campsites include Manzanita Lake A32 and B9, Butte Lake A6, and North Summit Lake A-1. All accessible sites are located near accessible restrooms. Accessible campsites are first-come, first-served only. At least one vehicle at an accessible site must display a valid disabled person placard or license plate. Manzanita Lake Camping Cabins 1,8,14, and 18 are accessible. Each cabin includes a bed, propane heater, lantern, bear box, fire ring, access ramp, stairs with handrails and an extended picnic table. Learn more about accessibility in the park.
Obtaining a First Come, First-Served Campsite
Reservations are highly recommended between July and early September. First-come, first-served (FCFS) sites are most easily obtained in late spring and early summer. Juniper Lake, Warner Valley and Southwest Walk-in campgrounds are first-come, first-served only. All group sites, including Lost Creek Group Campground are reservation-only.
Sites that do not have a reservation placard on the campsite post may be used for FCFS camping for that night only; a reservation may begin the next day. You may check into a vacant, non-reserved campsite at any time; please note quiet hours and be respectful for your fellow campers.
Do not rely on campground hosts (if available) to assist with locating vacant sites. The best practice is to drive around the campground loops and look for empty sites without reservation placards (or a reservation placard for future dates).
FCFS campsites are usually more numerous before noon and on weekdays. Park staff cannot predict if and when vacancies will be available the day you wish to camp.
You may wait for an occupied campsite that will become available after the noon check-out time. Be courteous to campers who are in the process of packing up and checking out of a site. You may not put a tag on the site until the current occupants are completely vacated.
Campground capacity status is available at Manzanita Lake and Summit Lake campgrounds and sometimes Warner Valley campground. Camp hosts update signs at these campground entrances when full. Capacity status is not reported or available for Butte Lake and Juniper Lake campgrounds.
Have an alternative ready for camping outside of the park in case all park campsites are full. The surrounding Lassen National Forest has multiple campgrounds with some FCFS.
How to Claim and Pay for a FCFS Campsite
Once you have a located a site that does not have a reservation placard for that night:
You may leave an item such as a camp chair at a FCFS site while you go to self-register. You may not hold a campsite for someone else who has not yet arrived.
Contact the camp host (if available) to confirm the site's availability. If not camp host as available, proceed to step 3.
Go to the kiosk at the entrance to the campground and read the instructions for FCFS registration posted in the bulletin case.
Pay for your site by self-registration. Grab a green envelope from the box and fill it out completely. Insert your payment into the envelope, secure and deposit it into the iron ranger; be sure to remove the receipt tag to post at your campsite. Credit card payment is accepted by filling out the slip inside the envelope.
Post your self-registration receipt tag at your campsite. If a campsite is still occupied up to the noon check-out time, you must wait to hang your receipt until the current occupants are completely vacated.
Last updated: January 6, 2021