Campgrounds of Lassen Volcanic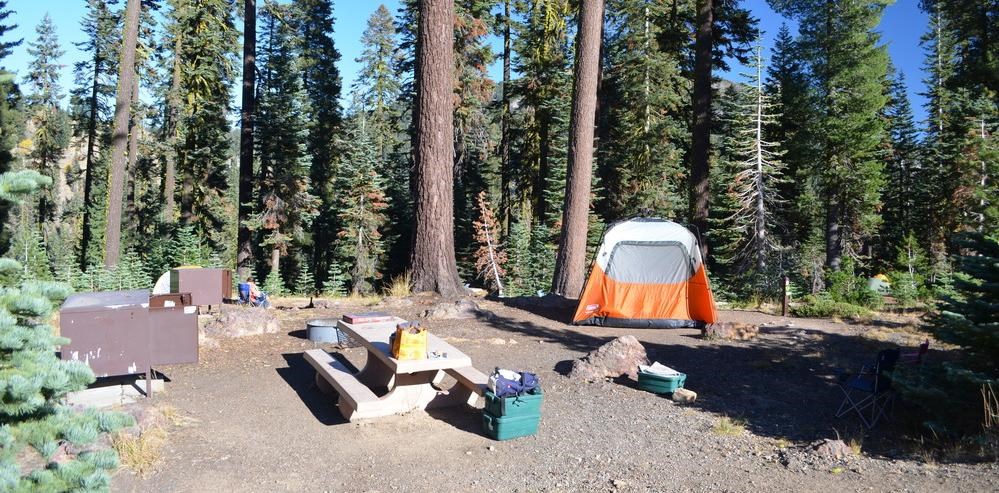 Lassen Volcanic has seven campgrounds that range from developed to primitive. Four of the park's campgrounds accept resesrvations. Three campgrounds are first-come, first-served only*. All group sites and stock corrals require reservations. Each campsite has a picnic table, fire ring equipped with grill, and a metal bear box for food storage. There are no hookups in the park. A dump station is located near Manzanita Lake.
*
Please note that in designated non-reserveable sites and campgrounds, the park may post reservation cards for park sponsored groups such as researchers or park volunteers.
Reservations Available through www.recreation.gov
Campsite, group campsite, and stock corral reservations are available through www.recreation.gov or by phone at 1-877-444-6777.
Manzanita Lake Camping Cabins
New! Cabin reservations now available at lassenlodging.com
Enjoy one the park's rustic cabins located on the north side of the Manzanita Lake campground, adjacent to Manzanita Lake. Reservations are not currently available through recreation.gov as was the case in prior years. Cabin management has transferred to a new park concessioner, Snow Mountain, LCC. Please contact Snow Mountain directly with any questions regarding reservations at reservations@lassenlodging.com.
Table Reflects 2020 Dates
Campground
Dates
Status
Elev.
No. Sites
Fee
Features
Notes
Butte Lake
6/5 -10/20
Closed
6100'
101

$22

A, V, W, B, RV, R
Volcano Adventure Camp
6/12 - 9/20
Closed
5700'
Crags is now Volcano Adventure Camp
Juniper Lake

6/26

-10/6
Closed
6800'
18
$12
Water is not available (lake water only)
Manzanita Lake
5/22-snow closure
Closed
5900'
179

$26 / $15*

A, F, V, W, B, RV, S/L/S, DS, R
Pull-through RV sites available
*No water after 10/13
Summit Lake North
6/26 - 9/29
Closed
7000'
46

$24 /*$15

A, F, W, B, RV, R
*No water after 9/15
Summit Lake South
6/26-9/29

Closed

7000'

48

$22 / $15*
V, W, B, RV, R
*No water after 9/15
Southwest Walk-in
All year
Temporarily Closed
6700'
20
$16 / $10*
F, V, W, N
*No water mid-October through mid-May, or until the campground is snow-free.
Warner Valley
6/6-10/12
Closed
5600'
18

$16 / $12*

V, W, RV, N, R
Rough gravel road; low clearance vehicles and trailers not advised.


Group Campsites
Butte Lake
6/5 - 10/20
Closed
6100'
6

$62/
*$35 (no water)

V, W, B, RV, RR
Six groups sites are in B loop.
*No water after Sept.10
Lost Creek
6/12 -9/22
Closed
5900'
8

$62

V, W, RV, RR
Closed 7/27- 8/4 for special event.
Manzanita Lake
5/22 - 6/29 & 9/7 - 10/13
Closed
5900'
5
$72
F, V, W, B, RV, S/L/S, DS, RR
Juniper Lake
6/26 -10/6
Closed
6800'
2
$32
V, B, RR
No water at campground.


Stock Corrals
Butte Lake
6/5-9/8
Closed
6100'
1
$37
RV, B, V, RR
Juniper Lake
6/26 -10/6
Closed
6792'
1
$30
B, V, RR
No water at corral or campground
Summit Lake
6/26

- 9/15
Closed
6995'
1
$37
RV, B, V, RR
| | | | | |
| --- | --- | --- | --- | --- |
| F | Flush toilets | | S/L/S | Pay showers/laundry services nearby |
| V | Vault toilets | | DS | Dump station |
| RV | RV sites available | | A | Accessible sites available |
| R | Partly reservable | | B | Boat launch |
| RR | Reservations required | | N | No Reservations |
*Reduced fee when water is unavailable:
- Full rate fee applies when water is available, regardless of using campground water or not.
- Spigots are not at each campsite, but located throughout the campground.
- Water won't be available with threat of freezing temperatures.
All sites are provided with a picnic table, fire ring, and bear proof storage locker.
Southwest Walk-in Campground special winter regulations
: when snow covers the campground, fires and fire pans are not permitted. Self-contained barbecues are allowed in the paved parking area; please dispose ashes properly.
Campground Information & Regulations
Capacity
Campsites are limited to three tents, six people, and two vehicles (including RV or trailer) per site. Group sites are limited to between 10-25 people and six vehicles, or 1 RV or trailer.
Campground Fee Discounts
Senior and Access pass holders are entitled to a 50% discount on camping fees. Other passes including the Interagency and Military do not entitle holders to a discount. Learn more about park fees and passes
here
.

Food Storage
This is bear country; deer, squirrels and chipmunks are also year-round residents. Store all food and other scented items in the bear proof box provided at your campsite, including pet food, deodarant, toothpaste, lotions, etc. It is illegal to feed, harass, or disturb any wildlife. All resources such as wildflowers, plants, animals, and artifacts are protected by law in national parks. Please leave them for others to enjoy. Food storage boxes measure 4'x3'x2.5' (30 cubic feet). Food and scented items can also be stored in hard-sided trailers or RV's. Soft-sided tent trailers must store items in the bear proof box.
Quiet Hours and Generators
Quiet hours are from 10 pm to 6 am. Generators may be used
only
from 8 am to 10 am, 12 pm to 2 pm, and 5 pm to 7 pm.
Campfires
You may gather downed, dead wood. Do not cut, saw, or break any standing trees, dead or alive. Wood brought into the park from outside of the local area may introduce invasive insects. The Camper Store and the Lassen Cafe and Gift sell bundled firewood. Fires are allowed only in designated fire rings. Do not build rock rings outside of the established ring or burn trash in the ring. Never leave fires or hot coals unattended and extinguish them completely before leaving.
Sanitation
Wash dishes at your campsite, not in restrooms or at water spigots. Please do not wash clothes, hair or bathe at water spigots or industrial sinks. Strained dishwater must be disposed of in the grates located in front of each restroom or industrial sinks. Dispose of food particles in trash bins, not in the sink drains or grates. Gray water from RVs and trailers must be contained & disposed of at the Manzanita Lake dump station. Water is a precious and limited resource; use it wisely. Please sort and place all trash and recyclables in the appropriate bins.
Dump Station
A dump station is located near Manzanita Lake Campground. Fee. Open late May through mid-October.
Camper Store, Laundry, and Showers
A store, showers and laundry machines are available near the Manzanita Lake campground. Showers and laundry machines take quarters; a change machine is located by the showers. Your quarters maintain the wastewater treatment system in the park and help return clean water to the park environment. Open late May through mid-October.
Vehicles and Bicycles
We encourage visitors to enjoy the campground. To help ensure the safety of all visitors, vehicles, motorcycles, trailers, and bicycles must stay on paved areas at all times.
Pets
Pets are welcome in park campgrounds, however they must be attended and physically restrained on a leash not longer than 6 feet at all times. It is the owner's responsibility to clean up after them. Read more about Pets in Parks.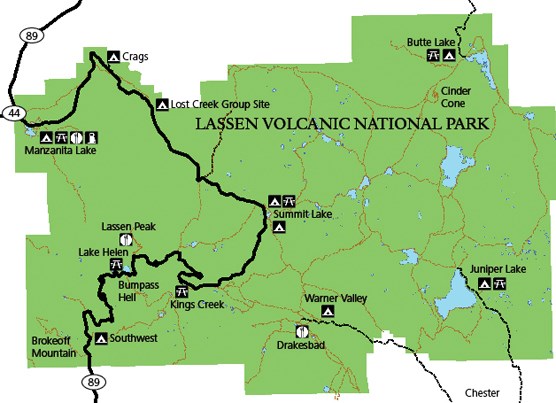 Last updated: April 1, 2020