Climate Change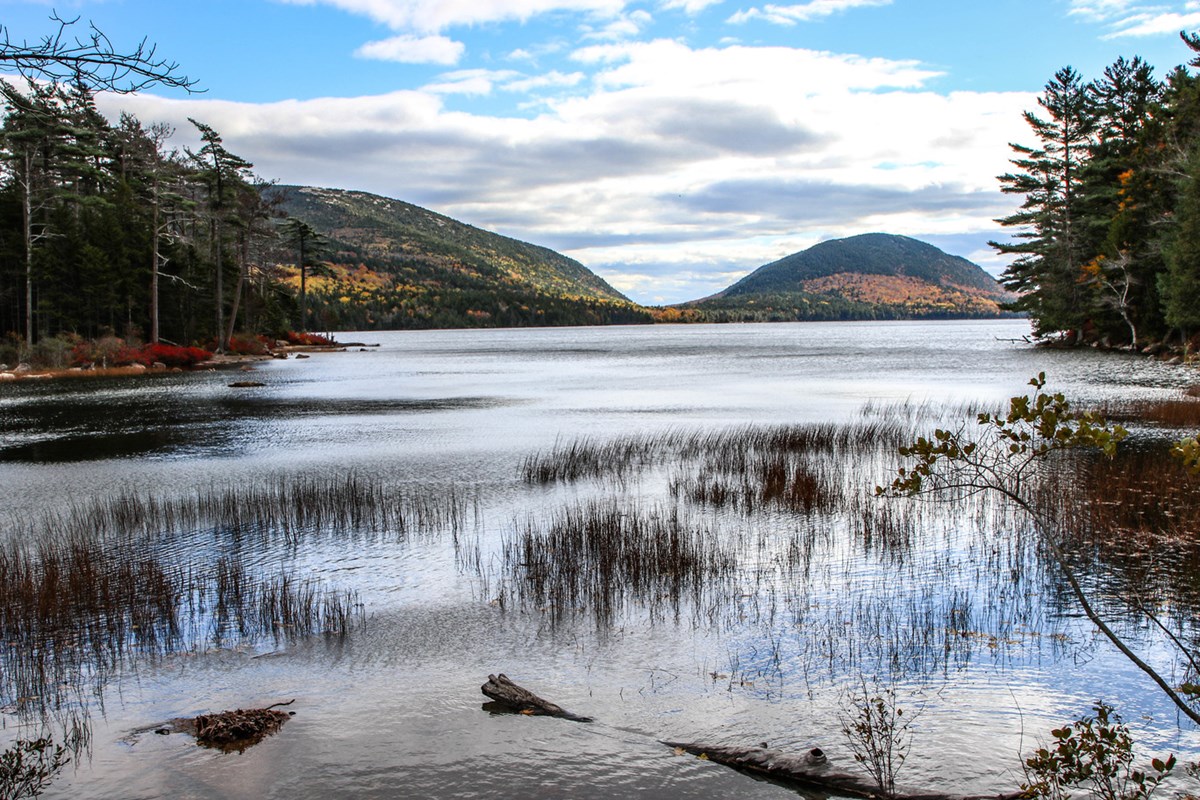 Change has always been a powerful and often necessary force of nature. National parks and the stories they represent help us to understand and appreciate how much our lives are influenced and interconnected by environmental, historical, and social change but with change inevitably comes loss. As national parks and green spaces everywhere experience large scale climate change, what do we stand to lose?
Impacts to Acadia's Climate
Acadia's climate is changing. While changes in weather take place over minutes, hours, or days, changes in climate are measured over years, decades, or centuries. Weather data have been collected in Acadia since 1916, giving us a window into long-term shifts in the park's climate.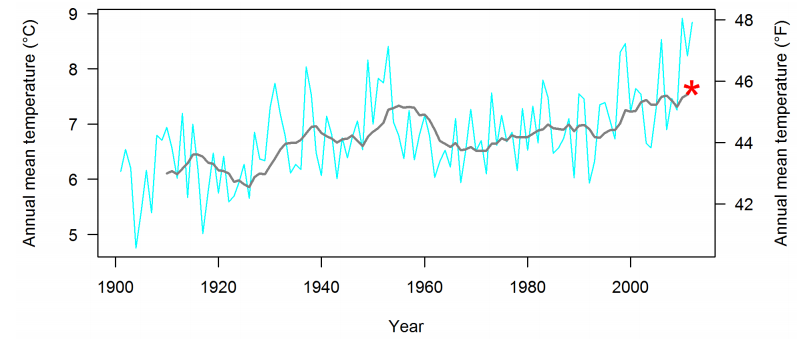 Rising Temperature in the Water: The normally cool Gulf of Maine, which surrounds Acadia National Park, has risen approximately 3°F over the last century. On the surface, this may seem like a small difference, but it means the Gulf of Maine is warming rapidly and is expected to warm much faster than most of the world's oceans.
Rising Temperatures on Land: The annual average temperature at Acadia has risen 3.4°F over the last century. The warming we expect by the end of the century is approximately ~5-13°F; It took only 8°F to transition from the glacial maximum 20,000 years ago (when Acadia was covered by a mile of ice) and the beginning of the century.
Increase of Pests and Diesease: Acadia's visitors are now becoming accustomed to the health risks represented by Lyme and other diseases carried by ticks, with warming implicated in the increase in ticks and these diseases throughout coastal and southern Maine.
Longer Growing Seasons: Maine has been experiencing earlier springs, later falls, and much longer growing seasons.
Why Is This Rapid Change Happening?
Like a sleeping bag on a cold night, natural greenhouse gases perform the essential function of trapping enough heat in the atmosphere to support life on Earth. However, fossil fuel burning, deforestation, large-scale live-stock farming, and other human activities have produced historically high levels of carbon dioxide, methane, and other greenhouse gases in the atmosphere—carbon dioxide levels today are at their highest in three million years. While Earth does go through natural warming and cooling cycles lasting tens of thousands of years, the vast majority of scientists agree that recent changes in Earth's climate are caused by human-produced greenhouse gases that trap heat close to the planet's surface.
What Do We Stand To Lose?
Acadia has already seen the loss of some of its major species, without a significant reduction in greenhouse emissions, there is a chance that some of these fragile pieces could be lost forever:

Native Animals- Native species in the Gulf of Maine have adapted over long periods of time to thrive within a certain temperature range. When the temperature increases, the environmental conditions to which they are adapted are suddenly gone and for many species, warmer waters are completely inhospitable.

Native Plant Communities- Acadia's plant communities have already changed dramatically, with one in five of the species documented a century ago by the Champlain Society no longer found in the park. While our forests are likely to adapt over time with a new mix of species, the transitions can be disruptive. Trees under stress may be killed more easily by pests and pathogens, including invasive species. A recent example is the widespread and unexpected death of many of Acadia's red pines.

Recreation Opportunities- in the Northeast of the United States, winters are projected to warm three times faster than summers resulting in less snow coverage and fewer temperatures below freezing. This means fewer days of ice skating, snow shoeing, cross country skiing and other cherished winter activities in Acadia.
Thunder Hole- Carved naturally out of the coastal rocks, waves have been battering this tiny inlet for centuries. There is a small cavern at the bottom of the inlet and the combination of the waves hitting the rocks and the release of air from the cavern cause a thunderous boom to happen. Often, visitors say a trip to Acadia is not complete without a visit to Thunder Hole. If global warming and sea level rise continues unabated, it is very likely Thunder Hole will be covered and other portions of Maine's coastline will be forever changed.

Coastal Buffer Zones- Rising sea levels put the very existence of the marshes in the park such as Pretty Marsh, Bass Harbor Marsh, and Northeast Creek at risk. Marshes like act as natural water filters and provide a habitat for fish and birds and other wildlife; they are nursery grounds for fish species and they serve as buffers between the ocean and the upland area, mitigating wave and wind impact during storms. Most importantly, marshes absorb carbon dioxide from the atmosphere, something they do better than any other type of habitat.

Lobster- Significant species migration due to climate change is already occurring in the Gulf of Maine. As the Gulf continues to warm, there is a possibility that the lobsters could eventually migrate beyond the reach of Maine's lobstermen and women.

Changes Seen Near and Far
What's Next?
Without a major reduction in these global greenhouse gas emissions, scientists project the following trends in Acadia's climate over the next century:
Faster warming: In the next 50-60 years, average summer and winter temperatures in Maine are projected to increase by over 5°F (2.8°C) relative to pre-industrial levels.

Extreme weather: More intense storms threaten and associated heavy rainfall have caused damage to some historic trails, carriage roads, hiking trails, and even park motor roads.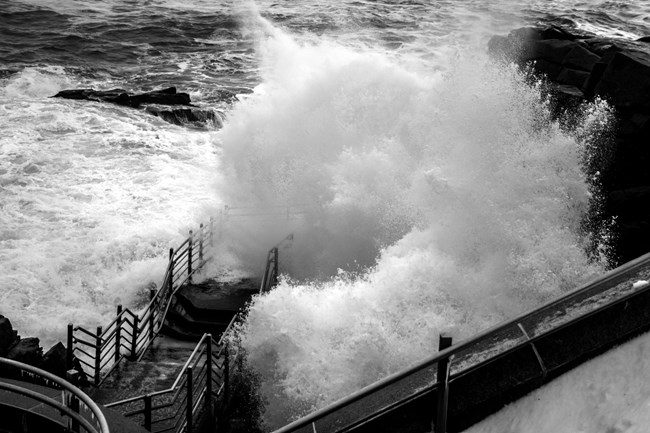 Climate change is already altering Acadia's ecosystems and the experience of visiting the park—but projecting the impacts of these changes is a complex science. Some natural cycles like seasonal rainfall, species migration, and tree death already take place but are exacerbated by climate change. Small shifts can set off domino effects; for instance, warming temperatures melt snow in the mountains and expose darker-colored ground that in turn absorbs more heat, leading to more snowmelt. Still other changes are driven by complex interactions between climate and fire management practices, natural drought, animal behavior, invasive species, and human use of the park. By studying the shifts we are already seeing in Acadia, we can better understand the meaning of conservation in a time of change.
New Roles for Parks
National parks take on new roles in a time of large-scale change. They provide refuge to threatened species, protect critical water supplies, and serve as outdoor laboratories for scientists to study changes and impacts. They are also centers of teaching and learning, where millions of people come together to connect with the natural world, our history, and each other.

Acadia is not alone. Although climate change presents local challenges, it is a global issue. No one person, park, or country can manage its impacts alone. Many visitors leave the park inspired by Acadia's beautiful views, iconic cliffs, and amazing biodiversity, but our ability to conserve, protect, and teach doesn't end at the park boundaries. What changes are taking place in your neighborhood, state, or country? As we continue to share the unfolding stories of climate change, what role will you play?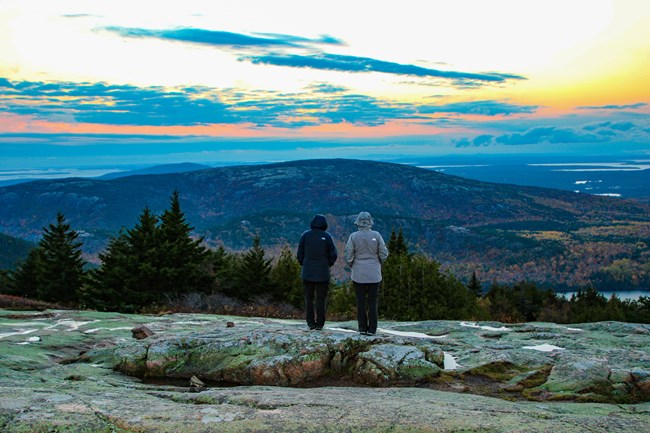 How You Can Help
You are a part of this equation, too. Visits to Acadia—now up to an estimated 3.3 million per year—are strongly influenced by weather, and therefore, over the long-term, the changing climate. The park now experiences a longer busy season. With a workforce composed largely of seasonal employees, it is difficult for the park to adjust to the longer season. The increase in visitation is contributing to crowding, sometimes unsafe conditions, and damage to natural resources at favorite destinations such as Cadillac Mountain. The park is now engaged in creating a new transportation plan in hopes of resolving some of these challenges and continuing to provide high-quality experiences for visitors.

Whether it's helping out with citizen science while hiking a trail, choosing a bike over a car to explore the park, or reducing your carbon footprint of your house... check out below what you can do while you're here and at home to continue caring for Acadia National Park and green spaces everywhere.
Visit our keyboard shortcuts docs for details
Duration:

6 minutes, 7 seconds
Jacquelyn Gill, a paleoecologist and Assistant Professor of climate science at the University of Maine, discusses coring and "tasting" the ice age. National Park Service and Schoodic Institute staff assisted with coring in 2016.
Last updated: August 4, 2021