Science & Research
Visit our keyboard shortcuts docs for details
Duration:

41 minutes, 54 seconds
David Shaw's film launching the collaboration with several organizations for the "second century stewardship" program.

"This collaboration is intended to more powerfully engage science in America's national parks to benefit park stewardship and to encourage public engagement in science through park experiences." - David Shaw
Parks for Science, Science for Parks
In any given year, as many as 80 scientists do field research in Acadia National Park, and many more conduct research at the Schoodic Education and Research Center, the park's museum, and at many of the park's neighbors, such as College of the Atlantic, Mount Desert Island Biological Lab, Jackson Lab, Abbe Museum, and the area's many historical societies, museums, and libraries. The insights produced by this research play a central role in the management of the national park and other protected areas. The research also advances basic science and our understanding of natural history and human-natural systems.
If you are interested in seeing past research projects at Acadia, please visit https://irma.nps.gov and search for Acadia.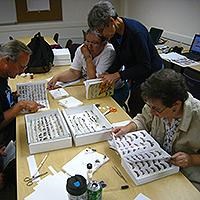 Permits
To do research in Acadia National Park, you must apply for a research permit through the Research Permit and Reporting System. For more information on the policies, conditions, and procedures related to applying for a permit, please visit our Permits page here.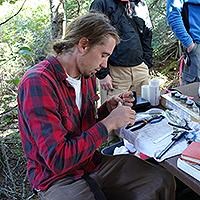 Long-term Natural Resource Monitoring
The National Park Service's Inventory & Monitoring Northeast Temperate Network (I&M NETN) program helps Acadia document and keep track of the health of a wide array of park natural resources. Breeding birds, forest health, rocky intertidal communities, water quality, and more are monitored each year by the network to give park managers the most current information possible so they can make the best-informed decisions about taking care of the park. Visit
NETN's Acadia National Park page
to learn more.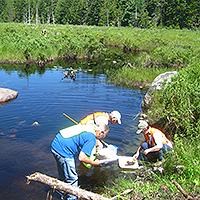 Reports
Whether specimen data, GIS information, or Investigator's Annual Reports, reports are crucial to document the research that has been done in the park, and shares that research with the community. For more information on documentation required in research at Acadia National Park, please visit our Reports page.
Contact Us
Science Coordinator
Abe Miller-Rushing
(207) 288-8733
(207) 288-8709 (fax)
abe_miller-rushing@nps.gov
Science Information and Communications Manager
Emma Albee
ealbee@schoodicinstitute.org
Collections Information
acadia_collections@nps.gov
Acadia National Park
PO Box 177
20 McFarland Hill Drive
Bar Harbor, ME 04609
Last updated: October 3, 2017