Coast & Rocky Shoreline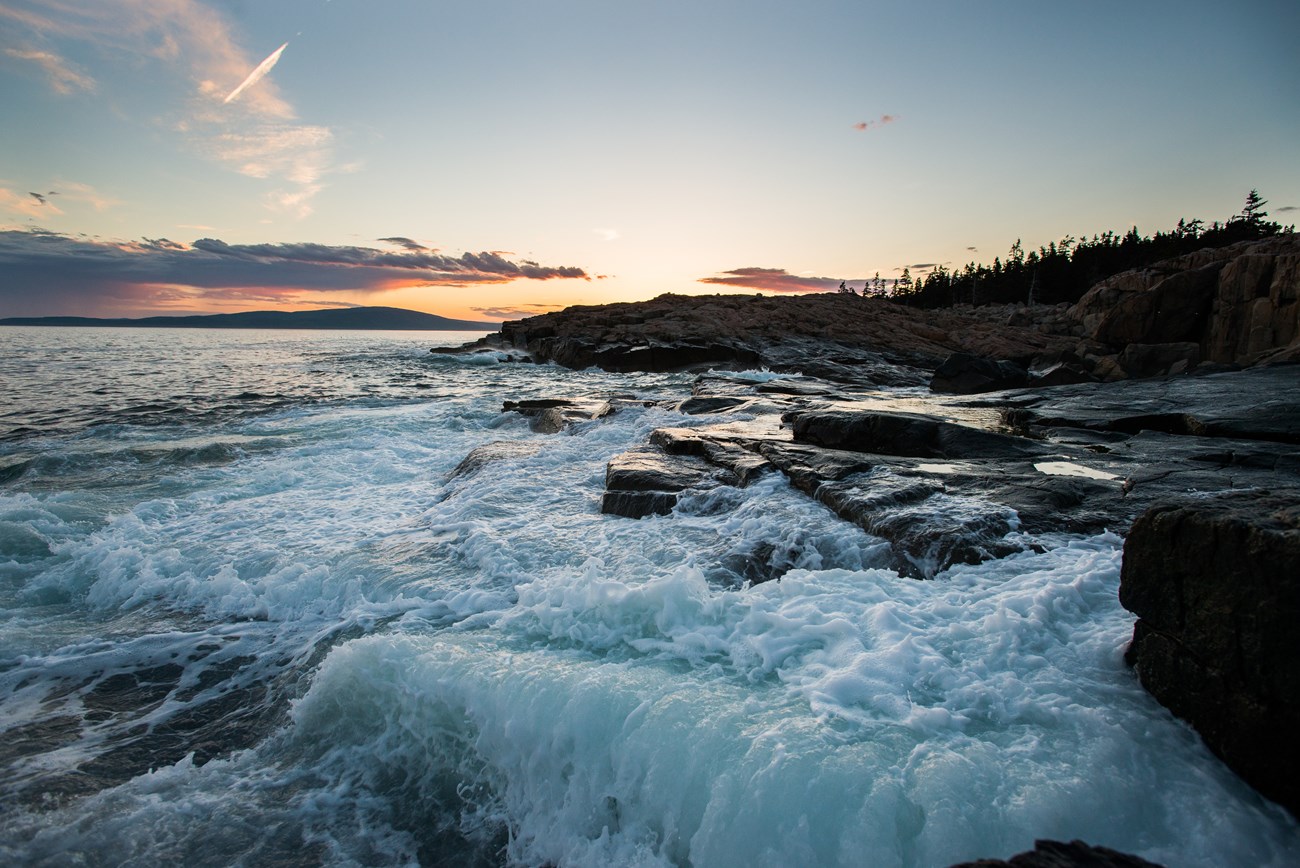 Without the sea, Acadia would be like a gem without a setting. The land rises from the ocean into mountainous summits and an etched, rocky coastline. Each headland, bay, and inlet reveals the majestic interface between sea and land.

Acadia protects nearly 64 miles of coastline on Mount Desert Island, Schoodic Peninsula, Isle au Haut, and other islands. Each year millions of people see the park's dramatic and iconic coastline on either a scenic drive along the Park Loop Road or on foot from overlooks and hiking trails. Otter Cliffs and Schoodic Point are famous and frequently photographed coastlines, where waves crash up high and show the erosive power of the ocean.
Formed By Oceans in Time
The land that we know as Acadia began as mud, sand, and volcanic ash, deposited in an early ocean then buried and pressurized into rock. Rising mountains were shaved down by ice sheets that covered the north. This resilient land that makes up Acadia National Park began rising after glaciers retreated north around 15,000 years ago. Since that time, the forces of the vast ocean and weather have carved Maine's coastline into mudflats, salt water marshes, beaches, and a rocky shoreline.
Life on the Edge
After the ice sheets melted, sea level rise basically stopped--rising less than an inch every one hundred years. Animal and plant life as we know it settled into these coastal habitats. Influenced by ocean and air temperatures, precious nutrients, and the twice-daily rise and fall of the ocean tides, animal and plant life in the coast is truly life on the edge. Twice daily, the nutrient-rich ocean waters cover these plants and animals at 'high-tide'. However, during the 'low-tide', the ocean departs.

On the rocky shoreline, low-tide leaves behind pools of water in the rocks known as tidepools. Inhabited by sensitive sea stars, dog whelks, blue mussels, sea cucumbers, rockweed, and other creatures and plants, even small changes in nutrients and weather can have drastic consequences. On coastal mudflats and in salt water marshes, the departing tide leaves a muddy bottom exposed and worms and other creates are an easier catch for birds and other land animals and sea wildlife. Beaches become wider.
A Future in the Balance
With over nearly 64 miles of total coastline and forty miles of rocky shoreline, Acadia possesses a tremendously rich intertidal flora and fauna. In recent years climate change has sped the pace of sea level rise again, now rising more than an inch per decade (more than 10 times faster than before climate change) and getting faster as conditions continue to warm. Warming waters have led to an increase in ocean invasive species that harm and out-compete fragile native ones. Human impacts from tourism and air pollution join these influences in adding pressure that threatens to tip the scales. Acadia National Park staff and out partners-in-science are working to study and manage this fragile environment for future generations.
Last updated: August 14, 2023