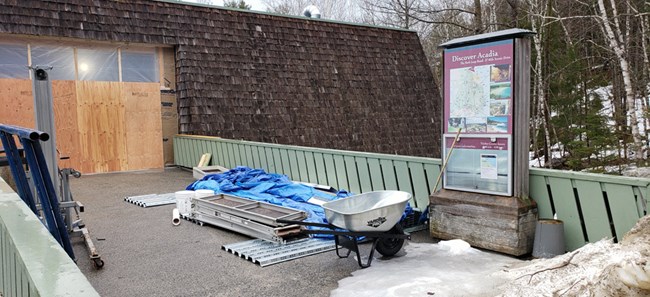 Current
---
Main Visitor Center Gets Long Overdue Stopgap Improvements

► Big changes are underway at the Hulls Cove Visitor Center, the main visitor contact facility at Acadia National Park. When the building opens again sometime this summer, expect upgraded restrooms and a better arrangement for getting information, buying entrance passes, and learning about the park.

While the project addresses a number long overdue stopgap improvements, many significant issues remain at the site, which was designed decades ago for a small fraction of the visitors Acadia has today. Among the most notable shortcomings, accessible parking is limited and complicated, and visitors still have to walk up 52 stone stairs to reach the main entrance.

Many of these latest improvements are supported with funds collected from visitor entry fees. Costs of interior displays and exhibits are supported through generous contributions from the park store, Eastern National.
There will no longer be a park theater, or a park film.
There will an expanded number of restrooms, and a new family restroom, all of which will have a separate entrance open to the public 24/7.
The park store is expanding, and will now have a separate direct entry outside.
Crowds should be more comfortable with a significant HVAC upgrade.
There will be a larger array of digital signs conveying real-time messaging about available parking, campgrounds, weather, tides, and emergency closures.
Three oversized maps, each upwards of six feet tall, will be available to help visitors explore finer details of the park's road system, hiking trails, and carriage road network.
There will be a new public display of as many as a half dozen pieces from the Acadia's Artist-in-Residence program.