Current Conditions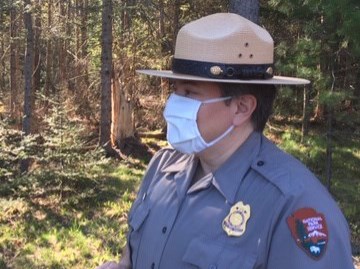 Know Before You Go
This property of the U.S. Department of the Interior is under limited operations due to COVID-19. Some facilities may not be available and staffing may be limited. Visitors should adjust their expectations accordingly and should practice social distancing, personal hygiene, and other behaviors to avoid infection in public areas. Visitors should not rely upon site staff to ensure their protection from contagious disease.

Park Loop Road
OPEN
Seal Cove Road
CLOSED
Hiking Trails

OPEN

except those trails under a wildlife closure for peregrine falcon nesting.
Carriage Roads
CLOSED Scheduled to open June 5 for pedestrian use only. Closures continue for bicycle and equestrian access.
Island Explorer Bus Service
POSTPONED indefinitely for 2020
Restrooms
CLOSED Most restrooms along the Park Loop Road are scheduled to open June 1. Most restrooms associated with Carriage Roads are scheduled to open June 9.
Trash Removal
Most facilities scheduled to open June 1
Campgrounds
CLOSED No reservations accepted at this time. Future delays possible.
Scheduled to open no sooner than July 1.
Hulls Cove Visitor Center
Limited information services in an outdoor setting scheduled to open June 1, 8:30 am to 4:30 pm daily
Entrance Passes
To be required once the Park Loop Road opens on June 1
Buy and print your entrance pass online.
The Sand Beach Entrance Station scheduled to open June 8
Picnic Areas
Fabbri Picnic Area: Scheduled to open June 1
Pretty Marsh Picnic Area: Scheduled to open June 9
Bear Brook Picnic Area: CLOSED
Thompson Island Picnic Area: CLOSED
Jordan Pond House Restaurant

Scheduled to open June 1 for takeout, 10 am to 4 pm

Concessioner Gift Shops
Jordan Pond House Gift Shop: Scheduled to open June 1, 9 am to 4 pm
Cadillac Mountain Eco Store: Scheduled to open June 1, 9 am to 4 pm
Thunder Hole Gift Shop:

Status yet to be determined

Wildwood Stables
CLOSED

Carriages of Acadia expected to resume some services mid-June

Park Information
Call (207) 288-3338 daily, 8 am to 4 pm, or email us.
Coronavirus (COVID-19)
Public Safety Advisory Update:

A plan released by the state of Maine, Restarting Maine's Economy, includes two key tenets that continue to affect park operations:
Through August, people entering Maine must quarantine for 14 days
Gatherings of more than 50 people are prohibited through August.
Check for updates at the state's COVID-19 Response webpage.

Island Explorer service for Acadia National Park and surrounding communities has been postponed indefinitely in response to the COVID-19 pandemic. Learn more at the Downeast Transportation website
Need Acadia Information?
Call (207) 288-3338 daily, 8 am to 4 pm, or email us.
Trail Closures
Precipice, Jordan Cliffs, Valley Cove, and a portion of the Orange & Black Path closed to public entry

Peregrine falcons are again defending nesting territories at the Precipice, Jordan, and Valley Cove cliffs in Acadia National Park. Park staff has observed adults at these sites engaging in courtship and pre-nesting behavior signaling the birds' intentions to nest and raise chicks during the spring and early summer. The National Park Service has closed the cliffs and associated trails to public entry to protect the peregrine falcons from inadvertent disturbance or harassment during the nesting period.

Research has shown that nesting peregrine falcons are particularly vulnerable to human activities, which can disturb the adults and make them less attentive to the eggs or chicks. Human activities near a nesting area can lead to temporary or permanent abandonment of the nest by the adults leaving chicks susceptible to hypothermia, starvation, and predation. Human disturbance that leads to chick mortality slows the recovery of this once endangered species.

The Precipice Trail, Jordan Cliffs Trail, Valley Cove Trail, and a portion of the Orange & Black Path are closed to public entry until further notice. Signs at trail heads and trail junctions around the closed areas indicate where public entry is prohibited. The reopening of the closed areas is expected when nesting attempts succeed or possibly sooner if nesting attempts fail. Public entry into a closed area is a violation of federal regulations, which is punishable by a fine, imprisonment, or both.

To learn more about peregrine falcons, please visit "Peregrine Falcons in Acadia."
Carriage Road Closures
Expect Improvements and Closures on Eagle Lake Carriage Road in 2020
In 2020, the Eagle Lake Carriage Road will be rehabilitated to improve and stabilize the road surface and associated features. Recreationists should anticipate closures generally from one intersection to another from April 15 to Nov 15, weather and schedule permitting. Upon completion of this project, all 45 miles of historic carriage roads in Acadia National Park will have undergone this type of improvement to ensure the preservation of the resource and the experience for future generations.

The work to be performed includes, but is not limited to:
Rehabilitation of the existing carriage road surface and subgrade, 6+ miles.
Rehabilitation of existing drainage features including roadside ditches, stone-lined drainage channels, and select culverts.
Reconstruction of several sections of dry-laid stone masonry retaining walls.
Stabilization of stone slope protection walls between the carriage road and areas with steeper slopes.
Bicycle Express on hiatus for 2020 Visitor Season
Due to construction on the Eagle Lake Carriage Road, and other factors, the Island Explorer's "Bicycle Express" will not be offered for the 2020 visitor season. The service, which ferried cyclists from the Bar Harbor Village Green to Eagle Lake and the carriage road system, is expected to return in 2021 with modifications to improve safety and efficiency.
Road and Parking Lot Closures
Bubble Pond Parking Lot
The Bubble Pond Parking Lot is closed to private vehicles when the Island Explorer bus is in operation.
Loading weather forecast...
Last updated: June 1, 2020