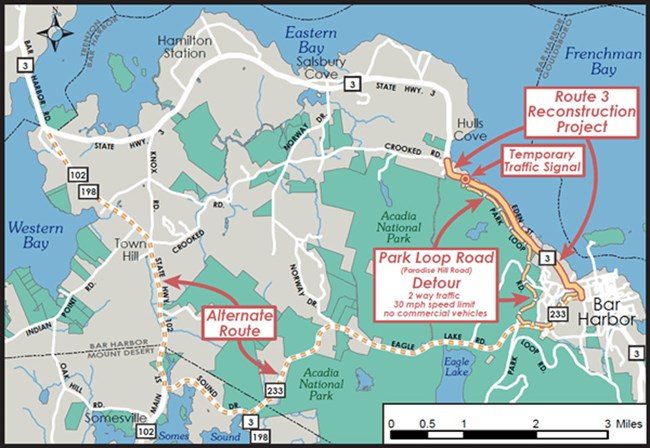 Expect Construction Detours Through Park
Phase two of the reconstruction of Route 3 in Bar Harbor is scheduled to begin in mid-April 2018. During construction, Route 3 will be one-way inbound to Bar Harbor between the park's Hulls Cove Entrance and Route 233 (Eagle Lake Road).Outbound traffic from Bar Harbor will be detoured via Route 233 or the Park Loop Road (between Route 233 and the Hulls Cove Entrance). All unauthorized commercial vehicles are required to use the Route 233 detour instead of the Park Loop Road.

Throughout the project, drivers will be informed and guided by flaggers, signs, and other traffic control devices. Access to businesses and residences will be maintained. Drivers should plan ahead and allow extra time for travel.

Find up-to-date information on the Maine Department of Transportation (DOT) website.