Current Conditions
Facility Closures
Find a detailed list of park facility opening and closing dates for 2021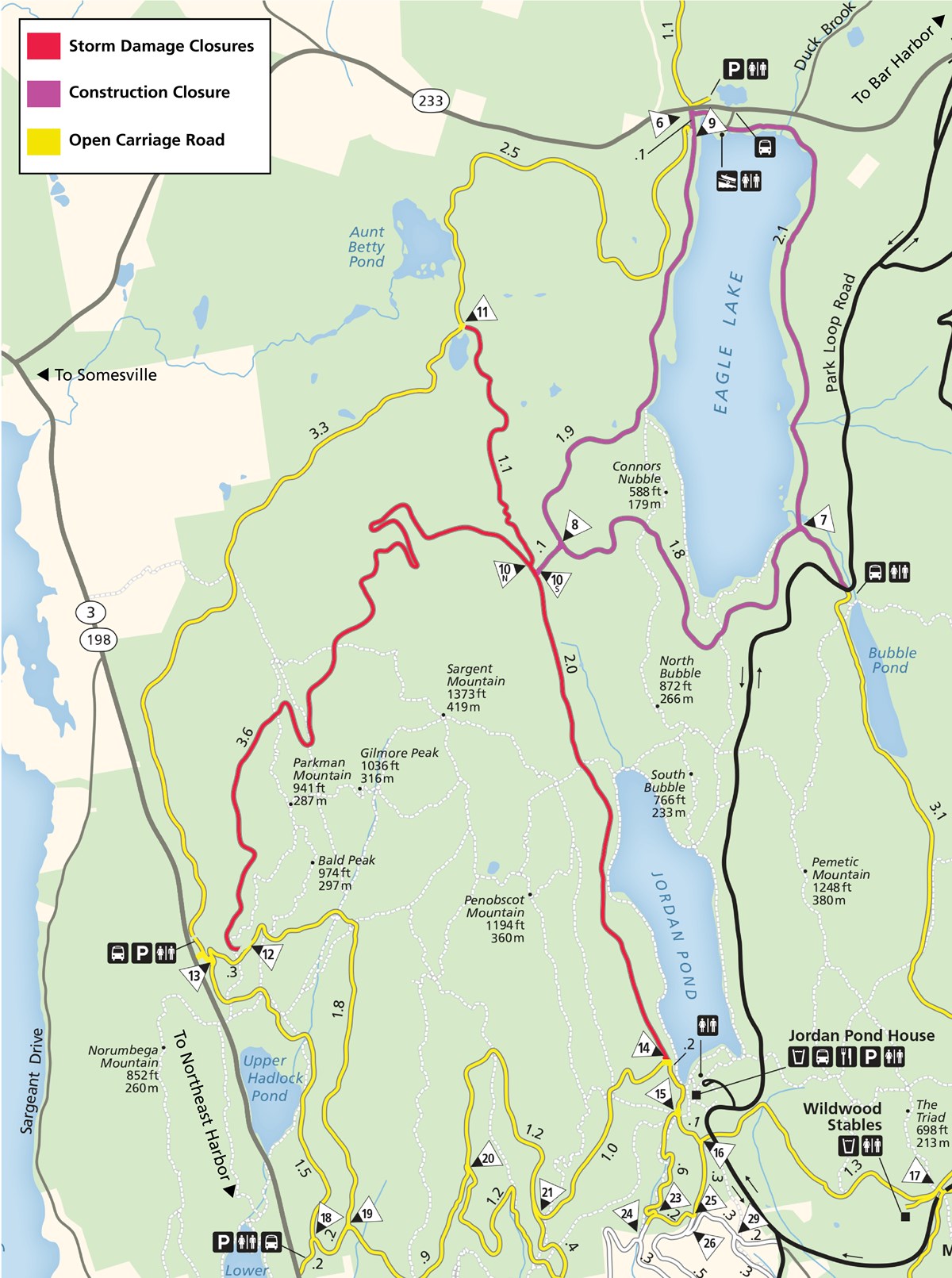 Carriage Roads Closed Due To Storm Damage
The following carriage roads segments are closed between noted intersections: 11 & 10, 12 & 10, 14 & 10. The list may expand further. Repairs are underway.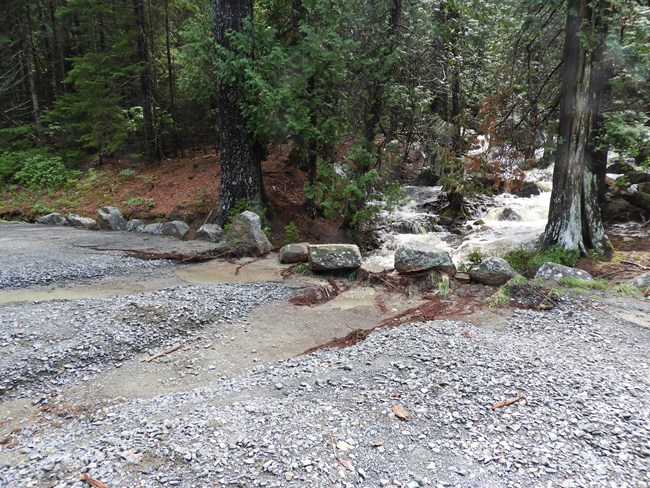 Repairs Underway
It may take two months to stabilize and repair damage to historic carriage roads from a severe storm June 9. All culverts and drainages were overwhelmed. Three layers of road were removed at multiple locations.
Eagle Lake Carriage Road Construction Continues
An ongoing construction project will limit access to the Eagle Lake Carriage Road into September for hikers, bikers, and horseback riders. Individual segments around the lake may reopen as they become available.
See also a press release.
Schoodic Peninsula Bike Paths
About half of bike paths on Schoodic Peninsula have reopened following repairs of damage from a severe storm June. 9. Segments that remain closed include: from intersections 5 to 6 to 7; from intersection 6 east to the Loop Road.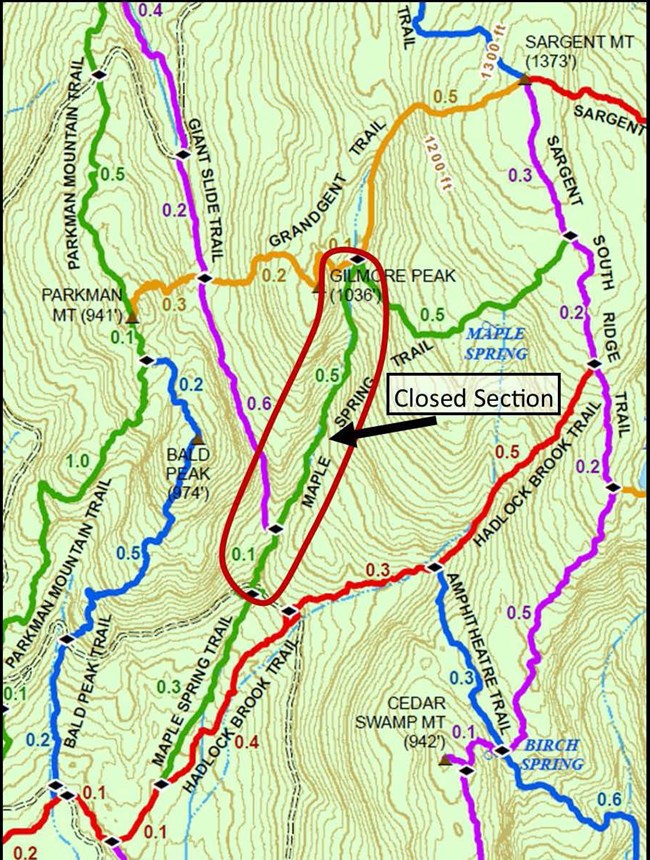 Trail Closures
Wildlife Closure: Peregrine Falcon Nesting
The Jordan Cliffs Trail, Precipice Trail, Valley Cove Trail, and a portion of the Orange & Black Path are closed to public entry until further notice to limit disturbance of wildlife through Peregrine Falcon nesting season. See also a press release
Maple Spring Trail
The Maple Spring Trail is closed from the Grandgent Trail on Gilmore Peak to the intersection with the carriage road. This trail was heavily damaged in a severe storm on June 9. Work is required to a section of trail that is narrow with no ability to bypass or maintain appropriate safe distance from trail workers. Hikers can still access the summit of Gilmore and Sargent Mountain through the Grandgent Trail or Hadlock Brook Trail.
Road and Parking Lot Closures
Western Mountain Roads
Lurvey Spring Road remains closed due to damage from winter storms.
Bubble Pond Parking Lot
The Bubble Pond Parking Lot is closed to private vehicles when the Island Explorer bus is in operation.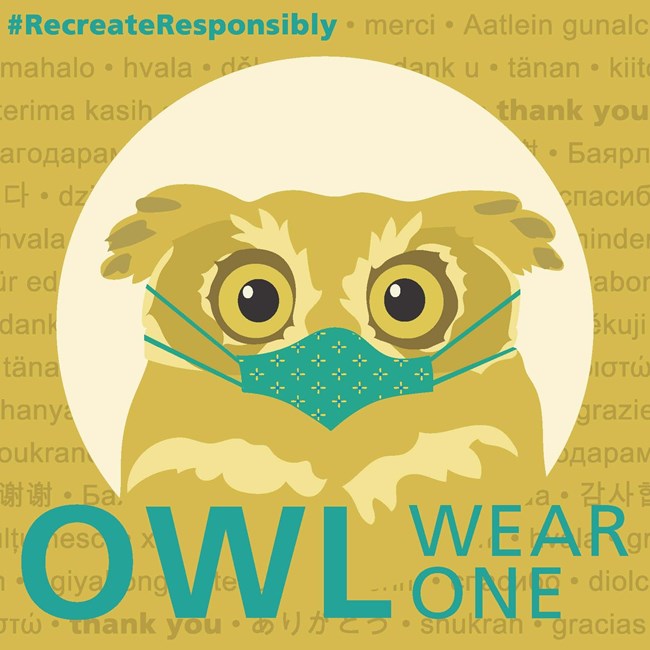 Coronavirus (COVID-19)
As the National Park Service monitors and responds to the COVID-19 pandemic, we work closely with the NPS Office of Public Health to use the latest science to guide our decision making. Consistent with CDC recommendations –
People who are not fully vaccinated must continue to wear masks indoors and in crowded outdoor spaces.
All people, regardless of vaccination status, are required to wear a mask on all forms of public transportation.
This summer will be especially busy for many national parks. While most of the 423 national parks are available to visitors, some may not have the ability to offer the level of service available before the pandemic. Check with individual park websites or download the NPS App for specific details about their operations, and please recreate responsibly.
Loading weather forecast...
Last updated: June 23, 2021