Current Conditions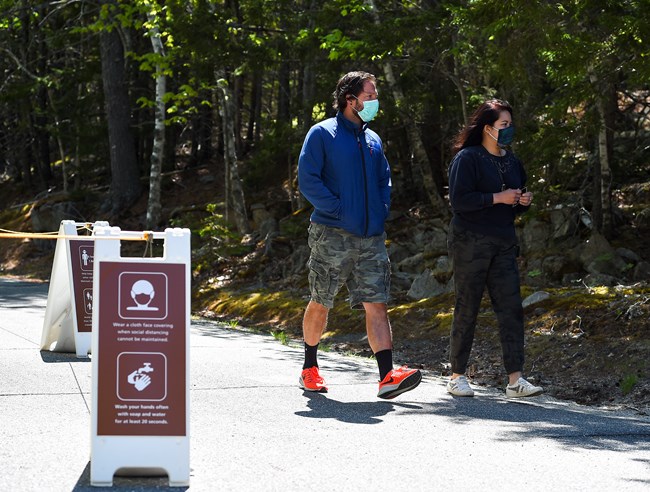 Know Before You Go
Acadia National Park is under limited operations due to COVID-19. Some facilities may not be available and staffing may be limited.

Visitors should adjust their expectations accordingly and should practice social distancing, personal hygiene, and other behaviors to avoid infection in public areas. Visitors should not rely upon site staff to ensure their protection from contagious disease. NPS encourages visitors to follow CDC guidance to reduce the spread of COVID-19 and recreate responsibly.
Coronavirus (COVID-19)
Two aspects of park operations are affected by the Keep Maine Healthy plan.
14-day quarantine for out-of-state visitors is still in effect. Please refer to Maine COVID-19 Response for specific quarantine guidelines depending on your state of origin.
Gatherings of more than 50 people are prohibited through August.
Island Explorer service for Acadia National Park and surrounding communities has been postponed indefinitely in response to the COVID-19 pandemic. Learn more at the Downeast Transportation website.
Need Acadia Information?
Call (207) 288-3338 daily, 8 am to 4 pm, or email us.
Current Status of Facilities & Services
Park Loop Road
OPEN
Hiking Trails

OPEN

except for wildlife closures or repairs. (See listings below.)
Carriage Roads
OPEN but beware of hazards as repairs continue.
Island Explorer Bus Service
POSTPONED indefinitely for 2020
Campgrounds
All park campgrounds are CLOSED

for season.

Please search for private campgrounds or contact local chambers of commerce for alternative camping options
Hulls Cove Visitor Center
OPEN Park rangers provide information services in an outdoor setting 8:30 am to 4:30 pm daily.
Sieur de Monts Nature Center
OPEN Park rangers provide information services in an outdoor setting 9 am to 5 pm daily.
Schoodic Woods
Ranger Station
OPEN for Entrance Pass sales 9 am to 4 pm daily
Sand Beach Entrance Station
OPEN for Entrance Pass sales from 7 am to 7 pm daily
Entrance Passes
REQUIRED

Buy and print your entrance pass online

.


All vehicles must display park entrance pass within the park, including at trailheads or pulloffs.
Picnic Areas
Bear Brook Picnic Area: CLOSED
Thompson Island Picnic Area: CLOSED
America's National Parks® Stores
OPEN Hulls Cove Visitor Center, 8:30 am to 4:30 pm daily
Jordan Pond House
Restaurant for Grab N Go
OPEN

11 am to 4 pm

Concessioner Gift Shops
Jordan Pond House Gift Shop: OPEN 9 am to 4 pm
Cadillac Mountain Eco Store: OPEN 9 am to 4 pm
Thunder Hole Gift Shop: OPEN 11 am to 3 pm on Friday, Saturday, Sunday
Wildwood Stables
OPEN

for horse drawn carriage rides.

For

Carriages of Acadia

horse stalls, call (207) 266-5721
Park Information
Call (207) 288-3338 daily, 8 am to 4 pm, or email us.
Trail Closures
Precipice, Jordan Cliffs, Valley Cove, and a portion of the Orange & Black Path closed to public entry

Peregrine falcons are again defending nesting territories at the Precipice, Jordan, and Valley Cove cliffs in Acadia National Park. Park staff has observed adults at these sites engaging in courtship and pre-nesting behavior signaling the birds' intentions to nest and raise chicks during the spring and early summer. The National Park Service has closed the cliffs and associated trails to public entry to protect the peregrine falcons from inadvertent disturbance or harassment during the nesting period.

Research has shown that nesting peregrine falcons are particularly vulnerable to human activities, which can disturb the adults and make them less attentive to the eggs or chicks. Human activities near a nesting area can lead to temporary or permanent abandonment of the nest by the adults leaving chicks susceptible to hypothermia, starvation, and predation. Human disturbance that leads to chick mortality slows the recovery of this once endangered species.

The Precipice Trail, Jordan Cliffs Trail, Valley Cove Trail, and a portion of the Orange & Black Path are closed to public entry until further notice. Signs at trail heads and trail junctions around the closed areas indicate where public entry is prohibited. The reopening of the closed areas is expected when nesting attempts succeed or possibly sooner if nesting attempts fail. Public entry into a closed area is a violation of federal regulations, which is punishable by a fine, imprisonment, or both.

To learn more about peregrine falcons, please visit "Peregrine Falcons in Acadia."
Carriage Road Closures
Carriage road from intersection 20 and 21 closed to horse traffic
Starting August 3 through the fall, masons will be working on the Amphitheater bridge. The carriage road from intersection 20 and 21 will be closed to horse traffic ONLY.
Road and Parking Lot Closures
Western Mountain Roads
Western Mountain Roads north of Seal Cove Road are closed to motor vehicles, but remain open to hiking and biking. For clarification of specific locations, please call the park information line at (207) 288-3338.
Bubble Pond Parking Lot
The Bubble Pond Parking Lot is closed to private vehicles when the Island Explorer bus is in operation.
Loading weather forecast...
Last updated: July 29, 2020