Current Conditions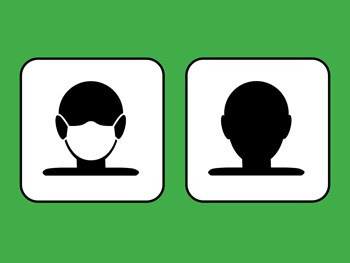 COVID-19 Precautions in Acadia
As the National Park Service monitors and responds to the COVID-19 pandemic, we work closely with the NPS Office of Public Health to use the latest science to guide our decision making.

Masking requirements will vary by park based on local conditions. Learn more about CDC guidance and COVID-19 Community Levels

Access to Acadia National Park is as follows:
Masks currently are optional in indoor spaces

Learn more about the National Park Service response to COVID-19.
Construction on Duck Brook Motor Road Bridge
Starting May 16, the National Park Service will start work on the Duck Brook Motor Road Bridge. Traffic will be reduced to one lane, with traffic control lights posted at each end. Expect minor delays when traveling across the bridge.

Workers will be repointing stones, mainly on the western, exterior side of the bridge. This project will also reconstruct the interior safety walkways, lighting system and internal concrete structures including drainages. Work is expected to be finished later this summer.

The Duck Brook Motor Road Bridge is a triple arch concrete cast-in-place bridge with concrete cast in place spanning the deep Duck Brook ravine. The bridge, constructed in 1950-53, is hollow and faced with rough cut granite. The bridge is the last major bridge constructed in the park as part of the historic motor road.
Wildlife Closure
Starting March 1 until further notice, the Jordan Cliffs Trail, Precipice Trail, Valley Cove Trail and a portion of the Orange & Black Path will close to protect peregrine falcons from human disturbance or harassment during an annual nesting period. Learn more about decades of Peregine Falcon Recovery in Acadia.
Facility Closures
Find a detailed list of park facility opening and closing dates for 2021


Road and Parking Lot Closures
Long Pond Fire Road
Long Pond Fire Road off Route 102 in the towns of Mount Desert and Tremont will be closed to all through traffic (vehicles, bikes, and pedestrians) due to construction starting July 25. The north entrance near Pretty Marsh will be closed July 25-Aug 5 with public access permitted at the south entrance. The south entrance near Seal Cove will be closed August 8-26 with public access permitted at the north entrance.
Carriage Roads
Intersection 14 to 21 To Be Closed to Horses
The carriage road between intersections 14 and 21 will be closed to horses due to construction starting August 1 until further notice.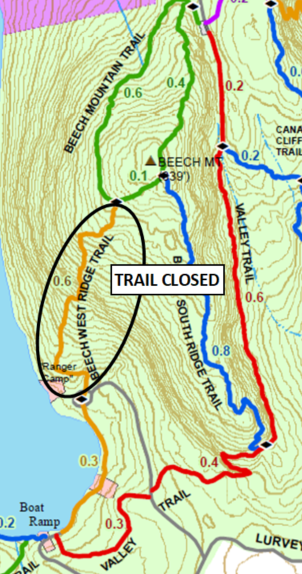 Trail Closures
Beech West Ridge Trail
A section of the Beech West Ridge Trail southwest of the summit and north of the Valley Trail is closed from 6 am to 4:30 pm Mondays through Thursdays until further notice. Acadia's trail crew is rehabilitating the trail to control erosion and to stabilize the cultural character of this Civilian Conservation Corps trail.

Hikers will not be able to safely hike this section while the work is in progress, but can access Beech Mountain Summit and other trails on the mountain. We expect the work to take about 10 weeks to complete.

The full Beech West Ridge Trail is open in the evenings and Friday through Sunday.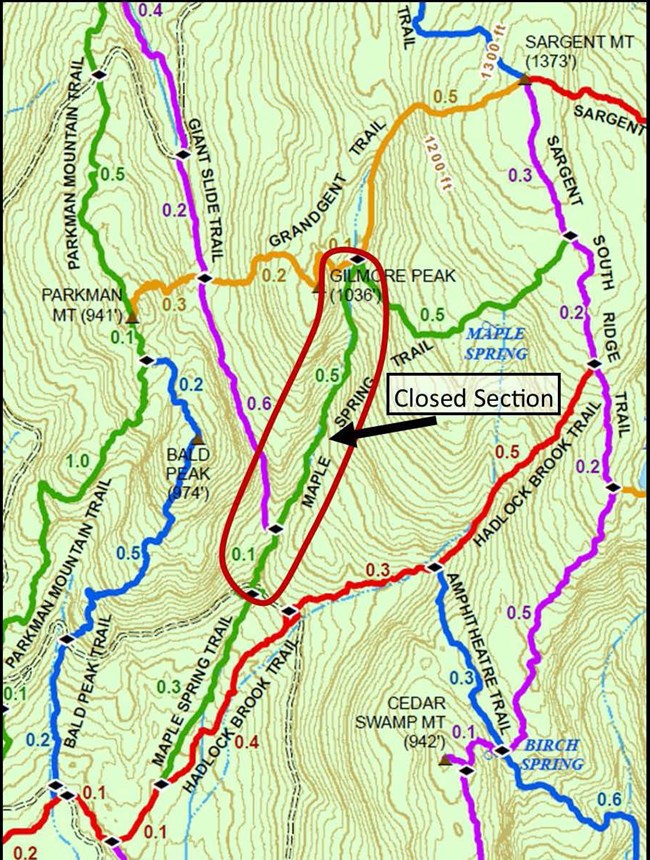 Maple Spring Trail
The Maple Spring Trail is closed from the Grandgent Trail on Gilmore Peak to the intersection with the carriage road. This trail was heavily damaged in a severe storm on June 9. Work is required to a section of trail that is narrow with no ability to bypass or maintain appropriate safe distance from trail workers. Hikers can still access the summit of Gilmore and Sargent Mountain through the Grandgent Trail or Hadlock Brook Trail.


Loading weather forecast...
Last updated: July 28, 2022