How to Explore Denali National Park and Preserve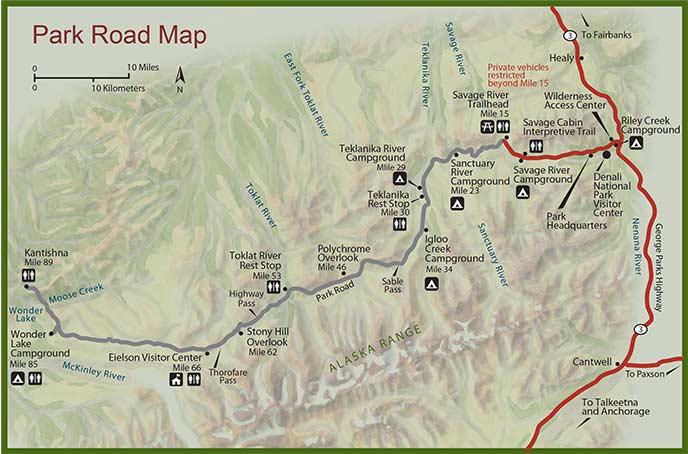 NPS Image
Explore Denali By Bus
92 miles long, the Denali Park Road parallels the Alaska Range and travels through low valleys and high mountain passes. It is the only road in the park. Along its route, beautiful landscapes can be seen at every turn, and there are many opportunities to view Denali - if the normally cloudy skies permit. Wildlife can often be seen, too, though sightings are not guaranteed - they are, after all, wild animals roaming an unfenced land.
During summer, roughly late May through early September, private vehicles may drive the first fifteen miles of this road, to a place called Savage River. The road to Savage River is paved, and features numerous pull-outs for folks to stop and snap some scenic photos. "The Mountain" can be seen as early as Mile 9, if the day isn't too overcast, and animals of all sorts can sometimes be seen on this stretch of road - although chances to see wildlife increase greatly with a bus trip farther down the Park Road.
Beyond Mile 15, the road turns to gravel and traffic is primarily restricted to buses. We encourage all visitors to take some kind of bus trip while in Denali, as it is a great way to experience the park and build lasting memories.
Types of Bus Trips
There are two main types of buses in Denali - shuttle buses and tour buses. In addition, courtesy buses operate near the park entrance, connecting visitor centers and points of interest in the same area where visitors may drive their own vehicles.
Shuttle buses
Cheaper than tour buses, and more flexible in that you may disembark / re-board anywhere along the road, shuttle bus drivers aim to help you experience the park on your own terms. Shuttle buses stop for wildlife viewing, restroom stops and beautiful scenery, just like tour buses. They are not narrated, however. There are four shuttle bus options, of varying length.
Read more about shuttle buses
Tour buses
Your driver is your narrator on the tour buses, and he or she will provide a detailed and captivating program to accompany your journey along the Park Road. Tour buses make the same restroom stops as shuttles, and of course will pause for views of wildlife and scenery. All tours offer either a snack or full lunch. There are three tour bus options, of varying length.
Read more about tour buses
Courtesy buses
Three types of courtesy buses operate on the publicly-accessible portion of the Park Road. These enable folks without vehicles, or those who wish to leave their vehicle behind, to travel between various facilities, campgrounds and day-use areas. All three types of courtesy bus are free, and none require reservations.
Learn more about courtesy buses
Which Bus Do I Choose?

While simplistic, this matrix may help you decide which bus trip is right for you.

Bus type

I want to hike or camp

I want to
learn about the park

I want to maximize my chances to see wildlife

Round Trip Duration

Natural History Tour

No
Yes
No; wildlife viewing may occur, but chances are slimmer than with other trips

4.5 hours

Tundra Wilderness Tour

No
Yes
Yes
8 hours

Kantishna Experience Tour

No
Yes
Yes
12 hours

Shuttle Bus

Yes; passengers may disembark to day hike

No; drivers are not required to narrate

Yes; the longer the shuttle trip, the better your odds of seeing wildlife

6 to 12 hours

Camper Bus

Yes; only passengers camping in the park can use this bus

No
Yes
variable

Child Restraint Information
Alaska State Law requires children to be in a car or booster seat as follows:
Children younger than 1 year of age or less than 20 pounds (9 kilograms) must be in a rear facing infant seat.
Children 1 to 4 years and at least 20 pounds (9 kilograms) must be in a child restraint.
Children 5 through 7 years who are less than 57 inches (1.4 meters) tall or less than 65 pounds (30 kilograms) must be in a booster seat. Booster seats are no longer required for children ages 5-7 once they reach 57 inches (1.4 meters) tall or weigh 65+ pounds (30 kilograms).
Parents are responsible for providing the appropriate car seat.

Day hiking or backpacking
may require extra logistical planning if your children require a car seat.
Read more about this Alaska law on the
Alaska state government website