Denali Park Road Vehicle Management Plan and EIS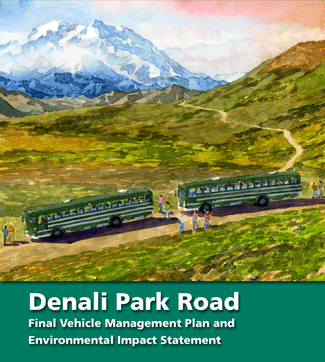 NPS Image
Background on the Plan

The Denali Park Road is the only road that winds into the six-million-acre wilderness landscape of Denali National Park and Preserve. It is a portal, though which over one hundred thousand people travel each year to discover the wonders of this wild place.

With visitation steadily growing, the park is approaching the core season vehicle limit of 10,512 set by park managers in the 1986 General Management Plan. Whereas the vehicle limit is clearly measureable, it is less clear that a numerical limit alone is enough to adequately protect park resources and provide for a high quality visitor experience. Other factors come into play, such as visitor perceptions of crowding at wildlife stops and rest stops; interactions between busses and wildlife; and wildlife movements in the Park Road corridor.

Ultimately, the carrying capacity of the Park Road will be expressed in a measureable way. It will, however, take into account a range of variables related to visitors and the resource. With your help, the Vehicle Management Plan will guide management of the Park Road experience, so it continues to offer visitors of diverse needs, wants and desires opportunities to come to know our wilderness heritage.
Public Comment Meetings
Denali National Park: Tuesday, August 23 Murie Science and Learning Center
Fairbanks: Wednesday, August 31 Morris Thompson Visitors Center, 101 Dunkel St.
Anchorage: Thursday, September 7 Campbell Creek Science Center, 5600 Science Center Dr.

Project Schedule
| | |
| --- | --- |
| Task | Completion date |
| Notice of Intent | July 15, 2008 |
| National Park Service scoping | Sept 30, 2008 |
| Public scoping meetings | Sept 30, 2008 |
| Public Review of Denali Park Road Planning Workbook | Jan 1, 2010 - Mar 1, 2010 |
| Draft plan and EIS written | 2010 |
| Public comment period on the draft plan and EIS | Summer 2011 |
| Final EIS and Record of Decision | Summer 2012 |
For further information contact: Denali Park Planning, Miriam Valentine, P.O. Box 588, Talkeetna, AK 99676