The Denali Visitor Center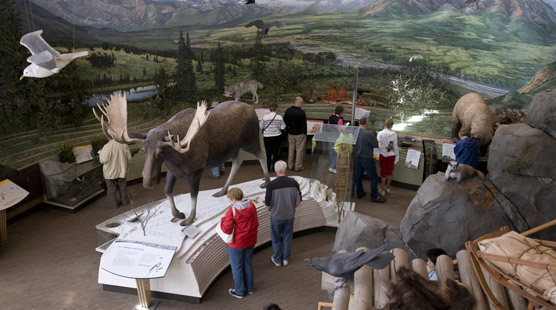 nps photo / kent miller
Features
Complete your trip by visiting the Denali Visitor Center, located at mile 1.5 on the Park Road.
The center offers visitors a chance to learn more about the park by speaking with park rangers, viewing the park film, "Heartbeats of Denali," and exploring an exhibit area.
The film is about 20 minutes long, and is shown throughout the day on the hour and half-hour, with a few exceptions. It is a non-narrated film that shares with you the various seasons, landscapes and wildlife of this beautiful place.
Many ranger-led activities occur in or begin from the Denali Visitor Center. Most of the trails in Denali can be accessed from the center. There is ample parking at the facility for day-use.
Open
: May 15 - mid-September, each year
Daily hours
: 8 am - 6 pm
Learn more about
ranger programs
Learn more about
day hiking
Learn more about
park fees
Nearby Amenities
Morino Grill
About thirty yards from the visitor center, the Morino Grill offers all-day coffee and boxed lunch service, plus made-to-order lunch and dinner. The grill is operated by Doyon/ARAMARK Joint Venture (JV), our largest concessioner.
Opening date: 5/15, limited hours; 5/23 full hours
Closing date: 9/13 full hours; limited hours 9/14 - 9/16
Daily hours: Early/late limited hours, 8a - 4p; full season hours, 7:30a - 5p
Alaska Geographic Bookstore
Adjacent to the grill, the bookstore is the nearest gift shop to the visitor center. It is operated by Alaska Geographic, a non-profit partner of all national parks in Alaska.
Learn more about
Alaska Geographic
Baggage Claim and bus stop
Adjacent to the grill, Baggage Claim allows folks to leave bags for a few hours, or several days. It is also the main "lost and found" for the park.
There is also a bus stop here, with regular service by courtesy buses. These free buses travel the same part of the Park Road that you may drive in your own vehicle.
Learn more about
courtesy buses

Alaska Railroad Depot
Located less than 100 yards from the Denali Visitor Center is the train depot. Train service in Alaska is operated by the state-run Alaska Railroad Company.
Learn more about the
Alaska Railroad
Sustainability
Completed in 2005, this building demonstrates the park's commitment to environmental sustainability. It boasts a number of sustainable features, including photo-voltaic solar panels on the south-facing side of the building and the use of rapidly renewable or recycled materials for building components, like wall panels, acoustic ceiling tiles and carpeting.
Download an outline of
the sustainable features and building methods
used for the Denali Visitor Center.