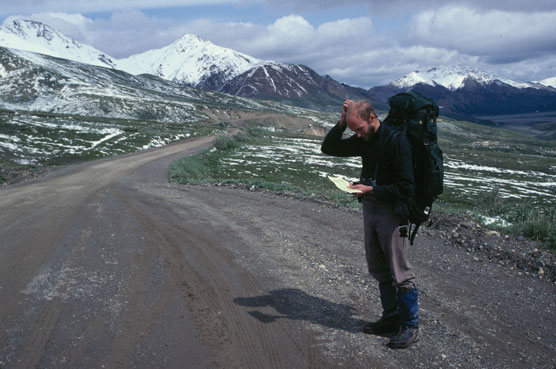 Photo by Rick McIntyre
Getting to Denali

By Car
There is one road entrance into Denali. The entrance is along Alaska Highway 3 (also called the George Parks Highway) about 240 miles north of Anchorage, 120 miles south of Fairbanks, and 12 miles south of Healy - the nearest year-round community.

In Talkeetna, about 100 miles north of Anchorage and 140 miles south of the park entrance, you'll find Denali's mountaineering headquarters.
By Train
Alaska's state-owned railroad connects Anchorage to Fairbanks, and runs directly through the entrance of Denali. For more information please visit the Alaska Railroad.
By Plane
Air travel to either Anchorage (ANC) or Fairbanks (FAI) is the easiest entry to Alaska. Then you'll want to use a car, bus or train to reach Denali. If you are flying your own airplane to Denali, see our pilot information.

Other Transportation
In summer a variety of private bus and van services operate daily from Anchorage and Fairbanks. Contact a travel agent or search the web for available companies operating along Highway 3.

Getting Around in Denali
The Denali Park Road is open to private vehicles for 14.8 miles to the Savage River Bridge.

If you are here without a car, use a free courtesy bus to travel around the entrance area. Public travel to destinations farther into the park requires shuttle and tour bus services, for which costs vary depending on the nature of the trip.

Bicycles and pedestrians are permitted to travel on any part of the park road, barring temporary, wildlife-related closures.

Check out park maps to help orient yourself to the layout of Denali. Though there is just one main road in the park, there are a few side-roads around the park entrance (near the visitor center, train depot and dirt airstrip).

Travel Throughout Alaska

Alaska is a vast landscape, with many popular national parks and other public lands. Check with the Alaska Public Lands Information Center for help planning your journey to other parts of the Great Land.