Narrated Tour Buses

Unlike shuttle buses, which are not narrated, tour buses feature a trained naturalist who both drives the bus and narrates during the trip.

Tour bus trips begin and end at various locations around the entrance of the park - they do not pick up at campgrounds along the Park Road, and they are not set up for passengers to disembark and re-board. Shuttle buses are a better option for passengers who want to get off the bus to hike, picnic, etc.

There are three different bus tours from which to choose. All tours are conducted by certified driver-naturalists who will provide a guided, informative trip into the park. Tour buses are tan-colored, to help them stand out from a distance.

Tour bus descriptions are below; information on ticket prices and reservations can be found elsewhere.
Denali Natural History Tour (DNHT)
Offered mid-May - mid-September
Focusing on the rich natural and cultural history of the park, this 4 ½ to 5 hour tour travels to Primrose Ridge (Mile 17).
Several interpretive stops enhance the experience, beginning with a stop at the Wilderness Access Center for a viewing of the film "Across Time and Tundra" which depicts early visitor experiences within the same area traveled by DNHT passengers. A stop at the still-used ranger cabin - called Savage Cabin - provides a living-history glimpse of the folks who might have used the cabin at one time. At the Primrose Ridge turnaround point, you will experience a memorable Alaskan Native presentation that will enlighten you regarding how this land has been used for nearly 10,000 years.
A snack and hot beverages are provided. Wheelchair accessible buses are available, and all stops are wheelchair accessible.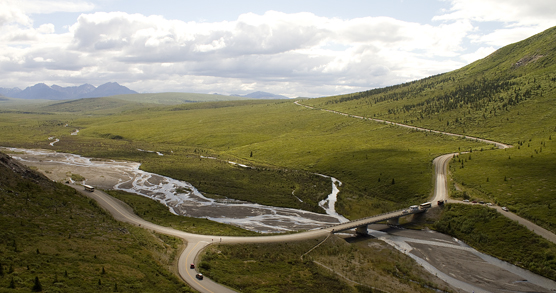 nps photo / nathan kostegian
Tundra Wilderness Tour (TWT)
Offered May 20 - mid-September
Variations of this tour have been in existence since 1923, with the first concessioner offering bus trips as far as the road extended at that time.
Today, the TWT is a 7-8 hour excursion into the park with a certified driver-naturalist. Going to at least Toklat River (mile 53), this tour provides in-depth information about the history of the park, while maintaining a keen eye in search of wildlife and photography opportunities.
A box lunch and beverages are provided. Wheelchair accessible buses are available, and all stops are wheelchair accessible.

In spring and fall, a shortened version of this tour, called the Teklanika Tundra Wilderness Tour, travels 30 miles into the park to the Teklanika River rest stop. This option is only available when the full-length Tundra Wilderness Tour is not running.

Kantishna Experience
Offered June 8 - mid-September

Follow the trail of pioneer Fannie Quigley to the old gold town of Kantishna on this all-day adventure to the end of the Park Road. Your driver is a Certified Interpretive Guide and a National Park Service interpretive ranger joins you roughly halfway through your journey on this immersive experience. You will spend time in Kantishna learning about its interesting history and role in Interior Alaska.

This trip lasts 11 to 12 hours, traveling the entire 92 mile road and back over the course of the day.

The Kantishna Experience includes a lunch, snack and beverages. There are two daily departures. The tours pick up from area hotels in the early morning and depart from the Wilderness Access Center at 6:30 am and 7:30 am. They return roughly twelve hours later, and are a unique experience in the park that you don't want to miss! Specific hotel pick-up times are available from the bus company.

Some walking is involved.

Views from the Denali Park Road
Check out an assortment of views from the road in Denali. Note: Points are approximate, these images are not placed at precise locations.