Accessibility
Denali is largely wilderness without trails, designated by Congress to remain a "primitive" area in many respects. The National Park Service strives to make the park as universally accessible as possible. However, extra obstacles will be encountered because of the remote, wilderness nature of this special place.

If your questions concerning accessibility are unanswered after reading the below information, please contact us at 907 683-2294 [TDD users call 907 683-9649] or email us.

Jump to:


Facilities
The two main facilities in the park entrance area - the
Denali Visitor Center
and
Wilderness Access Center
- offer handicap parking and paved walkways. Restrooms at both centers are wheelchair accessible. The
Murie Science & Learning Center
also offers a paved walkway, as of summer 2009.
The Denali Visitor Center features a wide staircase and elevator for access between its two floors. You may borrow a wheelchair free of charge from the center.
The Wilderness Access Center and Murie Science & Learning Center are one level.
Farther in the park are Eielson Visitor Center and the Toklat Rest area. Both are single level, and Eielson offers paved walkways from the bus parking lot to the facility.
Various rest stops along the Park Road are wheelchair accessible.
Located at mile 3 on the Park Road, the
sled dog kennels
can also be accessed by wheelchair via a 50 yard (meter) long path. However, the trail surface in the kennels is compacted gravel - not pavement. If you need assistance moving around the kennels, please let us know. Rangers working in the kennels are happy to help.
The Talkeetna Ranger Station is one level, offers handicap parking, a ramp and accessible rest rooms.
return to top
Trails
Denali's small trail network is primarily centered around the Denali Visitor Center. Segways and wheelchairs (motorized and non-motorized) are permitted on park trails, even where signs prohibit other non-foot traffic such as bicycles or motorized vehicles.
Mountain Vista Trail
This interpretive trail winds through the open tundra between the Mountain Vista Rest Area and the Savage River, through the area used as the park's first tourist camp, in use during the 1920s and 1930s. The trail is 5 feet wide and compacted gravel, at grades less than 5%. The old service road to access the camp and the old Savage Airstrip are not maintained, but continue on to make a loop that connects the Mountain Vista Rest Area with the Savage River and the Savage River Campground.
Savage Alpine Trail
The initial half-mile of the Savage Alpine Trail winds through the spruce forest out to a cottonwood grove along the banks of a mountain stream. This portion of trail is 5 feet wide and compacted gravel, and two benches are situated near the cottonwood grove. From here, the Savage Alpine Trail climbs over 1,200 feet through rocks and alpine meadows before descending to the Savage River Trailhead.

Savage Cabin Trail
The Savage Cabin Interpretive Trail is 0.3 miles long, 8 feet wide. Interpretive signs guide hikers along the loop, which passes by the historic Savage Patrol Cabin, which is still used in winter by park dog teams while on patrol.
Savage Bar Trail

The Savage River Bar Trail departs from the shuttle bus stop on the west side of the Savage River. The 5 feet wide, compacted gravel trail shares the first 1,000 feet with the Savage River Loop trail. The Bar Trail goes out onto the gravel bar of the Savage River and returns to the Savage River Trailhead, making a half-mile loop.
Triple Lakes Trail along Riley Creek
The first mile of the Triple Lakes Trail is 3' wide and compacted gravel as it departs the McKinley Station Trail and crosses Hines Creek. The trail passes through the area that housed the park's first headquarters, crosses a suspension bridge over Riley Creek and continues along the banks of the creek. The whole Triple Lakes Trail is 9.5 miles from the Denali Visitor Center to the Parks Highway, and climbs over 1,000 along the ridge between Riley Creek and the Nenana River.
Click here
to learn more about hiking in Denali
return to top
Buses
Many tour and shuttle buses are wheelchair accessible. Please be sure to note the need for such a bus when making advance reservations or when buying tickets in person at the Wilderness Access Center. Drivers also save the front seat of each bus to facilitate easy access for those with mobility issues, but who do not require a wheelchair.
Courtesy buses
, such as the Savage River Shuttle and the Riley Creek Loop are also wheelchair accessible. All courtesy buses load at the Denali Visitor Center bus stop. For each
sled dog demonstration
, up to four buses may be used, and at least one bus for each demonstration is wheelchair accessible. If you see dog sled demonstration buses loading but are waiting for the accessible bus, you may check with the driver to find out when the accessible bus will arrive for loading.
return to top
Road Travel For People With Special Needs
The National Park Service and our concessioner make every effort to accommodate visitors with special needs. In rare circumstances, however, an individual's needs may not be met by the accommodations that are available on our shuttle and tour buses. Those individuals may apply for a road travel permit, which would allow them to drive part or all of the Park Road in their own vehicle.
Click here
to download the application. Feel free to continue your responses in a separate word processing document.
Click here
to contact us with specific questions about this process
Applicants must be able to explain to park managers why accommodations on the bus system are insufficient to meet personal needs. Adequate time is needed to go through this process, so we appreciate hearing from you well in advance of your visit.
return to top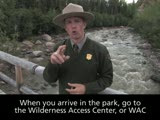 For The Deaf and Hard of Hearing
All park films are
open-captioned
. Three park films are now available with
Audio Description
.
Two types of
Assistive Listening
services are available free for hearing-impaired visitors who attend sled dog demonstrations at the historic Park Kennels, as well as films, ranger programs, and public events at the
Denali Vistor Center
,
Eielson Visitor Center
,
Talkeetna Ranger Station
, and the
Wilderness Access Center
. Visitors may borrow an electronic device with a conventional ear piece to amplify public programs. Visitors who wear hearing aids that are outfitted with a special T-Coil or similar Induction Loop Receiver may borrow a device with a wire neck loop rather than headphones. Visitors to a screening room at the Eielson Visitor Center, where an induction loop system has been installed above the ceiling, may hear amplified programs directly in T-coil-equipped hearing aids without need to borrow another device.
If you are riding a bus during your visit,
American Sign Language (ASL) interpreters
can be provided through the bus concessioner. Due to our remote location (120 miles from the nearest large town, Fairbanks), please give the concessioner notice of your needs two or more days in advance. Contact them via reservedenali@aramark.com or mention your needs when making reservations via 1-800-622-7275.
If you need an
ASL interpreter for purposes other than a bus trip
into the park, please
email
or call us 907-683-2294 / 907-683-9649 (TDD).
return to top
Information for the Sight Impaired

Sight-impaired visitors may borrow an electronic device that plays a simultaneous narrated description of what appears on screen. This free service is available for "Heartbeats of Denali" at the Denali Visitor Center, "Across Time and Tundra" at the Wilderness Access Center, and "Mount McKinley: Climbing North America's Icy Crown" at the Talkeetna Ranger Station.

return to top

Elevation Concerns

The Denali Park Road travels through low valleys and up tall mountainsides, and some visitors need to know just how high in elevation the road rises.

The highest point on the Park Road is called Highway Pass, and it is almost 4,000' above sea level (1,220 meters).

Click on the profile map of the Park Road (below) to view a larger version of it.
Service Animals

Qualified service animals are welcome throughout the park, when accompanying persons with disabilities per the Americans with Disabilities Act (ADA). They may enter visitor centers and other facilities, ride on park buses and accompany their owner on all park trails and in the backcountry.

return to top

Ranger Rick Pope, a CODA and RID-certified interpreter at Denali, describes a variety of trip-planning pages on the park website that can be useful to deaf and hearing-impaired visitors. (Open captions. No audio. Running time 03:35)

Credit / Author:

NPS/Jay Elhard

Date created:

2010-09-05
In July 2011, a group of 35 deaf visitors from a half dozen different states chartered a bus into Denali. This is what they had to say about their experience. (Open captions and ASL. Running time 04:50)

Credit / Author:

NPS/Jay Elhard

Date created:

2011-08-21
Did You Know?

Did you know that over 650 species of flowering plants as well as many species of mosses, lichens, fungi, algae, and others grace the slopes and valleys of Denali National Park and Preserve?