Road Closure: Friday, September 26

On Friday, September 26, a contractor will be working on a utility below the park road near Headquarters. Therefore, the road will be closed to all vehicle traffic at roughly Mile 3. The road will re-open on Saturday morning.
Sled Dog Demonstrations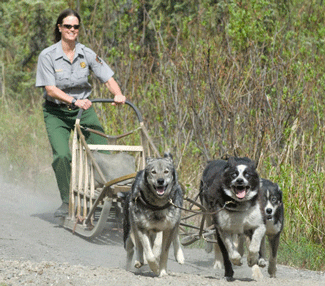 NPS Photo / Kent Miller
Ranger Demonstrations
Rangers and dogs work together to demonstrate a traditional Alaskan mode of travel. These unique, 30 minute programs include an opportunity to tour the park kennels and visit
Denali's Alaskan huskies
.
Free buses leave the
Denali Visitor Center
for the kennels approximately
forty
(40) minutes before each demonstration. No parking is available at the kennels, so please plan on using the buses or walking the 1.5 miles from the Denali Visitor Center to the kennels.
Some seating is available for the demonstration, and there is plenty of standing room. Programs are given rain or shine, so be prepared with an umbrella or rain coat if skies look forbidding.
No fees or reservations
, for either the bus or demonstration, are required.
Demonstrations are given three times daily in peak season, at 10 am, 2 pm and 4 pm.
Visiting the Kennels
The kennels are open to visitors year-round, generally from 8 am - 5 pm. Safety bulletins are posted at the kennels entrance - please read through these before walking into the kennels. Also,
please do not bring pets into the kennels
.
In summer (roughly mid-May through mid-September), you can easily reach the Headquarters and sled dog kennels via a
courtesy bus
. Public parking in this area is limited - if you drive yourself to the kennels, do not expect to find a parking spot.
In winter (roughly mid-September through mid-May), the kennels focus on preparing for long patrol trips in the park. You may get to see teams packing or harnessing to leave on a run, teams returning from a run, or you may find very few dogs in the kennel as the rest are out on a run.
Learn more about
Denali's sled dogs and their kennel.
Did You Know?

In the summer of 2005 a footprint of a dinosaur was found in Denali National Park. The print has been identified as belonging to a three toed foot of a Cretaceous Theropod.