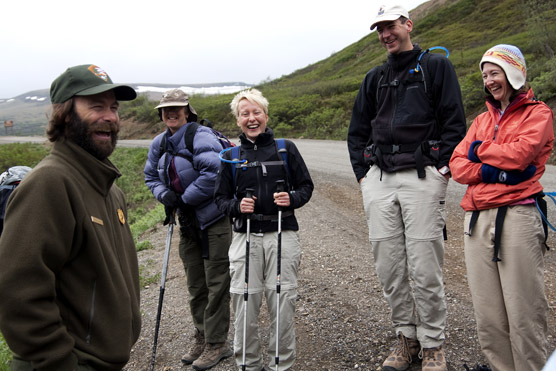 NPS Photo / Neil Blake
Discovery Hikes are a great way for the
adventurous
and
well-prepared
to explore the heart of Denali.
These ranger-led hikes travel everywhere, so expect uneven terrain, small stream crossings, close encounters with dense vegetation and unpredictable weather. Along the way, you can engage the park with all your senses and build memories of this special kind of "walk in the park."
How to Join a Hike
"Disco" hikes are offered daily during the summer, and are limited to 11 people. This limit exists because discovery hikes take place in the wilderness, where there are no trails - the limited number helps reduce human impacts on vegetation and facilitates a small-group experience.
You may sign up for a hike one to two days in advance, and you can only sign up in person at the Denali Visitor Center. There are
no exceptions
to this rule. For safety concerns, rangers may turn away unprepared hikers.
Please read our
preparation guide
for more details on how to ready yourself for this specialized program.
Where You'll Go
All disco hikes begin with a bus ride into the park, originating from the Wilderness Access Center. Plan on a bus ride lasting anywhere from one to four hours, to hike for three to five hours, and then a similar-length bus ride back to the park entrance. The disco bus leaves at 8 am every morning.
These ranger-led adventures vary from moderate (elevation gain less than 1,000 feet) to strenuous (elevation gain more than 1,000 feet, or will involve large river crossings). They may start from just about anywhere on the Park Road, which is why the bus ride has such a wide range of duration (i.e., the closer to the park entrance your hike begins, the shorter your bus ride will be).
Upcoming Hikes
Hikes begin on June 8 each year. Two occur each day thereafter, until they end in early September. Refer to the park map to find place name locations.

Date
Location

Difficulty

Description

Friday, July 3
Teklanika River
Moderate (negligible gain)
Hiking up to a saddle west and north of the Teklanika River just beyond the bridge. Should be some bushwacking, but we are hardy folk. Good times shall be had by all, or else.
Friday, July 3

Mile 58
Strenuous (1,900' gain)
Join me for a hike up and down a mountainside. During this hike we will look for wildflowers, signs of wildlife, and simply enjoy being outside in wilderness.
Saturday, July 4
Mile 22
Moderate (500')
Listen to the wild Sanctuary River roar north toward the mighty Yukon and the Bering Sea as we explore wilderness Denali.
Saturday, July 4
Mile 65
Moderate (566' gain)
Come take a leisurely stroll across the tundra discovering wildflowers and wildlife as we go to overlook a gorgeous gorge.
Sunday, July 5
Mile 36
Strenuous (2,300' gain))
Want one of the most amazing views ever!? Join me as we head up Cathedral Mountain in search of vistas, views, and wildlife.
Sunday, July 5
Mile 59
Moderate (481' gain)
Join me in a leisurely hike as we climb up on rolling tundra benches to get a nice view while looking for signs of wildlife and beautiful wildflowers.
Monday, July 6
Mile 30
Strenuous (1,300 gain)
Do you like corrosion? Abrasion? Disintegration? Destruction? Desedimentation? Denali's geology is not stagnant, it is happening now. This hike will challenge our hiking abilities and our understanding of the dynamic processes that shape this landscape.
Monday, July 6
Mile 60
Moderate (454 gain)
In search of fleetingly beautiful wildflowers? Scanning the hills to find charismatic Alaskan wildlife? Have your sights on exceptional geology? Join Ranger Ali on a tundra hike where you just might find what you have been seeking in the Denali Wilderness all along
Tuesday, July 7
Mile 23
Strenuous (1,660 gain)
Join me as we hike up Mt Wright! We will start in the taiga forest and hike up to an alpine meadow, checking out wildflowers and signs of wildlife along the way.
Tuesday, July 7
Mile 48
Moderate (660 gain)
Come on a hiking adventure where we gain some moderate elevation for some great views. Along the way we will check out a variety of wildflowers and animal signs.
Wednesday, July 8
Mile 23
M 10
Strenuous (1,775 gain)
Come explore a rich spruce forest as we climb up the flanks of Mt. Wright to gain a better perspective of the beautifully braided Sanctuary River below.
Wednesday, July 8
Mile 64
Moderate (725 gain)
Take a trek on the high alpine tundra, climb the shoulder of Gravel Mountain, and peek down at Gorge Creek, all while discovering more about the stunning Denali landscape!
Thursday, July 9
Mile 36
Strenuous (1,800 gain)
Come and experience the challenge of exploring the steep east side of Cathedral Mountain as we search for Dall sheep and, if it is clear, beautiful views.
Thursday, July 9
Mile 59
Moderate (750 gain)
Join us as we hike along the floor of a valley into the mountains in the distance! We will look for flowers, signs of life, and seek out Denali's true wilderness spirit.
Friday, July 10
Mile 38
Moderate (500 gain)
Join me for a hike through the tundra west of Cathedral Mountain. We'll explore the streams and wildflowers that decorate this wild valley.
Friday, July 3

Mile 58
Moderate (490 gain)
Explore the rolling tundra while looking at wildflowers, scanning for signs of wildlife, splashing in creeks, and simply enjoying the scenery.