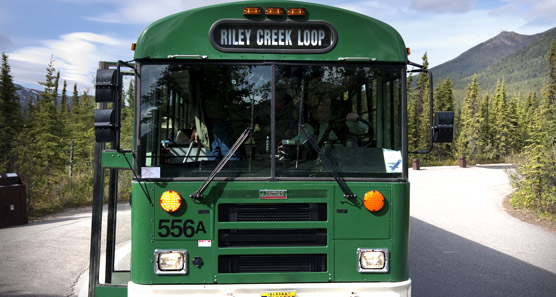 nps photo / neil blake
There are three free bus services available in the park's entrance area to facilitate visitor travel between the various visitor service buildings. They are called the Savage River Shuttle, the Riley Loop Shuttle and the Sled Dog Demonstration Shuttle.

As the facilities are somewhat spread out, the courtesy buses eliminate excess traffic, confusion, and parking challenges for those visitors not wishing to utilize the trails that link all facilities.
The main entrance area bus stops are located at the north end of the Wilderness Access Center (WAC) and the Denali Visitor Center (DVC) bus stop - between the Alaska Railroad Depot and the Denali Visitor Center complex.
All entrance area shuttle buses are wheelchair accessible. All operate daily and are free. Reference a map of the entrance area of the park to orient yourself.

Savage River Shuttle

View the 2015 Savage River Shuttle schedule.

This courtesy bus is perfect for visitors wishing to experience a short bus ride into the park. Regularly departing from the Denali Visitor Center and the Wilderness Access Center, this shuttle travels to trail heads at Mountain Vista and Savage River. At Savage River, Mile 14 on the park road, visitors can hike the Savage River Loop Trail, picnic beside the river, or just enjoy the 2-hour round trip ride

This is a perfect activity if you only have a couple of hours or don't have time to take one of the long shuttle rides further into the park.
Visitors may also access the Savage River Campground by taking this shuttle.

Riley Creek Loop Shuttle

View the 2015 Riley Creek Loop schedule. This schedule also lists departures for camper buses from various locations between the park entrance and the Denali Visitor Center.

This courtesy bus continuously circuits the entrance area, linking all major visitor facilities roughly every 30 minutes. Stops are located at the Riley Creek Campground, Wilderness Access Center, Denali Visitor Center bus stop, Murie Science and Learning Center, Riley Creek Mercantile, and the Horseshoe Lake/Mt. Healy Trailhead.

Sled Dog Demonstration Shuttle

This round trip transportation service is the only way to get to the park sled dog demonstration other than walking.

Boarding takes place at the Denali Visitor Center (DVC) bus stop, and you must be there at least 40 minutes before demonstration time.

There is no parking at the kennels, and there are no late departures from the DVC bus stop. Demonstration times vary during shoulder seasons; check at the DVC bus stop or at the DVC for departure times. The walk from the DVC to the kennels is about 1.5 miles each way, mainly uphill on the way to the kennels.