Tuolumne Meadows and Tioga Road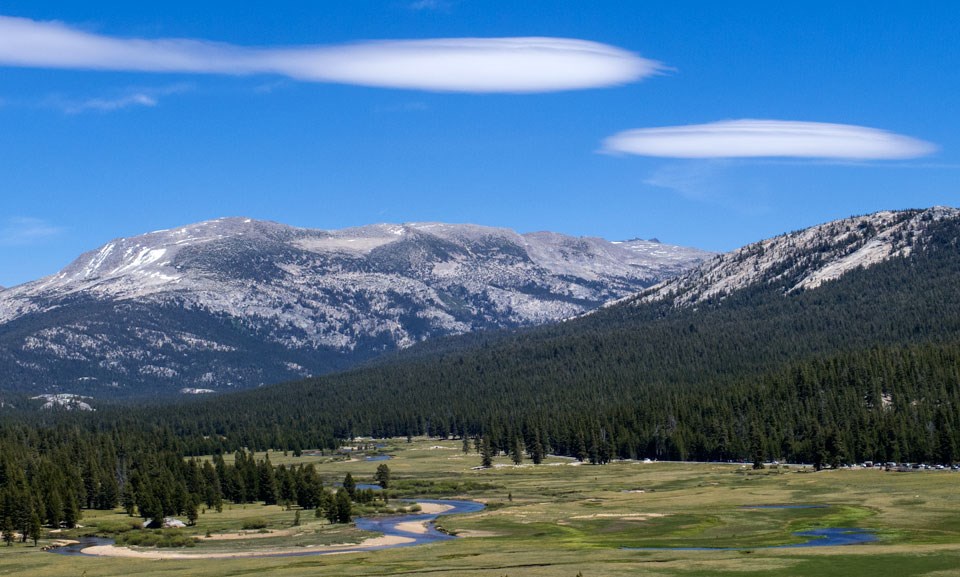 "Walk away quietly in any direction and taste the freedom of the mountaineer. Camp out among the grasses and gentians of glacial meadows, in craggy garden nooks full of nature's darlings. Climb the mountains and get their good tidings, Nature's peace will flow into you as sunshine flows into trees. The winds will blow their own freshness into you and the storms their energy, while cares will drop off like autumn leaves." — John Muir
Tuolumne Meadows is a large, open subalpine meadow graced by the winding Tuolumne River and surrounded by majestic peaks and domes. The Tioga Road offers a 47-mile scenic drive between Crane Flat and Tioga Pass through forests and past meadows, lakes, and granite domes. Many turnouts offer broad and beautiful vistas. The Tioga Road is open approximately late May or June through October or November.
Food, water, and other services may not be available in Tuolumne Meadows within the first month after the Tigoa Road opens and from September until the Tioga Road closes.
To Get There
Car: The Tioga Road (the continuation of Highway 120 through the park) is open approximately late May or June through October/November, depending on conditions. Parking is limited along the road and in Tuolumne Meadows. There is no gas/fuel available in Tuolumne Meadows.
Bus: Amtrak and YARTS may provide service between Yosemite Valley and Mammoth Lakes, with reservations likely required. There will be no shuttles running in Tuolumne Meadows during the summer 2020 due to the Covid-19 pandemic. Similarly the Tuolumne Meadows Hiker's Bus that runs between Yosemite Valley and Tuolumne Meadows will not be operating during summer 2020.
Cross-country Skiing: Tuolumne Meadows can be accessed in the winter via cross-country skis. Various routes can be taken, though most skiers begin from Highway 120, 5 miles east of Lee Vining or from the Snow Creek trailhead in Yosemite Valley.
During winter, rangers residing in Tuolumne Meadows provide weekly updates.
Visitor Center and Museums
Tuolumne Meadows Visitor Center: The Tuolumne Meadows Visitor Center is closed summer 2020 due to the Covid-19 pandemic. Rangers and volunteers are staffing an outdoor visitor information kiosk.
Tuolumne Meadows Wilderness Center: The Tuolumne Meadows Wilderness Center is closed summer 2020 due to the Covid-19 pandemic. If you are unable to get an approved bear canister prior to arrival, rangers are renting them from 9 am to 1 pm. The building is closed to the public and all education and interactions take place outside, with proper social distancing measures in place.
Parsons Memorial Lodge (open late June through early September): Discover the human and natural history of Tuolumne Meadows by hiking to the place where John Muir and Robert Underwood Johnson conceived the idea of establishing Yosemite National Park. The lodge is an easy one-mile (30 minute) walk from Lembert Dome parking area or from the Tuolumne Meadows Visitor Center.
Activities
Points of Interest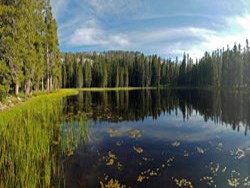 Siesta Lake is an alpine lake located along the Tioga Road to the south, about 13 miles east of the Crane Flat Gas Station. Swimming and picnicking are popular past-times here.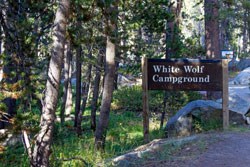 White Wolf is a campground and concession lodging area north of Yosemite Valley, located along the Tioga Road. White Wolf Campground contains 74 campsites and is available on a first-come, first-served basis (summer only). The area is also home to White Wolf Lodge which consists of both wood-sided and tent cabins, in addition to a small restaurant and general store. There are a number of hiking trails in the area; both for day hikers and for those embarking on an overnight wilderness trip.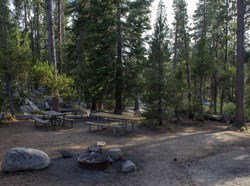 In route to (or from) Tuolumne Meadows, you can stop and enjoy lunch at the
Yosemite Creek Picnic Area
amidst beautiful scenery and alongside the creek itself. You'll find picnic tables, vault toilets, garbage and recycling receptacles, but no grills or potable water.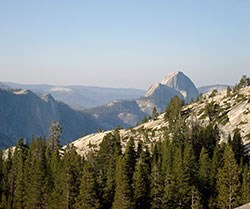 Olmsted Point
, along the Tioga Road, looks down on Yosemite Valley from the east--and from a very different angle. Though you might not immediately recognize Half Dome, it is one of the most prominent peaks you can see from Olmsted Point.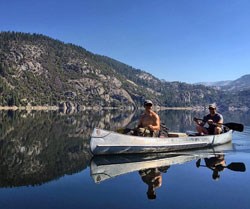 Tenaya Lake is popular for for picnicking, swimming, paddle boarding, kayaking, and canoeing. Two picnic areas are available (one of them is wheelchair accessible).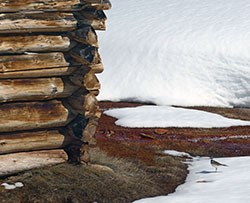 Soda Spring—carbonated, cold water bubbling out of the ground—is protected within a historic log cabin enclosure. The spring, near Parsons Lodge, can be reached by a short trail beginning at the Lembert Dome parking area.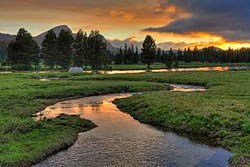 One of the largest high-elevation meadows in the Sierra Nevada, Tuolumne Meadows at 8,600 feet is a popular area that offers scenic views, hiking opportunities, ranger programs, the Tuolumne Meadows Visitor and Wilderness Centers, the Tuolumne Meadows Lodge, a store, post office and campground.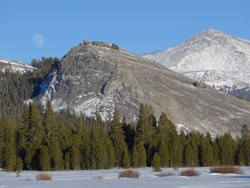 Lembert Dome is located near Tuolumne Meadows just north of the Tioga Road. A short but steep trail leads to the top of the dome for a spectacular view of Tuolumne Meadows and surrounding peaks.


Last updated: June 15, 2020