Lakes and Rivers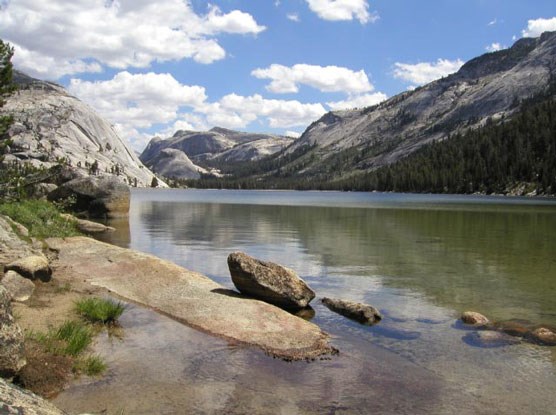 Very few lakes are easily accessible in Yosemite National Park. Tenaya Lake (above) is one of the easiest to get to (when the Tioga Road is open, late May or early June to sometime in November) and is quite popular for picnicking, swimming, and canoeing. You can see Tenaya Lake from Olmsted Point and as you drive past it. Two picnic areas are available (one of them is wheelchair accessible).
Mirror Lake (in Yosemite Valley) is famous for its reflections of Half Dome and Mount Watkins when the water level is high enough (in spring); it's more a pond than a lake.
Hetch Hetchy Reservoir, created by damming the Tuolumne River, is another lake that's accessible by car.
Most lakes in Yosemite are in the wilderness and require hiking.
Rivers flow through Wawona, Yosemite Valley, and Tuolumne Meadows; numerous seasonal creeks flow throughout the park. Take a look at a park map for details.
If you will visit rivers or lakes, please take a look at our water safety information.
Last updated: September 7, 2016