Fishing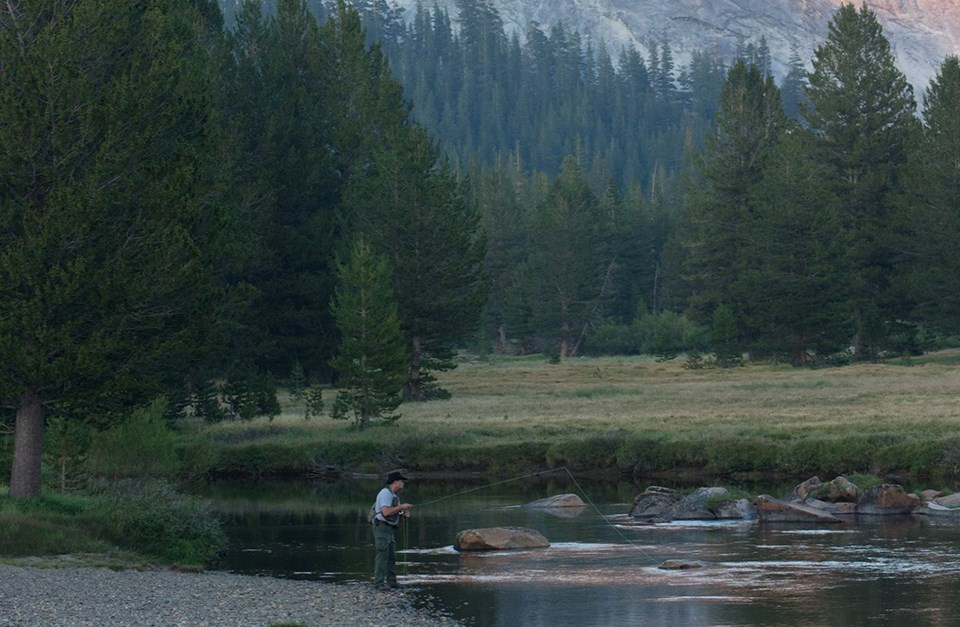 What comes to mind when you think about fishing? Patience, relaxation, challenge, and memories are a few words often associated with fishing. We want you to have an enjoyable time fishing during your visit, along with future visitors; learn your responsibilities before casting a line or flicking a fly into the water.
Licenses
Visitors to Yosemite 16 or older must have a valid California fishing license. Fishing licenses are available online.The California Department of Fish and Wildlife website lists current sport fishing license fees and regulations.
Fishing Regulations
Fishing regulations for Yosemite National Park follow those set by the State of California, including the requirement that people 16 or older have a valid California fishing license.
The season for stream and river fishing begins on the last Saturday in April and continues through November 15. All lakes and reservoirs are open to fishing year-round.
There are some special regulations that apply within the park:
No live or dead minnows or other bait fish, amphibians, non-preserved fish eggs, or roe may be used or possessed.
Fishing from bridges and docks is prohibited.
In Yosemite Valley and El Portal (Happy Isles to Foresta Bridge):

Rainbow trout are catch-and-release only.
Brown trout limit is five per day or ten in possession.
Only artificial lures or flies with barbless hooks may be used; bait fishing is prohibited.
Mirror Lake is considered a stream and is only open during stream fishing season.

In the Tuolumne River from the O'Shaughnessy Dam downstream to Early Intake Diversion Dam:

Maximum size limit of 12 inches in total length.
Trout limit is two per day or two in possession.
Only artificial lures or flies with barbless hooks may be used; bait fishing is prohibited.
Fish Consumption Advisories
Prior to your trip review the statewide advisory for eating fish from California's lakes and reservoirs. The chemical of concern for the statewide advisory is Mercury — specifically methylmercury — found in fish tissue. At sufficient doses methylmercury can pose a risk.

Aquatic Invasive Species and Decontamination Protocols
Please help keep Yosemite free of aquatic invasive species! Anglers, kayakers, and boaters please inspect, clean, drain and dry all of your equipment prior to your visit. Clean and dry all personal belongings, clothing, and footwear that have come in contact with the water. Boaters and Kayakers, keep your watercraft dry for at least five days in warm, dry weather and up to 30 days in cool, moist weather before you visit Yosemite.
For more information:
Fishing Throughout the National Park Service
Learn more about fish and fishing throughout the National Park Service. You can learn about conservation, different fish species, and parks that offer fishing.

Last updated: February 21, 2021