Horseback Riding & Stock Use
Where Can Stock Go?
Except where otherwise posted or listed below, all designated trails in the park are open to stock use. Trails open to stock on the floor of Yosemite Valley are signed as bridle paths.
Trails Closed to Stock Use
General
Bicycle paths, tram roads, and shuttle bus routes
Yosemite Valley
The Mist Trail from Happy Isles to Nevada Fall

Snow Creek Trail from Mirror Lake

Mirror Lake Road

In addition, the Yosemite Falls Trail from Yosemite Valley to the top of Upper Yosemite Fall is not recommended for, but is open to, stock use
Wawona
Lower Chilnualna Falls foot trail from the parking area in Wawona at the junction with the horse trail

Mariposa Grove, except the Perimeter Trail (no grazing within Mariposa Grove)
Tuolumne Meadows
The Gaylor Lakes trail from Tioga Pass Entrance Station to Gaylor Lakes
Gaylor Lakes Basin above Lower Gaylor Lake
The Muir Gorge Trail segment from Return Creek to Pate Valley in the Grand Canyon of the Tuolumne
Check wilderness permit stations for current trail conditions and any temporary closures. Stock use in any part of the park may be limited or prohibited when such action is necessary to protect park values or safety of park visitors. Any such closure will be published and posted.
Regulations
Maximum of 25 head of pack and saddle stock per party.

Cross-country or off-trail travel with stock is prohibited.

Stock users are prohibited from establishing new trails and from the short cutting of trails and switchbacks.

Only well broken, properly shod, gentle stock in good healthy condition should be used in the park.

Llamas are not allowed on the High Sierra Camp Loop, the Vernal/Nevada Falls corridor, or the river trail from Nevada Fall to Merced Lake. Exceptions may be made for Pacific Crest Trail and John Muir Trail users with written permission of the Superintendent (PO Box 577, Yosemite, CA 95389).

Wilderness stock users must carry and use a shovel and rake to naturalize camps and scatter manure.

Pets are prohibited in the Yosemite Wilderness.

Stock parties must travel in single file whenever possible.

Wilderness overnight stock parties using authorized non-maintained stock routes are limited to 12 head of stock and 8 people.

Grazing is permitted except within four miles of trailheads and paved roads or immediately surrounding any of the High Sierra Camps.

Tying to trees for periods longer than is needed to load and unload is prohibited.

When picketed on a line, stock must be tied so they cannot chew on tree bark or eat the leaves of woody vegetation.

Stock must be picketed at least 100 feet from any stream, lake, or spring.

Stock may be tied within a campsite only when unloading and loading.
Prepare Your Stock
Much of Yosemite's Wilderness is over 8,000 feet in elevation. Acclimatization of stock is advisable.

Stock and riders with little or no mountain experience may have problems with glacial polished slick rock, rapid stream crossings, slide areas, and other unfamiliar conditions.

Stock should be trained to picket, stand tied, or use hobbles before going overnight in the mountains.
Services
Overnight boarding facilities, spot packing, and day rides are available from Yosemite Hospitality whose liveries are located within Yosemite National Park. Horse owners are responsible for making advance arrangements for overnight use and reservations are suggested for all services. Information may be obtained by calling Yosemite Hospitality at 209/372-4386, or by visiting Yosemite Hospitality's website.
Several commercial pack stations are authorized to provide certain services in Yosemite. If using trailheads within Yosemite, please use Yosemite Hospitality. If you are starting outside the park at a US Forest Service trailhead, contact the pack station in the appropriate area.
Frontcountry Stock Camps
In the front country, privately owned stock may be kept overnight only in campgrounds with designated stock sites.
Stock sites are available seasonally at Wawona Campground, Bridalveil Creek Campground, and Tuolumne Meadows Campground. Reservations are required. There is no stock camp in Yosemite Valley.
The Wawona and Bridalveil Creek horse camps have two sites each; the Tuolumne Meadows horse camp has four sites. Each site can accommodate up to six people and six head of stock. There is a limit of two vehicles and two stock trailers per parking area.
Regulations
Feed must be provided. Grazing is prohibited. The use of weed-free stock feed is required.

Hitch lines or portable corrals must be used. Trees should be wrapped beneath ropes to prevent damage to bark. Stock must be tied so they cannot chew/eat tree bark or leaves of woody vegetation.

Campsites must be cleaned on a daily basis.

Manure and uneaten fodder must be raked, bagged, and deposited in dumpsters.

All other trash must be placed in bearproof dumpsters provided at or near campgrounds.

Grain must be stored in food lockers provided on site.

Check out time is noon on the day of departure.

Stock is not permitted in the main campground.

Stock can be unloaded and loaded at any stock camp, designated stock area, or any concession stable.
Commercial Use Authorizations
Additional information pertaining to those with pack stock commercial use authorizations:
Wilderness Stock Camps
Please follow Leave No Trace camping guidelines while camping with stock.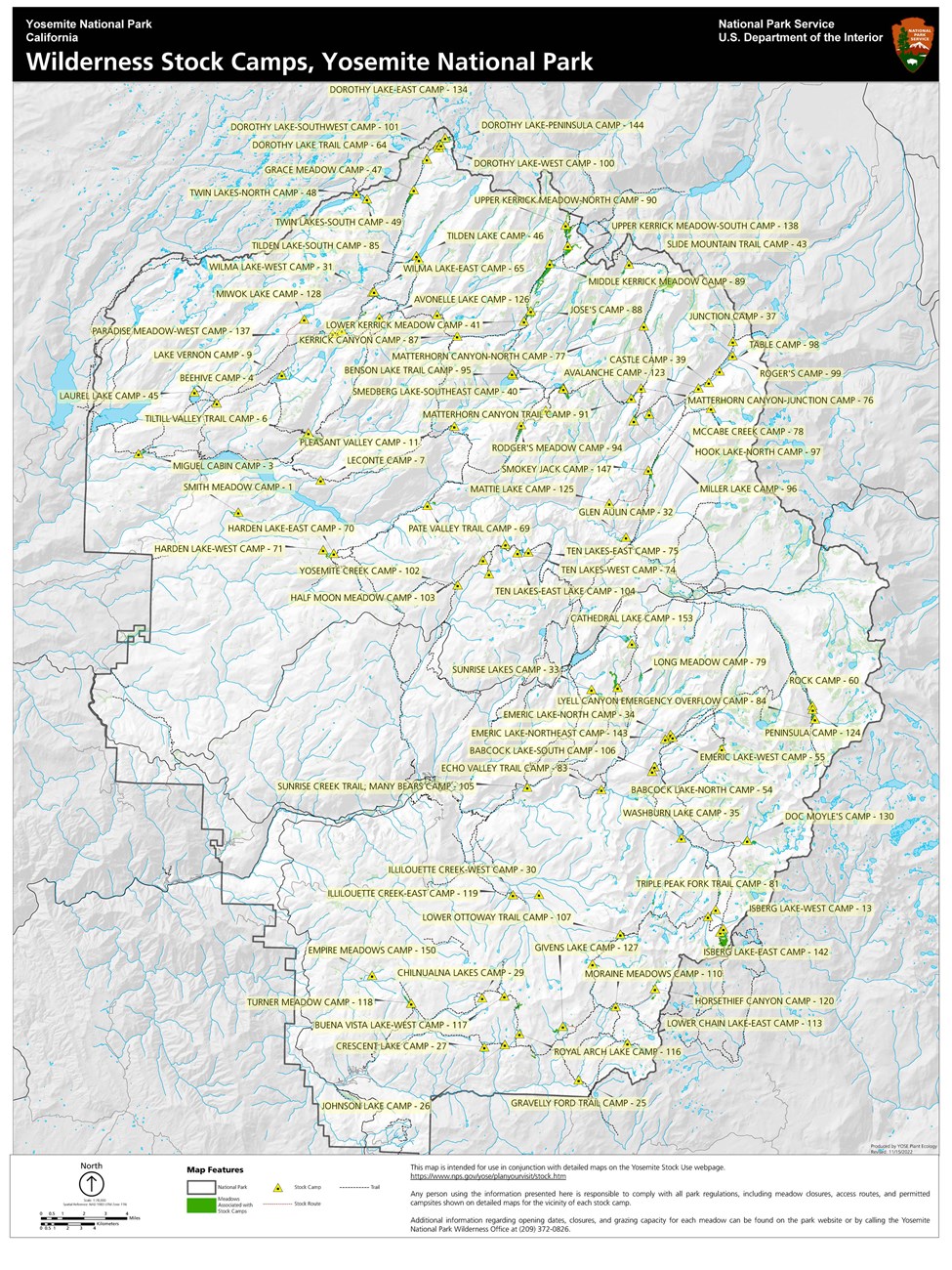 Last updated: August 25, 2023