Places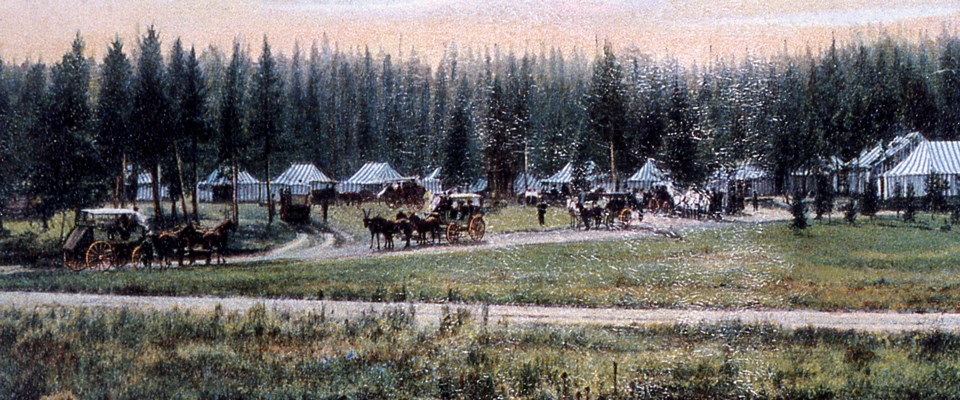 In addition to archeological sites and artifacts associated with prehistoric human use of the region, there are many historic districts, historic structures, and cultural landscapes that are essential to the inherent value of Yellowstone National Park.
Many of the park's developed areas are within historic districts that contain hundreds of cultural resources such as buildings, bridges, trails and roads (linear resources), and cultural landscape features (overlooks, vegetation) that have historic, architectural, and/or engineering significance. The majority of Yellowstone's hotels, lodges, general stores, residences, maintenance shops, and offices are listed on or eligible for listing on the National Register of Historic Places.
The need to protect and understand the importance of these resources affects how the park is managed today. So far, 895 buildings, trails, roads, bridges, utility structures, and grave markers have been documented as culturally significant. Many more of Yellowstone's properties have still not been thoroughly evaluated, including 173 structures on the List of Classified Structures, approximately 127 buildings constructed during the NPS Mission 66 period (1945–1972), and 124 trails. Only seven (25%) of the park's cultural landscapes have been inventoried and evaluated for their historical significance.
Fort Yellowstone National Historic Landmark District is located within Mammoth Hot Springs Historic District and is the headquarters for Yellowstone National Park. Historic buildings, structures (Roosevelt Arch, Powerhouse), and sites (parade grounds, cemetery) contribute to the significance of this district. Yellowstone is also home to five influential examples of park "rustic" architecture— the Old Faithful Inn, the Northeast Entrance Station, and the Norris, Madison, and Fishing Bridge museums. Preserving a historic structure requires minimizing the rate at which historic fabric is lost and ensuring additions and alterations are compatible with historic character. Many structures in the park require in-kind replacement of historic materials and strengthening to withstand seismic events to avert structural failure.
Other Places
Cultural landscapes are the places people create in the natural world.
Yellowstone Lake, 9,000 years ago: The earliest intact cultural deposits in the park have been found at a site on the shore of Yellowstone Lake.
Town Site of Cinnabar, Montana, 1903: The Northern Pacific Railroad established Cinnabar in 1883 as the last stop on its branch line to Yellowstone National Park. It was abandoned in 1902-1903.
Haynes Photo Shops, 1884: As leaders in concessions development in Yellowstone from 1884 to 1962, Frank Jay Haynes and his son Jack Ellis Haynes constructed many buildings for their enterprises.
Lodging No Longer Standing: Several hotels are no longer standing in Yellowstone.
More Information
History & Culture

Explore the rich human and ecological stories that continue to unfold.

Collections

The Heritage and Research Center houses Yellowstone's extensive museum collection, archives, and research library.

Management

Review our laws and policies, meet park managers, and examine projects and budgets.
Last updated: August 21, 2020