Places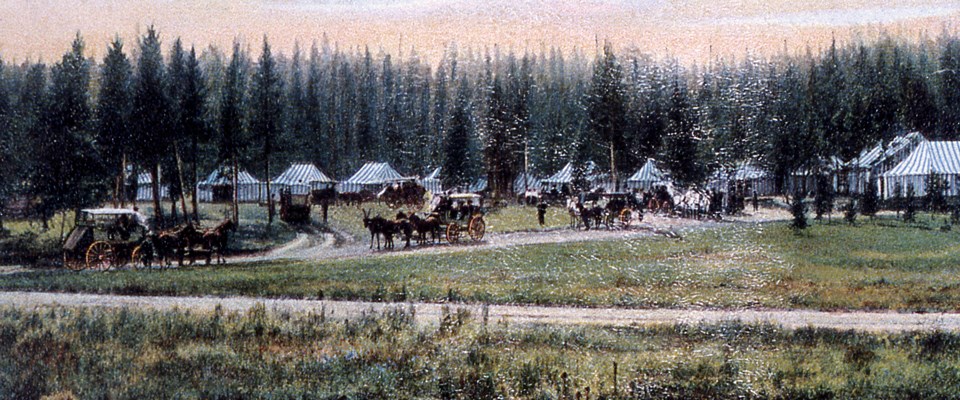 Many places in Yellowstone have been preserved because of the information they convey about past human activities in the region or because of their significance in architectural or park history. Historic structures and sites in Yellowstone contribute to the park's record of the early and on-going efforts to balance resource preservation and facility development for public enjoyment.
The parks' historical resources include dozens of sites, cultural landscapes, and structures listed on the National Register of Historic Places and many others that are eligible for inclusion. Most of these places are of interest because of their significance in architectural or park history, but archeological sites such as Obsidian Cliff are associated with American Indian use that pre-dates the arrival of the first park visitors. The need to protect and understand the importance of these resources affects how the park is managed today.
Many Yellowstone structures have historical, architectural, and/or engineering significance in addition to providing facilities for visitor use and park management. This includes 954 buildings, roads and bridges, utility structures, grave markers, and other constructed features. Yellowstone is also home to five influential examples of park "rustic" architecture—the Old Faithful Inn, the Northeast Entrance Station, and the Norris, Madison, and Fishing Bridge museums. Preserving a historic structure requires minimizing the rate at which historical material is lost and ensuring additions and alterations are compatible with historic character. Many structures in the park require replacement of historical materials to avert structural failure and strengthening to withstand seismic events.
National Register of Historic Places
The National Register of Historic Places is the Nation's official list of historic places worthy of preservation. Authorized by the National Historic Preservation Act of 1966, the National Register is a national program to coordinate and support public and private efforts to identify, evaluate, and protect our historic and archeological resources.
Properties listed in the Register include districts, sites, buildings, structures, and objects that are significant in American history, architecture, archeology, engineering, and culture. The National Register is administered by the National Park Service. Currently 73,000 listings have been nominated by governments, organizations, and individuals because they are important to a community, a state, or the nation.
In Yellowstone, the following places are listed:
National Historic Landmarks
National Historic Landmarks are nationally significant historic places designated by the Secretary of the Interior because they possess exceptional value or quality in illustrating or interpreting the heritage of the United States. Today, fewer than 2,500 historic places bear this national designation.
District: A significant concentration, linkage, or continuity of sites, buildings, structures, or objects that are historically or aesthetically united by a plan or physical development. Examples: residential areas, large forts, rural villages, canal systems, and large landscaped parks.
Building and Structure: Construction that includes those that create human shelter. The units may be a historically and functionally related unit, such as a courthouse and jail or a house and barn. Examples: houses, barns, garages, churches, hotels, bridges, tunnels, fire towers, silos, roadways.
Site: The location of a significant event where a historic occupation or activity occurred. It may be the site of a building or structure which is no longer standing or which exists only as a ruin. Examples: village sites, battlefields, ruins of historic buildings and structures, campsites, sites of treaty signing, trails, and natural features, such as springs and rock formations.
In Yellowstone, the following places are listed:
Other Places
Cultural landscapes are the places people create in the natural world.
Yellowstone Lake, 9,000 years ago: The earliest intact cultural deposits in the park have been found at a site on the shore of Yellowstone Lake.
Town Site of Cinnabar, Montana, 1903: The Northern Pacific Railroad established Cinnabar in 1883 as the last stop on its branch line to Yellowstone National Park. It was abandoned in 1902-1903.
Haynes Photo Shops, 1884: As leaders in concessions development in Yellowstone from 1884 to 1962, Frank Jay Haynes and his son Jack Ellis Haynes constructed many buildings for their enterprises.
Lodging No Longer Standing: Several hotels are no longer standing in Yellowstone.
Last updated: August 6, 2019