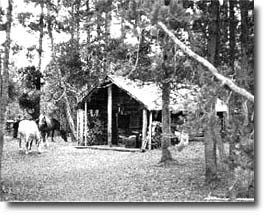 The U.S. Army constructed backcountry cabins and snowshoe cabins to provide facilities for troops patrolling for poachers. Typically these were about 16 miles apart-a day's travel. The four backcountry cabins surviving from this period are still used by the National Park Service for backcountry patrols (visitor safety, law enforcement, poaching), to temporarily house researchers, and as visitor contract stations. Located in remote parts of the park that are accessible only by foot and horseback, these cabins serve as welcome refuges for crews where they can rest and get out of the cold, rain, and snow.
Each cabin is rectangular in the "
Rocky
Mountain
" style which is exemplified by the entrance and covered porch with a gable end. This contrasts with eastern and midwestern log cabins where the entrance is often found on a side wall and the covered entry porch incorporates a shallower pitched shed roof. The roofs are cedar shingles, but were originally sod. Foundations (floors) were originally dirt, but have been replaced with concrete. Doors are on the south side. The cabins rest on concrete foundations with the sill logs directly on the foundation.