Yellowstone Lake Archaeology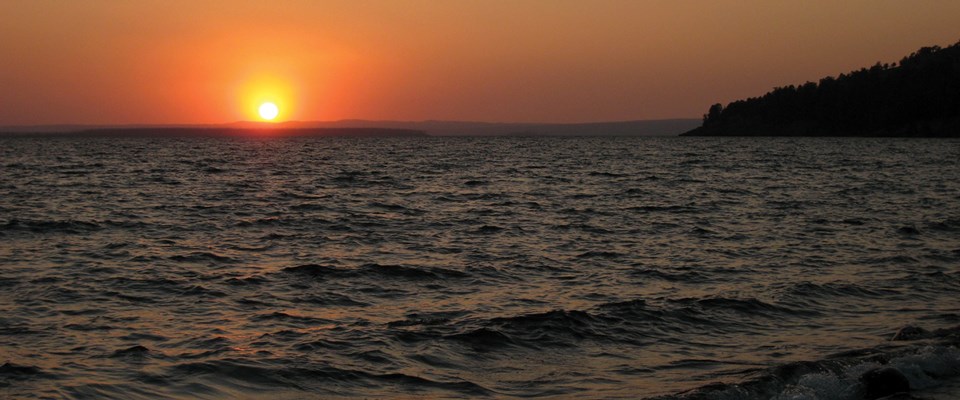 The earliest intact archeological deposits in the park have been found at a site on the shore of Yellowstone Lake. The site was excavated because it was at risk of erosion, and revealed evidence of a 9,350-year-old camp where several families appear to have spent time. People probably used this area in the summer while hunting bear, deer, bighorn, and rabbits, and perhaps making tools and clothes. Artifacts dating to 3,000 years ago have also been discovered on islands in the lake, leading some archeologists to speculate that indigenous peoples used watercraft to travel there.
More Information
References
The list below includes academic publications, government publications, management documents that inform the decision-making process at Yellowstone. The Yellowstone Resources and Issues Handbook, updated annually, is the book our rangers use to answer many basic park questions.
Doss, P.K. and A. Bleichroth. 2012. Following the path of stone. Yellowstone Science. 20(2).
Johnson, A. 2010. An overview of precontact archeology in Yellowstone. Yellowstone Science. 18(1).
Livers, M. 2012. Stone circles in Yellowstone. Yellowstone Science. 20(2).
Sanders., P. 2002. Prehistoric land-use patterns within the Yellowstone Lake Basin and Hayden Valley Region, Yellowstone National Park, Wyoming. In Yellowstone Lake: Hotbed of chaos or reservoir of resilience?: Proceedings of the 6th Biennial Scientific Conference on the Greater Yellowstone Ecosystem, Yellowstone Center for Resources and The George Wright Society, Yellowstone National Park, WY, 213–231. Available at www.georgewright.org/01yp_sanders.pdf
Shortt, M.W. 2001. Museum of the Rockies archeological research in the canyons of the Yellowstone. Yellowstone Science. 9(2).
Shortt, M.W. 2003. Record of early people on Yellowstone Lake: Cody Complex occupation at Osprey Beach. Yellowstone Science. 11(4).
Szamuhel, R. 2007. A new prehistoric source for stone tools. Yellowstone Science. 15(1).
Last updated: August 6, 2019