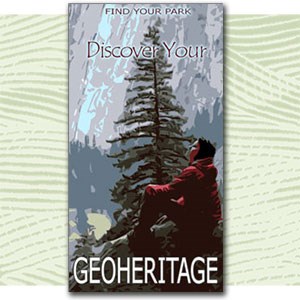 Geologic Heritage encompasses the significant geologic features, landforms, and landscapes characteristic of our Nation which are preserved for the full range of values that society places on them, including scientific, aesthetic, cultural, ecosystem, educational, recreational, tourism, and other values. Geoheritage sites are conserved so that their lessons and beauty will remain as a legacy for future generations.
Such areas generally have great potential for scientific studies, use as outdoor classrooms, and enhancing public understanding and enjoyment. Geoheritage sites are fundamental to understanding dynamic earth systems, the succession and diversity of life, climatic changes over time, evolution of landforms, and the origin of mineral deposits.
Geoheritage sites can be found throughout the National Park System. The National Park System contains 266 parks with fossil resources, 94 parks with 4,700 known caves, and another 59 parks with known karst systems. Ninety-seven parks protect 7,500 miles of shoreline, 25 parks contain geothermal systems, 38 parks have volcanoes as a major feature, and 37 have active glacial features. Parks also contain a tremendous diversity of landforms including dunes, arches, canyons, buttes, and escarpments. Park museum collections have more than 35,000 geological specimens and nearly 416,000 paleontological specimens.
In addition to these geologic resources, the Park Service is responsible for administering the National Natural Landmarks program and the National Register of Historic Places, and provides support for U.S. participation in the World Heritage Convention. Each of these programs contribute to the preservation of America's geologic heritage. A wide range of diversity can be seen in the natural, cultural, and historic sites within Geoheritage Sites—Examples on Public Lands, Natural Landmarks, Heritage Areas, and The National Register of Historic Places.