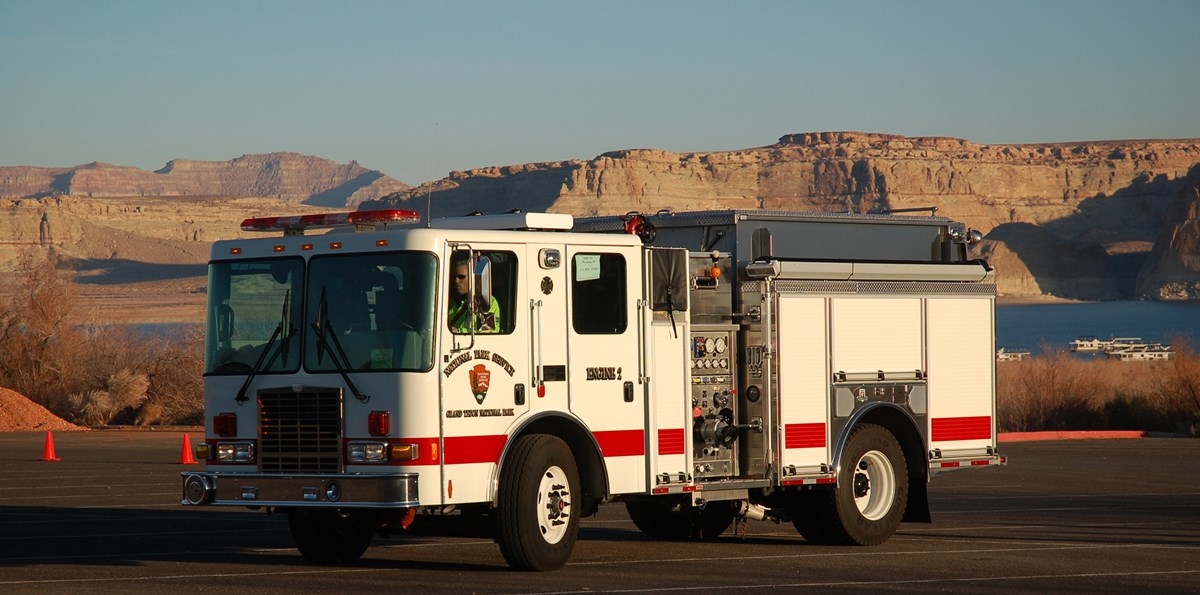 NPS structure firefighters respond to many types of fires including vehicle, motorhome, dumpster, and trash fires in addition to fires in buildings. Medical calls, Search and Rescue (SAR), hazardous materials (Hazmat) and even providing assistance for landing helicopters are just some of the interesting incidents that require an operational response from NPS structure firefighters.
Engine Company Parks
Engine company parks are national park units that maintain an NPS-staffed and -owned Type I or II structure fire apparatus for structure fire and all-hazard response within the park. In most cases these parks are part of a local mutual aid agreement. Currently 22 NPS sites maintain 49 fire stations, which are equipped with 68 apparatus (including 3 fire boats), and are staffed and supported by approximately 200–250 employees and partners. Structural fire suppression response provided by the NPS is best characterized as a volunteer fire department. Although engine company parks comprise only six percent of the total number of sites in the NPS, many of them are seen as the agency's "crown jewels" and represent the first parks ever established.
Did You Know?
That Yellowstone National Park has a fire engine with tracks instead of wheels for driving on snow?
Although engine company parks comprise only six percent of the units in the NPS, they account for 25 percent of all NPS lands, for 60 percent of all visitation within the system, and protect 26 percent of all NPS collections.
There are about 30,170 fire departments within the United States. Only seven percent (2,315) are staffed with paid career firefighters. Approximately 70 percent (21, 235) of departments are staffed with all volunteer members.
Engine Company Parks:
NPS-owned apparatus managed and staffed by local volunteer fire departments to provide fire suppression capabilities to the park:
Educational Resources:
Alcatraz's Diamond T (link coming soon)