News Release
Plan ahead and recreate responsibly this fall and winter season at Olympic National Park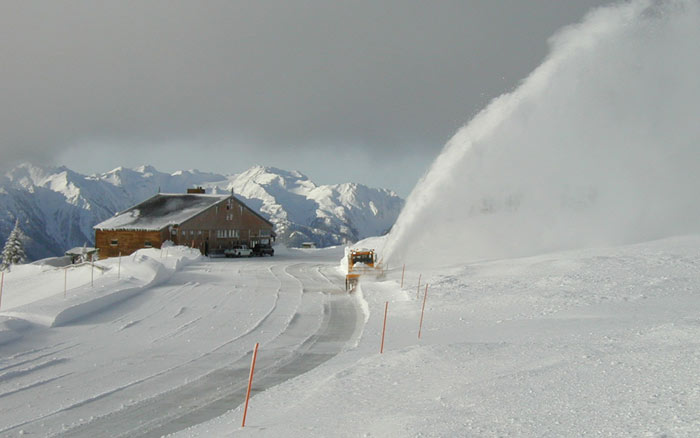 News Release Date:
November 24, 2021
Contact: Penny Wagner, 360-565-3005
From snow-blanketed mountains and evergreen forests dripping with rain to ocean beaches pounded by winter storm waves—there are many ways to experience the fall and winter seasons at Olympic. Although most areas of the park are open, some facilities and park roads are closed now for the season. Before your visit, call the recorded Road & Weather line at 360-565-3131 and check the current conditions and weather forecast.

As always, visitors are urged to plan ahead, hike smart, pack the Ten Essentials, and have an emergency plan— even for a short day hike or snowshoe excursion. Consider learning CPR and basic wilderness first aid, especially if you are planning to hike, ski, or snowshoe in the backcountry. Leaving an accurate itinerary with an emergency contact is a critical step for any trip in the backcountry.

Hurricane Ridge
Winter season operations for Hurricane Ridge are set to begin this Friday, November 26. Weather permitting, Hurricane Ridge Road is scheduled to be open Friday through Sunday through March 27, 2022 (closed December 25, Christmas Day).  In addition, the road is scheduled to be open December 26 through January 2 and the holiday Mondays of January 17 and February 21.

The restrooms will be open inside the Hurricane Ridge Visitor Center, but the exhibits, film, warming area, and tables will remain closed. Be prepared to use your vehicle as a warming area and pack extra food, water, dry clothing, and blankets and/or sleeping bags in your vehicle.

Although close to Port Angeles, Hurricane Ridge is subject to extreme winter conditions including sudden storms, white-outs, and avalanches, making planning and preparation for winter conditions essential. Weather conditions can change quickly and with little warning.

All vehicles, including four-wheel drive, are required to carry tire chains when traveling above the Heart O' the Hills entrance station during the winter season.

Hurricane Ridge Road typically opens at 9:00 am, though times can vary. Depending on weather and road conditions, the road may open as early as 8:00 am, as late as noon, or not open at all. The road closes to uphill traffic at 4:00 pm and all vehicles must exit the Heart O' the Hills entrance station by 5:00 pm.

Winter storms can close or delay opening of the Hurricane Ridge Road; high winds and blizzard conditions are not uncommon. Road and weather condition updates are available on the Road & Weather line at 360-565-3131 and by following @HRWinterAccess on Twitter (no account necessary.

Hurricane Ridge Road closes temporarily when the parking lot becomes completely full. Park staff urge visitors to park efficiently in order to maximize parking space.

Find more information and a video to help plan ahead at nps.gov/olym/planyourvisit/hurricane-ridge-in-winter.htm.

Hurricane Ridge Mountain View Café, Gift Shop & Rental Shop
The concessioner-operated Mountain View Café, Gift Shop & Rental Shop on the lower level of the Visitor Center will be open for the 2021-2022 winter season Friday through Sunday  beginning December 10 through March 27 (closed December 25). The Café, Gift Shop & Rental Shop is also scheduled to be open daily December 26 through January 2 and the holiday Mondays of January 17 and February 21.

Food service will be take-out only (no dine-in option at this time).

Downhill Ski, Snowboard and Tubing Area 
Weather and snow permitting, the Hurricane Ridge Ski, Snowboard and Tubing Area is scheduled to operate from 10:00 am to 4:00 pm on Saturdays and Sundays beginning December 5 through March 27, 2022 (closed December 25, Christmas Day). The area is also scheduled to be open daily December 26 through January 2 and the holiday Mondays of January 17 and February 21.

More information about the Hurricane Ridge Downhill Ski, Snowboard and Tubing area for the 2021-2022 season is available on their website at hurricaneridge.com.

Cross-country Skiing and Snowshoeing
Opportunities for cross-country skiers and snowshoers range from open, level meadows near the visitor center to extreme terrain in the wilderness backcountry. Anyone skiing or snowshoeing beyond the immediate Hurricane Ridge area should sign-in at the registration box in the foyer of the Hurricane Ridge Visitor Center and be prepared for steep terrain and the possibility of avalanches.

Information about ski and snowshoe routes and trails is available at park visitor centers, the park website or the park newspaper, the Bugler.

Avalanche Information
Up-to-date information about weather and avalanche risk is available from the Northwest Avalanche Center online at nwac.us. Anyone planning to venture beyond the maintained downhill ski area, or the immediate Hurricane Ridge area, should always check the Northwest Avalanche Center website and the current conditions posted at the Hurricane Ridge Visitor Center.

Hurricane Ridge Webcam
Hurricane Ridge webcams are available on the park website. The webcam image is updated every 15 minutes (although severe weather can obstruct the webcam views).

Olympic National Park Visitor Center
The Olympic National Park Visitor Center, at the base of Hurricane Ridge Road in Port Angeles, is currently open daily (except Thanksgiving and Christmas Day) from 9:00 am to 4:00 pm. The theater and Discovery Room remain closed at this time. Restrooms are open daily and located outside of the main building. Staff are also available by phone or email to answer questions.
Visitor Information:
360-565-3130

Road & Weather Hotline:
360-565-3131

 
Wilderness Information Centers – Wilderness Safety
Staff are available daily from 9:00 am to 4:00 pm at the Port Angeles Wilderness Information Center to distribute bear canisters and answer questions from the back porch, via email at OLYM_WIC@nps.gov, or by phone at (360) 565-3100. All wilderness camping permits must be reserved online at Recreation.gov prior to the planned trip. The Quinault and Hoodsport Wilderness Information Centers are currently closed for the season.

Wilderness use during the fall and winter requires additional skill in navigation, route-finding, and snow travel. Navigation—map, compass, and GPS system—is one of the Ten Essentials. Navigation systems should be used when planning your route and orienting yourself to your surroundings. Know how to use a topographical or relief map as well as your compass or GPS unit before going out. Check the park website for more information on winter travel in the wilderness.

Park Store
The park store is operated by Discover Your Northwest, an official non-profit partner of the National Park Service dedicated to supporting the educational mission of Olympic National Park. A range of books, travel guides, maps, pins, and other items are available for sale online. To find out more, become a member, or browse the online bookstore visit discovernw.org/olympic.

Park Roads and Campgrounds
Deer Park Road, Obstruction Point Road, and Hurricane Hill Road are closed to vehicles for the winter season. Sol Duc Road typically closes for the winter due to snow and icy road conditions. Other park roads may close with short notice due to road and weather conditions. Call the Road & Weather line at 360-565-3131 to check current road and campground status information.

The Olympic Hot Springs Road in the Elwha Valley is closed to vehicle access beyond the Madison Falls parking area at the park boundary due to a major road washout. There is limited parking and turnaround space. The remainder of the Olympic Hot Springs Road and access to Whiskey Bend Road is open to pedestrians and bicycles via a temporary bypass trail. Bicyclists should walk their bike on the bypass trail and all users should be prepared to share the trail. Dogs on a leash are allowed on the roads and the bypass trail, but not on any other trails beyond the gate.

All park campgrounds that are open this time of year are first-come, first served. Some park campgrounds are primitive with no potable water. Check the status and amenities of campgrounds on the park website at nps.gov/olym/planyourvisit/camping.htm.

Please store all food and scented items in your vehicle or an animal-proof food storage locker when not in use. Do not leave food, dishes, garbage or other smelly items unattended at your campsite.

Pacific Coast
Kalaloch, Mora and Ozette—Olympic National Park's road-accessible coastal destinations—are open weather and conditions permitting. Visitors should be aware of the high tides in the winter and any predicted storms. Storms can make beach hiking hazardous and even impossible due to large waves. Coastal streams that are normally easy to cross can be waist deep or deeper during storms.

Rain Forest
Throughout the winter season, rain falls frequently in the Hoh, Queets and Quinault Valleys, contributing to the yearly average of 140 inches of precipitation each year. The result is a lush, green canopy of both coniferous and deciduous species. Mosses and ferns that blanket the surfaces add another dimension to the enchantment of the rain forest.

Due to a recent major storm event that caused flooding and road damage across the Olympic Peninsula, the Hoh Rain Forest is temporarily closed at the park boundary. This closure includes the Hoh Campground, Visitor Center, and area trailheads.  Call the recorded Road & Weather line at 360-565-3131 and check the Alerts & Conditions on the park website for updates.

Recreate Responsibly
Whether you're planning to backpack, snowshoe, ski, or take a day hike, please remember to Recreate Responsibly! We encourage you to follow the guidance from the Centers for Disease Control and Prevention (CDC) to reduce the spread of COVID-19 and follow Leave No Trace principles when you visit.
Know before you go. Visit NPS.gov/olym for current park conditions and availability of restrooms and other facilities. Make a plan, follow the Ten Essentials, and if you are sick, stay home.
Keep it close. Follow the state, tribal, and local orders for where you're traveling. The NPS is working closely with public health professionals to make operational changes and adapt to changing conditions.
Keep your distance. Follow the CDC's social distancing guidelines and stay at least six feet away from other people. Wear a mask when you are near others—and always inside park buildings.
Know your limits. Consider postponing challenging hikes or trying new activities while first responders, parks, and communities continue to concentrate on responding to the pandemic.
Keep it with you. If you brought it, take it with you. Trash pickup and restroom facilities will continue to be limited in many park areas.
Keep it inclusive. Be an active part of making our nation's parks and public lands safe and welcoming for all identities and abilities.
Helpful Links

Plan Your Visit: nps.gov/olym/planyourvisit/index.htm
Alerts & Conditions: nps.gov/olym/planyourvisit/conditions.htm
Visiting in Winter: nps.gov/olym/planyourvisit/visiting-in-winter.htm
Lodging: nps.gov/olym/planyourvisit/lodging.htm
Pets: nps.gov/olym/planyourvisit/pets.htm
Fees & Passes:  nps.gov/olym/planyourvisit/fees.htm
Last updated: November 24, 2021