Hurricane Ridge in Winter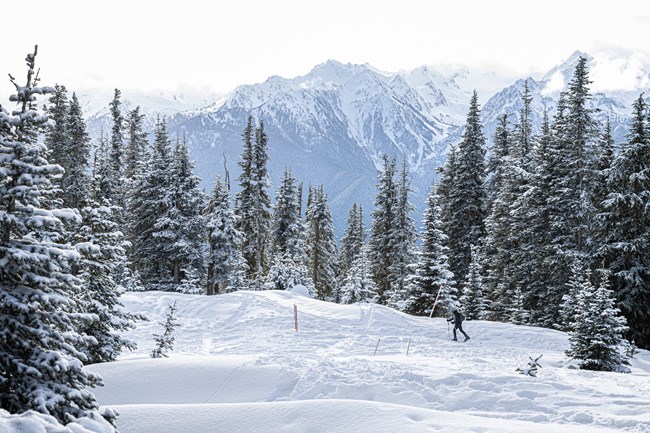 At an elevation of 5,242 feet, Hurricane Ridge is Olympic's alpine destination in winter. Typically snow-covered, Hurricane Ridge provides opportunities for snowshoeing, cross-country and downhill skiing, snowboarding, tubing and more. Hurricane Ridge's winter season is generally late November through the end of March.

2023-2024 Winter Season
Winter season operations for Hurricane Ridge are set to begin on Friday, November 24, 2023, and end on March 31, 2024.

Scroll down on this page to see more information about the services and hours of operation of facilities at Hurricane Ridge.
Getting There
Hurricane Ridge is located 17 miles south of Port Angeles, at the end of Hurricane Ridge Road. Entrance fees are collected at the Heart O' the Hills entrance station whenever the road is open.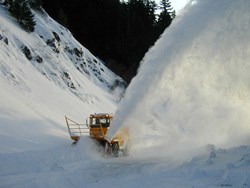 Hurricane Ridge Road
Call the Road & Weather Hotline at (360) 565-3131 for current information and road updates. The road's status will also be updated on our alerts page.

During the winter season, Hurricane Ridge Road is typically open to uphill traffic from 9 am to 4 pm, Friday through Sunday and some holidays, weather and road conditions permitting. However, the road can open as late as 12 pm depending on road conditions. Winter storms can close or delay opening of Hurricane Ridge Road; high winds and blizzard conditions are not uncommon.

All vehicles, including 4-wheel-drive vehicles, are required to carry tire chains (or alternate traction devices as defined by Washington State Patrol).

All vehicles must be below the Heart O' the Hills entrance station by 5 pm during the winter season.

Hurricane Ridge Road is closed on Christmas Day (December 25).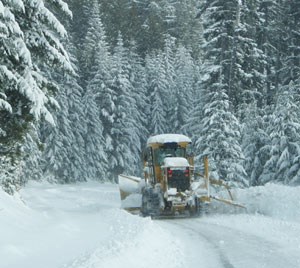 Winter Travel
Severe weather, icy or snowy roads, changing snow conditions, and winter rains can quickly alter any winter trip. Visitors traveling to the park should be prepared for winter driving conditions.
All vehicles are required to carry tire chains when traveling above the Heart O' the Hills entrance station November 1 through April 1. This requirement applies to all vehicles (including 4-wheel drive), regardless of tire type or weather conditions.

Weather Forecast for Hurricane Ridge
Weather Station at Hurricane Ridge
Current temperature, wind speeds, snow depth, and snow accumulation.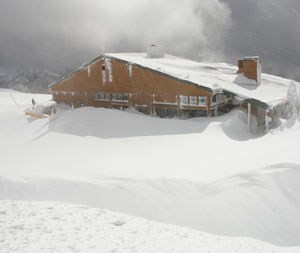 Visitor Center and Services
After the visitor center was destroyed in a fire, services at Hurricane Ridge will look different this year.
Temporary trailers will provide restrooms and a visitor contact station. The contact station will be staffed intermittently Friday through Sunday. Visitors should be prepared to use their vehicles as a warming area and pack extra food, water, dry clothing, and blankets or sleeping bags.

There will be no indoor warming area, food service, or potable water available.
Gear rentals such as snowshoes and skis will not be available.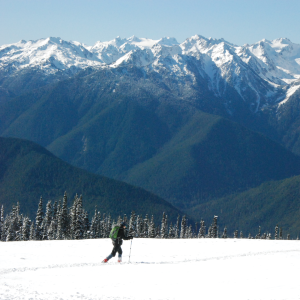 Cross-Country Skiing and Snowshoeing
With its easy access and 15 to 20 miles of routes, Hurricane Ridge is the focus of cross-country skiing and snowshoeing in Olympic National Park. Though winter explorers of all abilities can enjoy the area, flat, easy, beginner ski terrain is limited to the meadows above the parking area. Backcountry skiers can explore several slopes and bowls in the area. No trails are groomed or marked, however two routes use unplowed roads, which can usually be easily navigated.

Before heading out on any trip be prepared for steep terrain and the possibility of avalanches. Check current avalanche conditions before your trip.

For a winter map of the area with descriptions of snowshoe and ski routes, check here: Hurricane Ridge winter map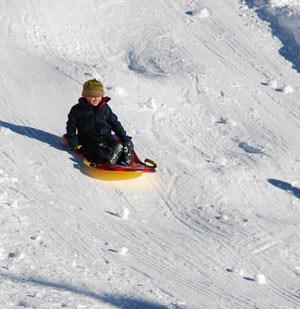 Sliding & Tubing at Hurricane Ridge
Sliding is permitted at no cost for children ages eight and under at the Children's Snowplay Area west of the parking lot. Bring your own tube or sled; sleds with runners are not allowed.
For visitors ages nine and older, sliding is only permitted at the tubing park within the Hurricane Ridge Ski Area. Only tubes furnished by the ski area are allowed. Visit the Hurricane Ridge Ski and Snowboard Area website for additional information on the tubing hill.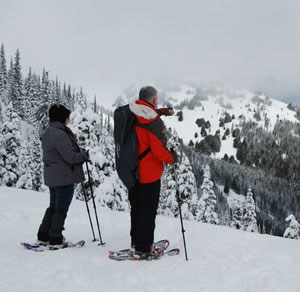 Snowshoe with a Ranger
As soon as there is enough snow, rangers will offer snowshoe walks at 1:30 pm on Saturdays and Sundays. These walks last 1.5 hours, cover less than a mile, and include 130 feet of elevation gain. Snowshoes and instructions are provided. The group will be limited to the first 15 participants.

Interested visitors should meet at the visitor contact station in the Hurricane Ridge parking area at 1:00 pm on the day of the walk. Walks may be canceled at any time due to operational priorities or safety concerns. To check the status of the program or request specific accommodations, please call (360) 565-3130.

Participants should prepare for cold, snow, wind or even rain. Dress in layers, wear warm, waterproof boots and bring hats, mittens, sunscreen and sunglasses.

If Hurricane Ridge Road is closed, walks are cancelled.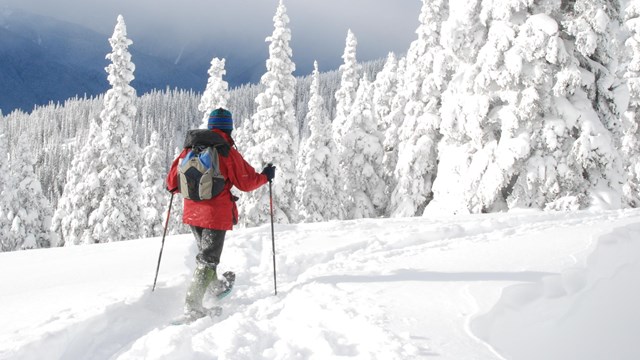 Visiting Olympic National Park in Winter
Where to go, what to do, and what you need to know when visiting Olympic during the winter season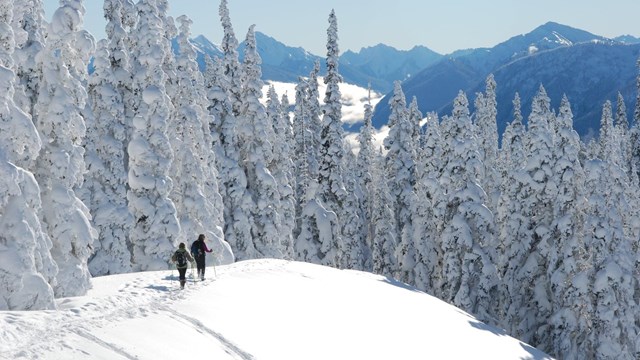 Wilderness Winter Travel
If you're planning to visit the Olympic Wilderness during the fall, winter, or spring, be prepared for inclement weather! Learn more here.
Last updated: November 24, 2023