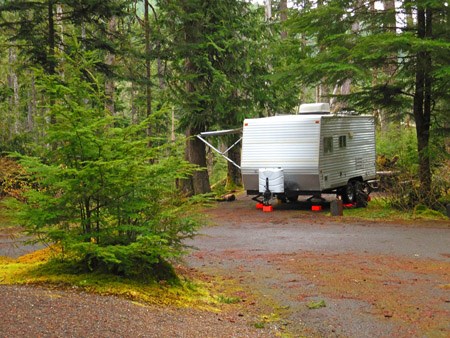 Know Before You Go:
Check out the campground information guide.
Reservations: Kalaloch and Sol Duc are the only campgrounds that accept reservations in the summer.
All other campgrounds are first-come, first-served.

Payment is by cash or check only. Many campgrounds are self-registration and change for over payment cannot be made.

Showers are not available in the campgrounds.
Campsites in park-operated campgrounds are not equipped with water or electrical hookups. See links below for available amenities per campground.
Most campgrounds have RV spaces limited to 21 feet or shorter. Some campgrounds have lengths up to 35 feet. More information available per campground at the park Visitor Centers and Ranger Stations, or by the campground links below.
Campsites with water and electrical hookups are available at the concession-operated Sol Duc Hot Springs Resort and the Log Cabin Resort.
Please check road conditions, campground status, and the campground opening and closing dates before your visit.