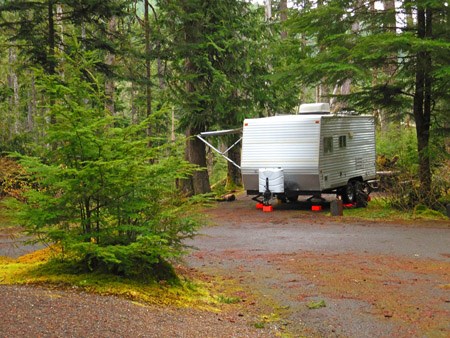 Know Before You Go:
Reservations: Kalaloch and Sol Duc are the only campgrounds that accept reservations in the summer.
All other campgrounds are first-come, first-served.

Payment is by cash or check only. Many campgrounds are self-registration and change for over payment cannot be made.

Group Sites: Reservations are needed for the park's two group campsites. Kalaloch: (360) 962-2271. Phone reservations only, 10 person minimum, 30 maximum, 7 day maximum stay, $40 a night up to 10 people, $2 per additional person. Pit toilets, water, limited parking, no beach access. Sol Duc: Reserve at www.recreation.gov or call (877)-444-6777. Organized groups only, 24 person and 8 stock maximum, 7 day maximum stay, $43 a night though fee may vary by date. Vault toilets. Closest water at ranger station.
Food Storage: Birds, rodents, bears and other common wildlife learn to search for any available food or scented item. Protect your property and help maintain healthy wildlife by securing food, dirty dishes, garbage and other smelly items. Please store all food and scented items in your car trunk or an animal-proof food storage locker when not in use. Do not leave food, dishes, garbage or other smelly items unattended at your campsite. Keep a clean camp 24 hours a day!
Firewood: In campgrounds where wood is not available for sale by concession services, visitors may collect dead and down wood (smaller than 6" diameter) within 100 feet of campgrounds. Wood must be collected below 3,500 feet
Showers are not available in the campgrounds.
Campsites in park-operated campgrounds are not equipped with water or electrical hookups. See links below for available amenities per campground.
Most campgrounds have RV spaces limited to 21 feet or shorter. Some campgrounds have lengths up to 35 feet. More information available per campground at the park Visitor Centers and Ranger Stations, or by the campground links below.
Campsites with water and electrical hookups are available at the concession-operated Sol Duc Hot Springs Resort and the Log Cabin Resort.
Please check road conditions, campground status, and the campground opening and closing dates (below) before your visit.