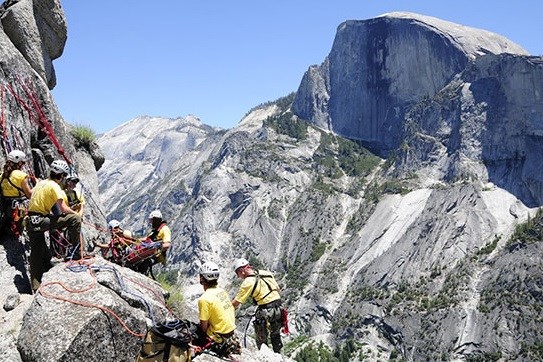 As a Trip Leader, you have worked hard to plan your group adventure in a national park. You have reviewed the
steps in planning your trip
, completed a
Trip Plan
, and identified your Safety Leader (A safety leader is someone or a couple of people in your group responsible for safety during your trip).
Everyone is ready and excited to experience nature in some of the most beautiful places our nation has to offer. Wouldn't it be unfortunate if you or one of your group members became lost or injured during the trip?
The best thing you and your group can do is to take steps to
prevent
a member from becoming lost or injured and know what to do if it happens. In the event that someone in your group becomes lost or injured, you and the Safety Leader will need to:
Remain calm
Take control of the group
Review the plan of action
For a lost person: clearly mark the their last known location
Begin delegating tasks to get your group involved and helping, and
Keep the group together.
It is very important that you practice your plan before you head out so everyone knows what to do during an emergency. And remember, each trip and activity may have special requirements so be sure to modify this plan to fit your trip and your group.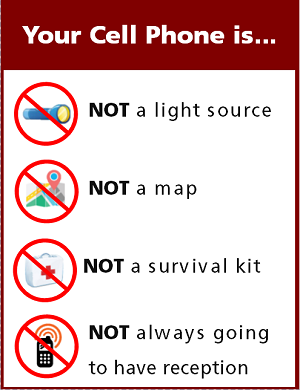 BEFORE YOU GO
Develop plan for how you are going to act and what steps you will take if someone becomes lost or injured.
Consider First-Aid and CPR training for the Trip and Safety Leaders
Pack a first aid kit with you - Inventory the kit and check dates. Replace any expired medications. Remember to pack any special medications required for group members.
All group members should have:

The Ten Essentials, plus a signaling device like a whistle, in case someone becomes lost or separated
Have the right gear for your activity - For example, wearing the right shoes (e.g. hiking boots, sneakers) while hiking can help prevent slips and falls. Wearing a life jacket while recreating in a body of water can prevent drownings.

Practice using your equipment before you go. If you are going into the backcountry, consider taking a personal locator beacon – don't rely on your cell phone!
Make sure you and the Safety Leader are familiar with the route. If you are heading out into backcountry, learn how to read a map and use a compass and/or GPS. This is also a great opportunity to teach your group members how to read and practice using the map before you go. Don't rely on your cell phone!
Teach your group members these three important principles:

"Stay Together" - Emphasize the importance of staying with the group, paying attention, and not wandering off even if something looks interesting.
"Be a Buddy" - Make sure everyone has a partner or a "Buddy". The Buddy's job is to look out for and stay with their partner at all times.
"Stay Put"- Unless there is an immediate threat to life, the lost person should always stay put and not continue to wander. Teach them to blow their whistle in short bursts rather than yelling so they don't lose their voice.

Practice these principles with your group. Children especially love to play act, so you can make it fun while simultaneously teaching them these important actions if they are lost. Remind everyone to stay calm and not panic.
DURING YOUR TRIP:
Assign a buddy to everyone.
Make a mental note of what everyone is wearing and carrying that day. Take a picture of your group with your phone before you go. If someone becomes separated, you'll know exactly what the person was wearing that day and you can share the picture with emergency personnel.
Have a chaperone/adult at the front AND back of the group to make sure your group stays together and doesn't become separated.
While on your route, point out landmarks and tricky turns which can be used as reference points by a lost member.
Stay on the trail - It will decrease contact with hidden obstacles such as uneven paths, rocks, or slippery surfaces.
If someone in your group is moving slower than the rest of the group, you need to slow down the pace of the entire group. You don't want to leave someone behind or rush them - which could lead to injury.
When you stop for a break, conduct a head count. When you finish your break and get ready to proceed to your next destination, conduct another head count. The sooner you identify that someone was separated from your group, the sooner you can retrace your steps and contact emergency personnel to help locate the person.
ACTION PLAN FOR A LOST VISITOR:
Call 911 and follow their instructions. Be prepared to provide the following information:

The last known location the lost participant was seen, including GPS coordinates if you have them
Types and colors of clothing they are wearing and what equipment they are carrying
Any medical conditions they may have

If you don't have a cell phone or cell signal, flag down hikers in the area who are returning to the starting point and ask them to alert park rangers of the situation.
If you don't see any hikers, you may need to split the group up and send some people back to the Ranger Station or Visitor Center to find help. Remind everyong to stay calm, "Stay Together" and "Be a Buddy".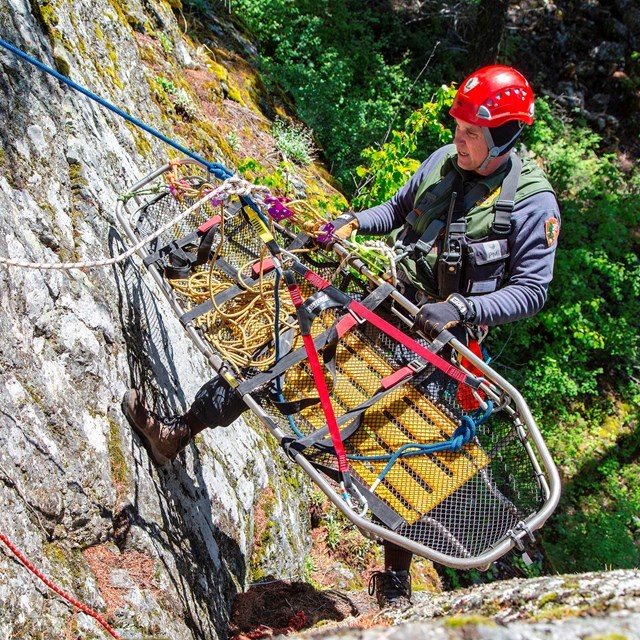 ACTION PLAN FOR AN INJURED VISITOR
Assess the nature of the injury and the level of medical care needed. Decide if you should call 911. If you call 911, follow the operator's instructions.
When treating minor injuries (e.g. scrapes and abrasions), use the First Aid kit to clean and cover the affected area.
In the event of major injuries:

Control bleeding by applying pressure to the wound
Make sure the person is breathing
Minimize movement

If the injured person is able to walk, evacuation might be as simple as an assisted walkout. If the person is not able to walk, call 911 or alert park rangers (see "Lost Person" above).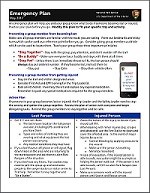 Access the
Emergency Plan
, a one page summary of the most important steps to prevent a member from becoming lost or injured and know what to do if it happens.
Plan and prepare for your trip with help from the
NPS Trip Planning Guide
and learn more about your
Health & Safety
in national parks.