Visiting in Winter
December, January, and February
Colder temperatures and a slower pace make a winter visit to Mammoth Cave National Park a place to find solitude. As icicles decorate the Historic Entrance of Mammoth Cave and the occasional snowstorm blankets the hillsides, winter transforms the park into a new wonder all its own.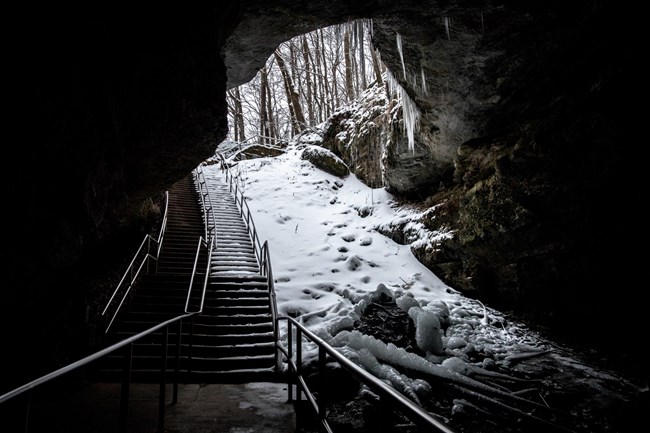 Cave Tours
During a summer visit to the park its common to sell out of cave tour tickets weeks in advance but the cold of winter has its advantages. While there are reduced tour options and departure times in the winter, tour tickets are generally still available days in advance, apart from major holidays. And many tours often do not fully sell out, allowing you to see the cave with a smaller tour group.

It is still always recommended to purchase your cave tour tickets in advance, as they are the only way to ensure a spot is available for your party. Availability of walk-up tickets is not guaranteed.

Other Ranger-led programs on the surface are limited during the winter months, check at the visitor center when you arrive to see what programs are being offered that day.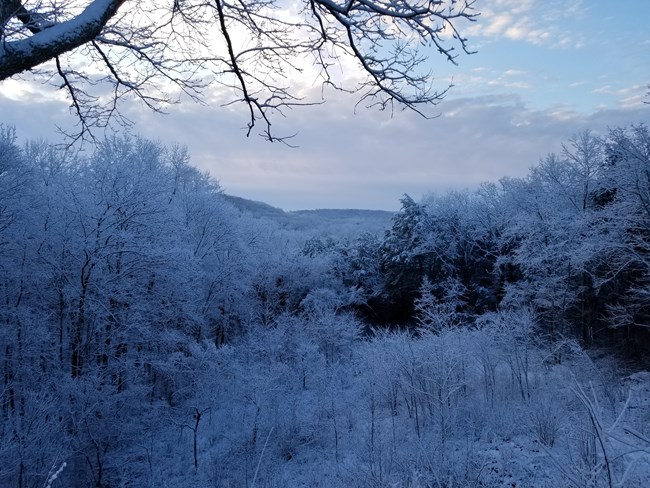 Camping and Lodging
The only campground open in the park during the winter months is the Houchin Ferry Campground located near the town of Brownsville, KY. The Mammoth Cave Campground and Maple Springs Campground are closed for the winter from December 1 to February 28.
Due to decreased park visitation during the winter months, the Lodge at Mammoth Cave has reduced services and room capacity. Other lodging and camping options are available year-round in nearby communities.
Winter Weather
Winter can be cold in the park. Daytime highs rarely go above 50°F (10°C) and nighttime lows often drop below freezing (32°F/0°C). The occasional snow and ice storm are not unheard of, and severe winter storms can cause temporary delays to operations in the park. It is always encouraged to check the local weather forecast before traveling to the park and be prepared for winter weather driving conditions, should they exist.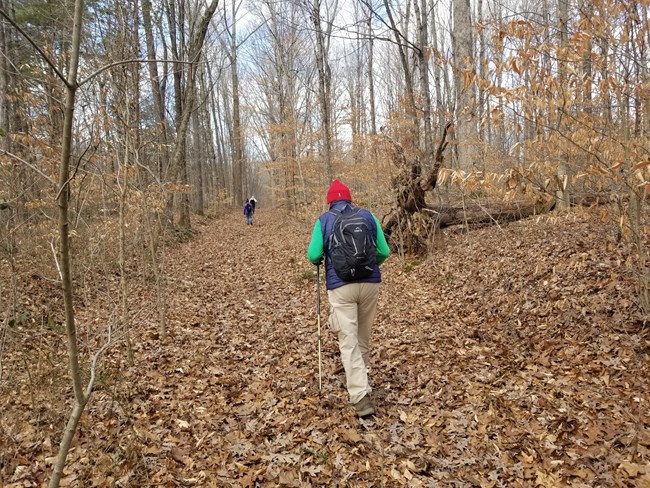 Explore the Backcountry
With the trees and other vegetation now bare of their summer leaves, winter is a great time to explore the park on foot. Miles of backcountry trails on the north side of the park are open year-round, and hikers looking for off-trail adventures will find navigation easier with less vegetation and ticks no longer active.
Things To Do
Don't let the cold get you down, there is still lots of fun things to do and places to see during the winter months. From hiking along quiet trails, to biking the route of a historic railroad, and exploring the labyrinth of cave passages on a cave tour, you're sure to find the perfect activity for your winter visit to the park.
Make the Most of Your Visit
Last updated: June 22, 2022