Backcountry and Riverside Camping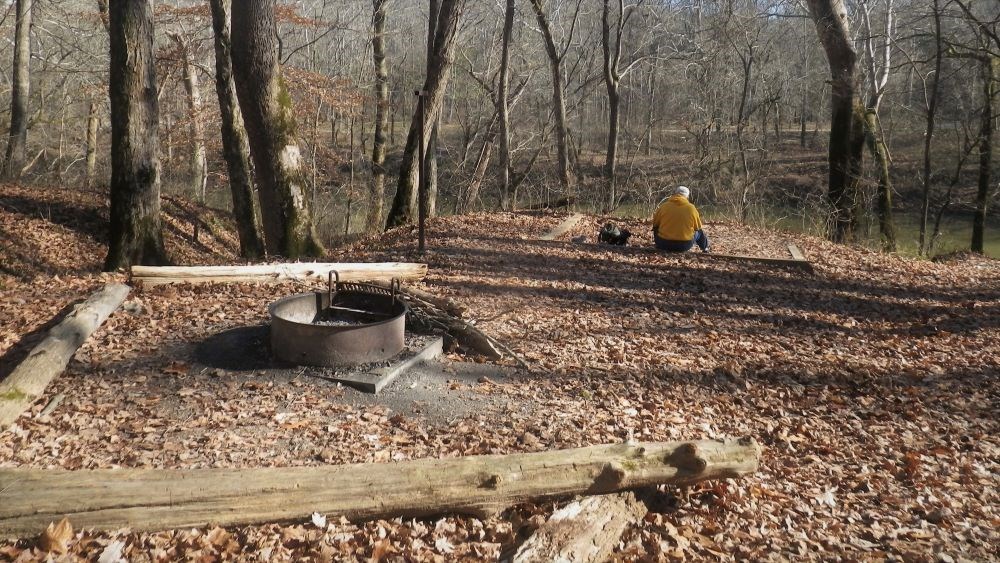 The Rugged Camping Experience
Mammoth Cave National Park's backcountry boasts 37 square miles of forest and more than 60 miles of trails.
Sure, some campers may enjoy a developed campground, but for those looking for a "rugged" camping experience, Mammoth Cave National Park's Backcountry Camping is perfect. Hike, paddle, or ride your horse to one of the park's primitive campsites, riverside flood plains, or river islands, and experience the outdoors!
Campsites
Backcountry Sites
The park offers thirteen designated backcountry campsites that are accessible only by hiking or horseback.
Backcounty sites are primitive, with only a fire ring and horse hitching posts available.

All sites except McCoy Hollow have a nearby water source, but campers should boil and treat water before drinking, or plan to carry in drinking water.

Campsites are limited to one party up to eight people in size.
Riverside and Island Camping
Overnight camping is permitted along floodplains and on islands along the Green and Nolin Rivers. Camping in these areas is only accessible by boat.
When camping on floodplains, campers must camp at least ½ mile away from Green River Ferry, Houchin Ferry and Dennison Ferry Day Use Area.

Know where you are. Riverside camping on private lands outside the park may not be permitted.

Sudden rainstorms can cause rapid flooding along riverways and river levels and currents fluctuate dramatically, particularly during winter months. Always check the river level and weather forecast before launching or camping along the rivers.
Loading weather forecast...
Permit Required
All camping in the backcountry and along the rivers in Mammoth Cave National Park requires a permit.
Backcountry Camping Permit
Backcountry camping permits are $10.00 and are available for advance or same-day reservations through Recreation.gov or by visiting the Mammoth Cave Campground information kiosk.
During the winter season, visitors must visit the park visitor center for permits.
Riverside and Island Camping Permit
Riverside or island camping permits are free but must be obtained in person on the first day of your trip at the Mammoth Cave Campground kiosk due to the fluctuation of river levels.
What You Must Provide
When getting your backcountry or riverside camping permit, please be prepared to provide:
Driver's License Photo ID

Make/model of your vehicle

License Plate Number
Backcountry Safety
Travel in Mammoth Cave National Park's backcountry has inherent risks such as ticks, snakes, and poison ivy. Campers are responsible for their own safety. Before you set out, make sure you come prepared. Learn more about hiking safety and River Safety and Regulations.
Rules and Regulations
A number of regulations apply when camping within the park. It is the responsibility of all trip participants to know and obey the Camping Regulations that apply to the park's backcountry.
Explore more topics on backcountry adventure
Camping Regulations
Take time to learn how you can protect Mammoth Cave's campsites while staying in the park.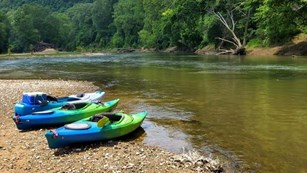 Canoeing, Kayaking, and Boating
Plan your trip along the Green and Nolin Rivers.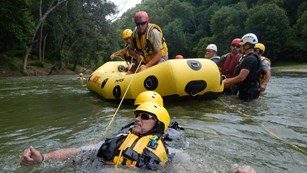 River Safety and Regulations
Learn ways to ensure your safety while boating in Mammoth Cave National Park.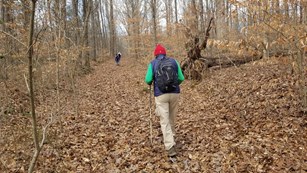 Backcountry Trails
Explore over 60 miles of trails on the north side of the park.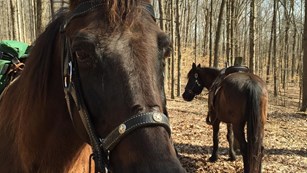 Horseback Riding
Those who love to see the world from horseback are in luck! Explore 60 miles of backcountry trails suitable for many skills and ages.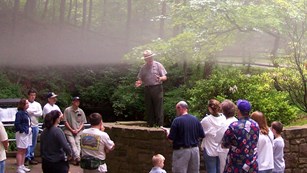 Safety
Caves, rivers, and many other places in the park may pose safety concerns. Learn how you can have a safe, memorable experience.
Last updated: July 19, 2020