Backcountry Camping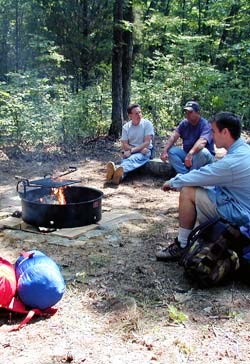 Thirteen peaceful and scenic backcountry campsites offer opportunities to find solitude and appreciate the beauty and diversity of Mammoth Cave National Park's rugged hills and majestic woodlands.
Overnight camping is permitted at designated sites and along floodplains more than ½ mile away from ferry crossings or developed campgrounds. Camping on the floodplain is only accessible by boat. One party per campsite, up to 8 people per party.
All sites except McCoy Hollow have a nearby water source. Boil and treat water before drinking, or carry in your own drinking water.
A free backcountry use permit is required for all camping at backcountry campsites and along the river floodplain. Go in person to the backcountry permit office, located in the Visitor Center ticket sales area, to obtain your permit and a free trail map showing backcountry campsites. When acquiring your permit please have the following information with you:
Driver's License or Photo ID
Make/model of your vehicle
License Plate Number
Backcountry permits are not issued during the last fifteen minutes before the Visitor Center closes each day. Check here for Visitor Center hours. Detailed maps and guidebooks are available for sale in the book sales area.
Last updated: April 7, 2019