Spring Road Clearing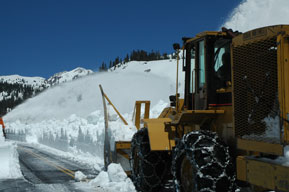 Road Opening Process

The park highway will open once the final section between Bumpass Hell and Devastated Area is cleared, rockfalls are cleared, and all lingering ice is melted. The road opening process may be delayed by late snow storms as well as other factors including:
Heavy snowpack with deeper snowdrifts in some areas
Trees that have fallen across the road and been buried in the snow
Rockslides over the highway when the snow begins to melt
Snow avalanches over cleared sections of the highway
Snow storms during the operations
Lingering ice once snow is cleared
2016 Road Clearing Operator's Log
Log updates are posted when reports are received from operators in the field. The latest update may not reflect the current status. The road crew works Monday through Thursday, 10 hours per day.
April 25 - Thursday, we were able to clear to about 500 feet short of Jones Cut (about 3 miles from the Kohm Yah-mah-nee Visitor Center), today when we arrived it was snowing with very high winds and near zero visibility so I decided to call off the effort until tomorrow. If all goes well, I anticipate getting near to Bumpass Hell Parking Area (6 miles) by the end of next week.
May 3 - We have now reached the pullout at Emerald Lake and hope to be done with the Bumpass parking lot by tomorrow. A few minor breakdowns have slowed progress but we are still making good time. If all goes well, I would expect to be in the Lassen Peak parking area by the end of next week.
May 11 - We have now reached the peak parking area and should complete it by sometime tomorrow. The snow depth is a little deeper than I anticipated; about 14 feet!. All is going well and there will be an update next week.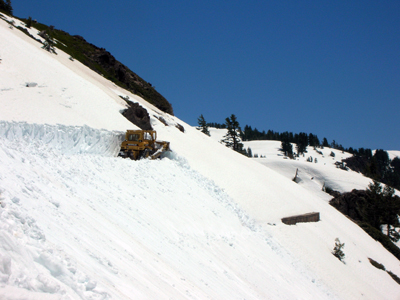 Why Does the Highway Close in Winter?
When Will It Open For Summer?
The park highway encompasses 30 miles of stunning views through twisty hair pin corners, high elevations and steep grades. To attempt road clearing throughout winter would be impossible and extremely hazardous for plow operators and drivers. The park highway traverse avalanche prone slopes with up to 2,000 foot drops and can hold a snowpack up to 40 feet deep. With the park's high elevation and exposed passes, ice and blowing snow would be a constant issue.
Clearing of the park highway usually begins in April and continues for about two months before the road opens to through traffic. Predicting when the road will open is not possible, even in late spring, because weather in April and May can affect plowing progress significantly. See the chart below for opening and closing dates since 1980.
Spring Road Opening Dates - 1980 to present
| | | | |
| --- | --- | --- | --- |
| Year | Date plowing began from southwest | Date road opened | Date road closed |
| 1980 | April 20 | May 29 | November 21 |
| 1981 | April 20 | May 21 | November 3 |
| 1982 | April 19 | June 18 | October 25 |
| 1983 | April 18 | July 2 | November 10 |
| 1984 | April 23 | June 4 | October 28 |
| 1985 | April 14 | May 18 | October 21 |
| 1986 | April 7 | June 7 | November 24 |
| 1987 | April 20 | May 15 | November 13 |
| 1988 | April 2 | May 20 | November 7 |
| 1989 | April 3 | June 6 | October 23 |
| 1990 | April 1 | April 28 | November 14 |
| 1991 | April 7 | May 24 | October 22 |
| 1992 | April 6 | May 14 | October 29 |
| 1993 | April 12 | June 28 | November 10 |
| 1994 | April 3 | May 20 | November 7 |
| 1995 | March 19 | July 21 | November 21 |
| 1996 | April 1 | June 12 | October 18 |
| 1997 | April 7 | June 5 | November 14 |
| 1998 | April 5 | July 12 | November 10 |
| 1999 | April 12 | June 11 | November 19 |
| 2000 | April 3 | June 2 | November 17 |
| 2001 | April 2 | May 10 | November 15 |
| 2002 | April 1 | May 22 | November 13 |
| 2003 | March 26 | May 23 | November 7 |
| 2004 | March 11 | May 27 | October 28 |
| 2005 | April 4 | June 2 | November 8 |
| 2006 | April 3 | July 6 | November 11 |
| 2007 | April 2 | May 18 | December 6 |
| 2008 | March 31 | May 18 | December 12 |
| 2009 | April 13 | June 4 | November 18 |
| 2010 | April 19 | July 8 | October 23 |
| 2011 | April 19 | July 16 | November 22 |
| 2012 | April 21 | June 1 | November 19 |
| 2013 | March 21 | May 24 | December 18 |
| 2014 | April 3 | May 19 | December 1 |
| 2015 | March 31 | May 3 | November 8 |
| 2016 | April 18 | June 12 | October 30 |