Spring Road Clearing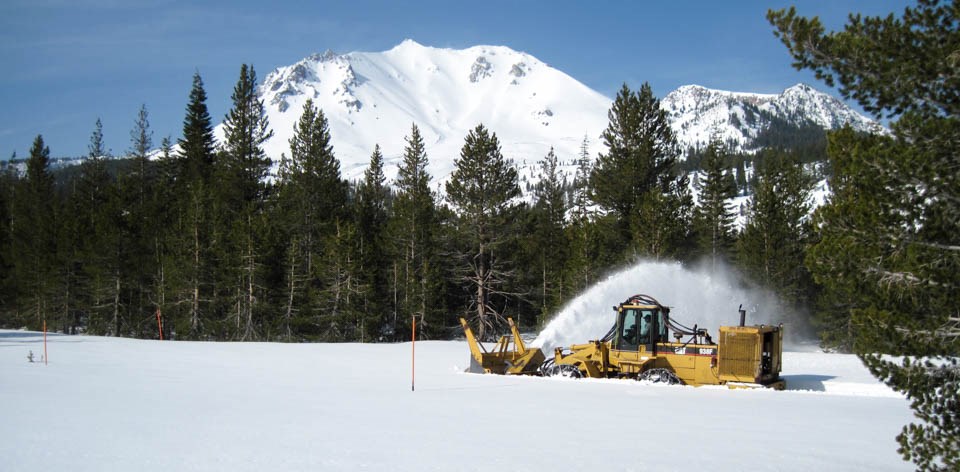 Learn and Explore
The 30-mile Lassen Volcanic National Park Highway traverses avalanche-prone slopes with up to 2,000 foot drops and can hold a snowpack up to 40 feet deep. Snow clearing operations usually begin in March or April and continues for about two months before the highway is entirely open.

Once a section of road is cleared, it remains closed to vehicles until the last layer of snow and ice melts and all road preparations (e.g. signs, shoulder grading) are complete. Once road preparations are completed, the section may open to vehicles. The park highway usually opens in increments. Once each section of road is cleared of snow, visitors can enjoy hiking or biking sections of the highway, before it opens to vehicles.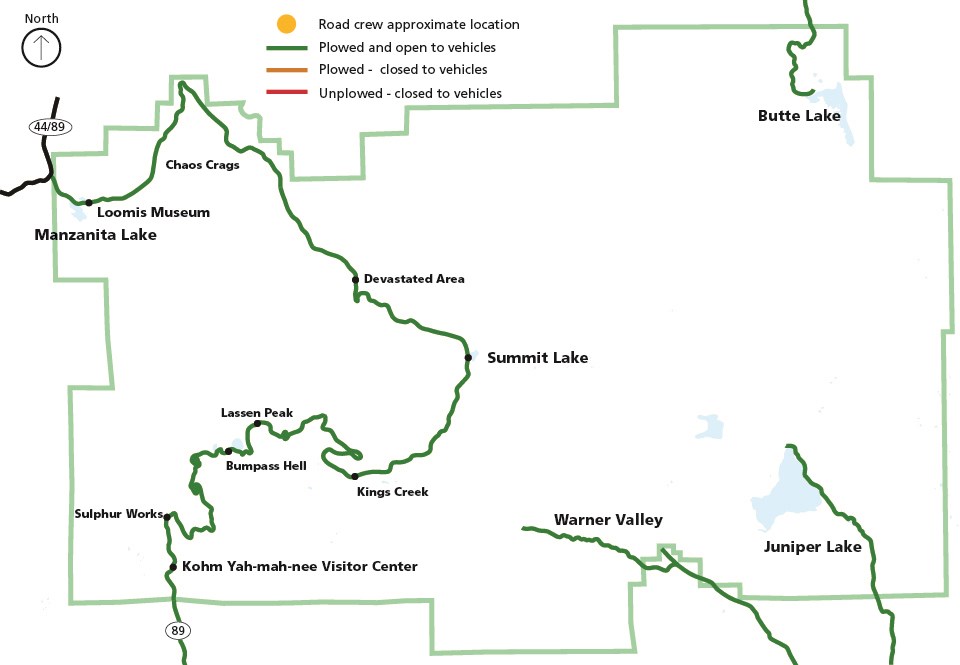 Road Clearing Operator Log
Log updates are posted when reports are received from road crew members. The latest update may not reflect the current status. The road crew works Monday through Thursday, 10 hours per day.

May 27, 2021 - All park roads are now currently open. Warner Valley Road and Juniper Lake Road opened today. Road crew is still laying gravel and grating the road, so please be aware of heavy equipment.

May 20, 2021 - The road crew has just started grading the Warner Valley Road this week and have at least a week's worth of work to do on the road before its fully ready to open. Also, they are assessing hazard trees next week so that might add a bit of time. But they won't know till they see how much work is needed. They have plowed into Juniper Lake, but it needs a couple weeks to dry out before it is opened.

May 17, 2021 - With the seasonal preparations in place such as road signs, parking lots cleared, tree removal, and reduced probablilty of rock slides, the park determined that the road could open. The main park road opened in its entirety on Monday, May 17th. In the spring, snowstorms can still occur. In the case of accumulating late-season snow, the road can re-close. Be sure to check for current updates on road status. Butte Lake Road is free of snow and remains open to vehicles (the campground is still closed). Warner Valley and Juniper Lake Roads are still closed for seasonal preparation.

May 5, 2021 - Staff are monitoring a rock fall area below Emerald Lake and installing road signs as in-ground receivers melt out. The highway will not open to through traffic this weekend. It will most likely open to through traffic prior to Memorial Day weekend, however this can change if snowfall or other unanticipated events occur. Road crew members are clearing fallen logs and snow patches from Warner Valley Road this week. The road remains closed at the boundary. Once Warner Valley Road is clear, we'll head over to Juniper Lake Road. Plumas County is expected to begin clearing snow to the park boundary this week. Butte Lake Road is wet with snow patches. It is open to vehicles, although high clearance and/or four-wheel drive is highly recommended. Vehicles with inadequate tires and traction can create deep ruts on the wet road that last through summer.

April 30, 2021 - Road is clear of snow and open to hiking and biking. Vehicles may drive to Sulphur Works from the southwest and Devastated Area from the northwest.

April 28, 2021 - Road is clear of snow. Road crew is hauling equipment down and should be done with clearing recent snow on 4/29.

April 26, 2021 - The road between Loomis Plaza and Devastated Area was closed over the weekend, but has since re-opened. The entire park highway received new snow and hikers/bikers should expect to encounter snow while recreating on the road.

April 21, 2021 - We met up with CalTrans Kings Creek at 1:58 today. We still have a lot of clean up to do, but the hard work is complete! It will be some time before the road is completely ready for traffic. It looks like a significant snow storm is heading our way this weekend with a foot of new snow or more; snowstorms in April are not uncommon.

April 15, 2021 - We finished the week near the Almanor overlook. About 9 miles have been completed from the southwest entrance. We may be able to meet up with the progress made from the north by the end of next week. There will still be some trimming, ditching and parking lots to clear.

April 13, 2021 - We made it to the Lassen Peak parking lot today. There were several locations with rocks underneath the snow, so we will need to wait until remaining snow melts so we can scoop the remainder of the the rocks off later. CalTrans has cleared to summit lake from the north.

April 9, 2021 - We ended our week at Emerald Lake, just below Bumpass Hell Trailhead parking area. That gives us a total of 5.5 miles for the first week. Caltrans will be starting to assist with the large parking lots Tuesday.

April 5, 2021 - Crew completed clearing between Kohm Yah-mah-nee Visitor Center and Windy Point (0.5 mile beyond Sulphur Works). Snow depth is lower-than-average at 6 to 8 feet.

March 23, 2021 - Clearing to Devastated Area was completed today. hikers and bicyclists can enjoy the cleared road until it opens to vehicles when conditions permit (see map above for current status). Thank you to CalTrans in assisting with steady snow removal and re-clearing the new snow that fell March 8. Road crew will transport equipment to the Southwest Entrance in preparation to begin clearing operations either around March 31. There is approximately 8 feet of snow on the road in the Southwest Area. The clearing process goes more slowly in this area due to the steep slopes, avalanches, hairpin turns, and heavy snow drifts.

March 19, 2021 - Road crew has cleared the park highway between Loomis Plaza and Hot Rock (6.7 miles). Progress was slower than usual due to equipment issues and new snowfall. Road crew will continue clearing to Devastated Area on Monday, 3/22.

March 3, 2021 - Road crews have completed initial snow clearing operations along the Manzanita Lake Campground Road and in the Manzanita Lake Campground (opens 5/21). CalTrans has cleared the park highway between Loomis Plaza and Sunflower Flat (2.5 miles) and will continue towards Devastated Area (10 miles). Once the highway is cleared to Devastated Area, road crews will begin clearing in the Southwest Area. This could possibly occur as early as the last week of March, depending on weather and equipment.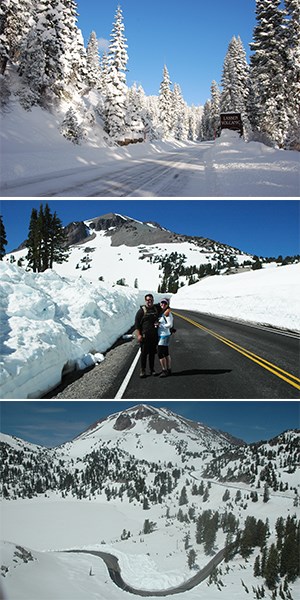 When Will the Highway Open to Through Traffic?
Road crews begin clearing snow from the park highway in March or April, depending on snow depth and weather forecasts. It is not possible to predict when the highway will open to through traffic, because weather and other delays can affect the clearing process significantly. A chart below provides opening and closing dates of the park highway since 1980. The park does not clear snow from Butte Lake, Warner Valley, or Juniper Lake Roads. The paved sections of Warner Valley and Juniper Lake Roads are maintained by Plumas County and are usually not plowed.
Snow clearing operations occur in the following order:
Manzanita Lake Area between Loomis Plaza and Devastated Area (10 miles).
Southwest Area between Kohm Yah-mah-nee Visitor Center and Lassen Peak (8 miles).
Devastated Area to Lassen Peak (12 miles).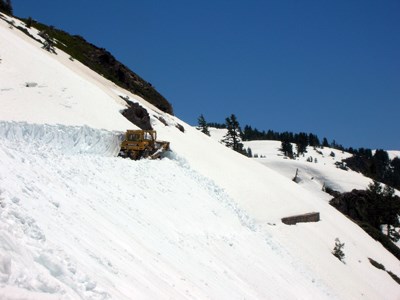 What's the Delay?
Clearing the park highway is no quick or easy undertaking! Snow accumulates on the 30-mile park highway throughout the winter season (typically November through April). Snow depth can reach up to 30 feet at the highest elevations, with drifts occasionally reach as high as 40 feet. The road clearing process can take up to three months due to numerous factors including:
Heavy snowpack with deeper snowdrifts in some areas

Trees and boulders that have fallen across the road and been buried in the snow

Rockslides over the highway when the snow begins to melt

Snow avalanches over cleared sections of the highway

Snow storms (and additional accumulation) during the operations

Snow removal in parking areas

Road and road shoulder repairs

Lingering ice once snow is cleared
Equipment repair
Spring Road Opening Dates - 1980 to Present
| | | | | |
| --- | --- | --- | --- | --- |
| Year | Date plowing began from southwest | Date road opened | April 1 Snow Depth at Lake Helen (8,200' elevation) | Date road closed |
| 1980 | April 20 | May 29 | 231" / 19.3' | November 21 |
| 1981 | April 20 | May 21 | 149" / 12.5' | November 3 |
| 1982 | April 19 | June 18 | 266" / 22.2' | October 25 |
| 1983 | April 18 | July 2 | 331" / 27.6' | November 10 |
| 1984 | April 23 | June 4 | 175" / 14.6' | October 28 |
| 1985 | April 14 | May 18 | 163" / 13.6' | October 21 |
| 1986 | April 7 | June 7 | 195" / 16.3' | November 24 |
| 1987 | April 20 | May 15 | 138" / 11.6' | November 13 |
| 1988 | April 2 | May 20 | 98" / 8.2' | November 7 |
| 1989 | April 3 | June 6 | 223" / 18.6' | October 23 |
| 1990 | April 1 | April 28 | 106" / 8.9' | November 14 |
| 1991 | April 7 | May 24 | 151" / 12.6' | October 22 |
| 1992 | April 6 | May 14 | 127" / 10.6' | October 29 |
| 1993 | April 12 | June 28 | 225" / 18.8' | November 10 |
| 1994 | April 3 | May 20 | 101" / 8.4' | November 7 |
| 1995 | March 19 | July 21 | 287" / 23.9' | November 21 |
| 1996 | April 1 | June 12 | 171" / 14.3' | October 18 |
| 1997 | April 7 | June 5 | 135" / 11.3' | November 14 |
| 1998 | April 5 | July 12 | 250" / 20.9' | November 10 |
| 1999 | April 12 | June 11 | 194" / 16.2' | November 19 |
| 2000 | April 3 | June 2 | 178" / 14.9' | November 17 |
| 2001 | April 2 | May 10 | 109" / 9.1' | November 15 |
| 2002 | April 1 | May 22 | 166" / 13.9' | November 13 |
| 2003 | March 26 | May 23 | 185" / 15.5' | November 7 |
| 2004 | March 11 | May 27 | 187" / 15.6' | October 28 |
| 2005 | April 4 | June 2 | 173" / 14.5' | November 8 |
| 2006 | April 3 | July 6 | 266" / 22.2' | November 11 |
| 2007 | April 2 | May 18 | 112" / 9.3' | December 6 |
| 2008 | March 31 | May 18 | 132" / 11' | December 12 |
| 2009 | April 13 | June 4 | 146" / 12.2' | November 18 |
| 2010 | April 19 | July 8 | 169" / 14.1' | October 23 |
| 2011 | April 19 | July 16 | 242" / 20.2' | November 22 |
| 2012 | April 21 | June 1 | 145" / 12.1' | November 19 |
| 2013 | March 21 | May 24 | 140" / 11.7' | December 18 |
| 2014 | April 3 | May 19 | 122" / 10.2' | December 1 |
| 2015 | March 31 | May 3 | 91" / 7.6' | November 8 |
| 2016 | April 18 | June 12 | 199" / 16.6' | October 30 |
| 2017 | April 4 | July 26 | 243" / 20.3' | November 10 |
| 2018 | March 30 | May 27 | 131" / 11' | November 20 |
| 2019 | April 18 | June 22 | 238" / 19.8' | November 29 |
| 2020 | March 19 | May 29 | 119" / 10' | November 13 |
| 2021 | April 5 | May 17 | 114.5" / 9.5' | |

Last updated: July 7, 2021