Natural Resources Monitoring at Curecanti National Recreation Area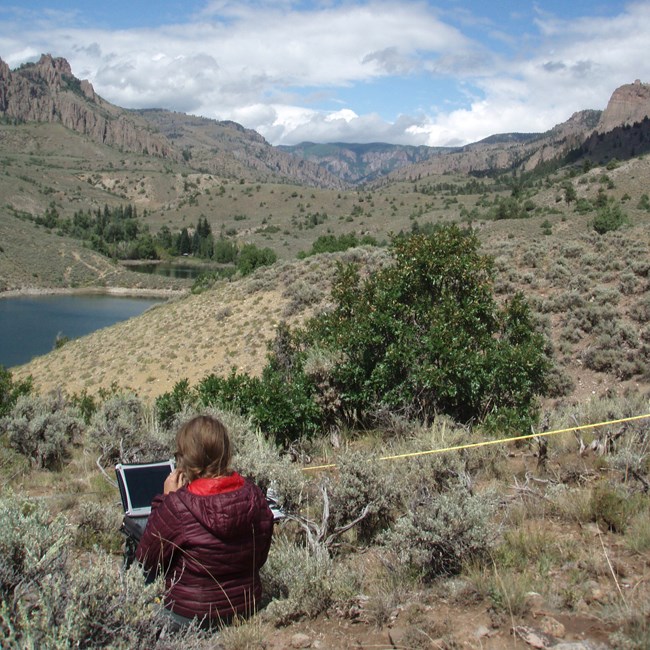 The Northern Colorado Plateau Network monitors air quality, big rivers, climate, invasive exotic plants, land surface phenology, landbirds, landscape dynamics, uplands, and water quality at Curecanti National Recreation Area. The results of that monitoring provide park managers with scientific information for decisionmaking.
Curecanti National Recreation Area became part of the National Park System on February 11, 1965. The recreation area is composed of a chain of three reservoirs impounded on the Gunnison River. The park's purpose is to "operate and maintain public recreational facilities" on its lands, "conserve the scenery, the natural, historic, and archeological objects, and the wildlife on said lands," and "mitigate losses of, and improve conditions for, the propagation of fish and wildlife."
Elevations ranging from 1,981 meters (6,500 feet) at East Portal to 2,896 meters (9,500 feet) near Sheep Knob, in combination with slope, geology, and aspect, have created diverse habitats that support a wide variety of vertebrate and plant species. Temperatures range from lows of -30°F (-34°C) to highs of approximately 85°F (29°C). Average annual precipitation is approximately 280 millimeters (11 inches). Most precipitation occurs in spring and summer rains. Shrublands occupy a large area of the park. The shoreline slopes surrounding Blue Mesa Reservoir are covered with grasses, big sagebrush, rabbitbrush, and Gambel oak. The mesa tops are characteristically covered with high-desert vegetation with intermittent pockets of Douglas-fir, quaking aspen, and spruce. The eastern-most portion of the park consists of a riverine system, essentially unaltered since reservoir construction.
Livestock grazing, exotic plant and animal invasion, adjacent land-use impacts, increasing recreational use, the altered hydrologic regime, and a lack of basic natural-resource data are the main natural resource management concerns.
Inventories and Monitoring Reports
Last updated: October 31, 2020