Climate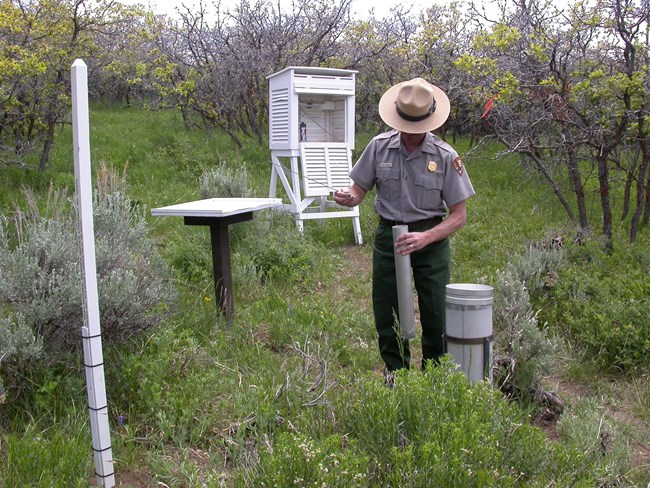 Climate was identified as a vital sign for all Northern Colorado Plateau Network (NCPN) parks because it plays a crucial role in driving or regulating many ecological processes at the landscape scale. Precipitation and temperature are some of the primary factors that limit an ecosystem's structure and function. Secondary climate factors include long-term climate patterns, such as the length and intensity of weather events (and seasons when they occur) and the amount of variability between and among years. Together, these dynamics greatly influence which plant species occur where; how nutrients are cycled; and the relationships between soil, plants, and water availability. They can also affect the susceptibility of an ecosystem to myriad disturbances—including future climate events.
The overarching goal of NCPN climate monitoring is to compile and present climate data in a way that helps us to understand the reasons for trends seen in other network vital signs. In the past, the network compiled climate data from two regional climate monitoring programs and then provided parks with monthly and annual summaries of climate variables. We have since switched the focus of this protocol toward interactive, user-defined data presentation. These data summaries are provided by The Climate Analyzer, an interactive website that allows users to create custom graphs and tables from historical and current weather-station data.
Users can investigate data related to temperature and precipitation (from the National Weather Service Cooperative Observer Network and Remote Automated Weather Stations), snowfall and snowpack (from USDA-NRCS SNOTEL sites), and stream flow and water temperature (from U.S. Geological Survey stream gages). The Climate Analyzer uses climate stations from throughout the region.
All NCPN parks have at least one climate station with data available to users via The Climate Analyzer.
Vital Signs: Climate and weather
Protocol Lead: Dana Witwicki
Publications and Other Information
Climate Monitoring Briefs
Climate Monitoring Reports
Climate Monitoring Protocol
Last updated: June 18, 2018