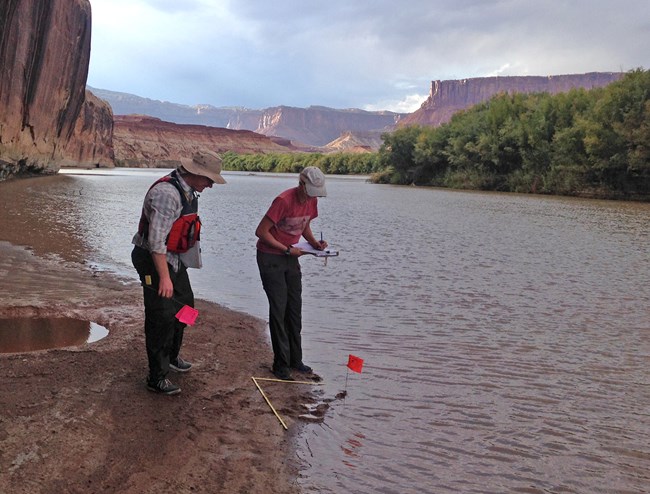 In several Northern Colorado Plateau Network (NCPN) national parks, big rivers and their associated riparian zones provide habitat for federally listed terrestrial and aquatic species, are intimately associated with unique geologic features cited in enabling legislation, and are major recreation destinations.
As an increasing human population fuels increased demands for Colorado River (CR) water in states across the West, streamflow in virtually all rivers within the CR drainage has been altered by water development projects. In most cases, peak flows have been reduced, resulting in channel narrowing, geomorphic simplification, and loss of riparian structure and related biological diversity. In response to these concerns, the NCPN is implementing a big rivers monitoring program at four network parks.
Building on past and present monitoring efforts, the NCPN is designing a hypothesis-driven, multi-scalar monitoring protocol that links frequent, field-based rapid assessments; existing independent data sets; and infrequent, quantitative evaluations of broad-scale changes using remotely sensed data.
The Northern Colorado Plateau Network monitors big rivers at Black Canyon of the Gunnison National Park, Canyonlands National Park, Curecanti National Recreation Area, and Dinosaur National Monument.
Vital Signs: Riparian plant communities, surface water dynamics, fluvial geomorphology
Protocol Lead: Dusty Perkins