Upland Vegetation and Soils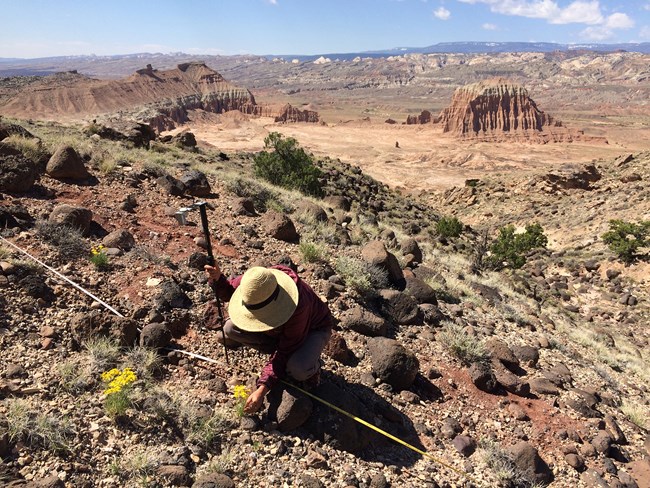 Uplands are land areas lying above the elevation where flooding generally occurs—areas found beyond riparian zones. Uplands represent the vast majority of land area in the Northern Colorado Plateau Network (NCPN), and include rock outcrops, badlands, shrublands, grasslands, woodlands, and forests. Upland vegetation provides energy to other trophic levels, habitat structure for various organisms, and is a significant component of species diversity. The ability of uplands to retain soil and nutrients, absorb and release water, and buffer high-runoff precipitation events is a major influence on riparian condition.
Upland ecosystems are easily disturbed and slow to recover, yet several NCPN units contain relatively undisturbed examples of grasslands and shrublands. Historic land uses include livestock and timber production; more recently, recreational use has increased. To effectively manage uplands, the National Park Service needs to know the impacts of these uses.
Uplands monitoring includes measuring soil stability, hydrologic function, biological soil crusts, and plant community characteristics. The NCPN uses a complex survey design to select randomized sampling plots that are visited in two consecutive years, followed by a relatively long interval between revisits (3–6 years). This design minimizes the chances that sensitive, arid-ecosystem plots will be damaged by repeated visits in successive years and is a cost-effective way to estimate the health of upland ecosystems across a large area. NCPN uplands monitoring is intended to strike a balance between increasing fundamental understanding of these systems and providing managers with early warning of undesirable change.
The Northern Colorado Plateau Network monitors upland vegetation and soils at Arches National Park, Black Canyon of the Gunnison National Park, Bryce Canyon National Park, Canyonlands National Park, Capitol Reef National Park, Cedar Breaks National Monument, Curecanti National Recreation Area, Dinosaur National Monument, Timpanogos Cave National Monument, and Zion National Park.
Vital Signs: Native grasslands, shrublands, predominant plant communities, upland nutrient cycle, biological soil crusts, upland hydrologic function, upland soil/site stability
Protocol Lead: Carolyn Livensperger
Publications and Other Information
Last updated: March 1, 2022