Water Quality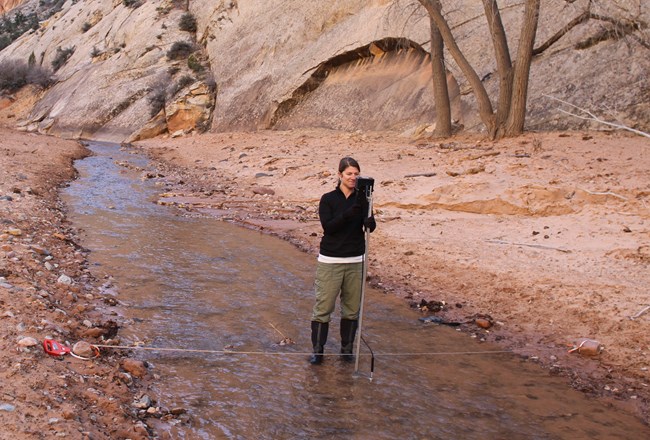 Most Northern Colorado Plateau Network (NCPN) parks are located in semi-arid to arid environments where water is a major factor in determining the distribution of flora, fauna, and historic human habitation. Additionally, the abundance and quality of water resources reflect human activities and land use in and near parks, and are a primary factor influencing park visitation and recreational activities.
Water bodies in national parks are protected by the Clean Water Act and other policies that prevent unacceptable levels of pollution and establish acceptable values for other water quality measures. Park managers need information on status and trends in surface-water quality and quantity to comply with the Clean Water Act and to mitigate historic and future impacts to park water resources that may have ecological and social significance.
Water quality monitoring sites are selected based on historic impacts, perceived threat, current monitoring by others, or to determine baseline status as a starting point for long-term trend detection. As many as 30 water quality parameters are measured at each site visit. At every site, portable sensors are used to measure core parameters (specific conductivity, flow, temperature, pH, and dissolved oxygen) as indicators of water quality. Field and laboratory measurements are then compared to state water quality standards to determine if acceptable concentrations are present and if, over time, conditions are changing beyond acceptable normal ranges. NCPN water quality monitoring is a coordinated effort between the network, individual park units, the U.S. Geological Survey, and the State of Utah.
The Northern Colorado Plateau Network monitors water quality at Arches National Park, Black Canyon of the Gunnison National Park, Bryce Canyon National Park, Canyonlands National Park, Capitol Reef National Park, Curecanti National Recreation Area, Dinosaur National Monument, Golden Spike National Historic Site, Hovenweep National Monument,Timpanogos Cave National Monument, and Zion National Park.
Vital Signs: Water chemistry
Protocol Lead: Rebecca Weissinger
Publications and Other Information
Water Quality Monitoring Briefs
Water Quality Monitoring Reports
Water Quality Monitoring Protocol
Last updated: May 14, 2021