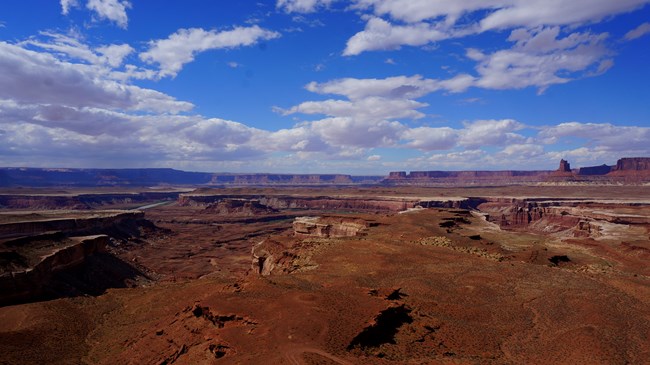 Overview
The Northern Colorado Plateau Network uses information provided by the National Park Service Air Resources Division to provide occasional updates on air quality in network parks. Both the Clean Air Act and the National Park Service Organic Act protect air resources in national parks. Air quality affects park scenery and vistas, vegetation, water, and wildlife. Six Northern Colorado Plateau Network parks are designated as Class I areas under the Clean Air Act: Arches National Park, Black Canyon of the Gunnison National Park, Bryce Canyon National Park, Canyonlands National Park, Capitol Reef National Park, and Zion National Park. Air quality standards are stricter in these parks than in other network parks.
Because air quality conditions occur over broad spatial scales, park managers have little direct control over the atmospheric conditions of the parks they manage. However, knowing about the state of—and changes in—air quality can help park managers to make planning decisions, influence off-site emitters of pollutants, and indirectly stabilize or improve park air resources. It can also help the Northern Colorado Plateau Network to understand changes in other vital signs.
Information on air quality at Northern Colorado Plateau Network parks can be found by visiting the website of the National Park Service Air Resources Division, which tracks spatial and temporal trends in ozone, nitrogen deposition, sulfur deposition, and visibility-reducing pollutants in all units of the National Park System.
Ozone, sulfur dioxide, dry deposition, and meteorology are collected by the Clean Air Status and Trends (CASTNet) and Gaseous Pollutant Monitoring (GPMN) networks. Ozone is also monitored with passive samplers and portable continuous analyzers. Wet Deposition is monitored through cooperation with National Atmospheric Deposition Program/National Trends Network (NADP/NTN). The Mercury Deposition Network (MDN), part of NADP, collects precipitation samples that are analyzed for mercury. Visibility is monitored as part of the Interagency Monitoring of Protected Visual Environments (IMPROVE).
Vital Signs: Ozone, visibility and particulate matter, wet and dry deposition