Invasive Exotic Plants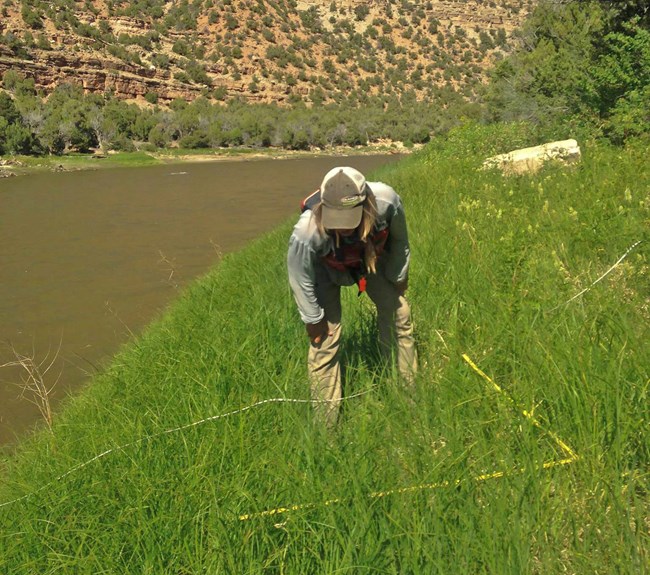 Invasive exotic plants are one of the most significant threats to natural resources in the national parks today. Exotic plants are a concern because they are able to reproduce prolifically, rapidly colonize new areas, displace native species, and alter ecosystem processes across multiple scales. If invasive exotic plants are discovered while their populations are still small, control efforts are likely to cost less and achieve higher success rates than after a species has become more widespread. Therefore, early detection of exotic plants is critical.
To provide early warning of new exotic threats, the Northern Colorado Plateau Network (NCPN) focuses its invasive-plant monitoring efforts on areas where invasive exotics are likely to first establish.
The network has implemented a multi-pronged approach to the early detection of exotic plants. First, NCPN or park staff experienced with a wide range of exotics survey established monitoring routes on a rotational basis to maximize both efficiency and ground coverage. Along those routes, staff establish plots that can be quickly surveyed for data that will enable us to make trend estimates over time. In addition, NCPN staff may dedicate approximately 25% of their time to inventories of areas that are of high management concern. Finally, the network has designed "monitoring lite," a method by which park staff or volunteers with less comprehensive knowledge of invasive species may collect data for use in NCPN databases and reporting.
The Northern Colorado Plateau Network monitors invasive exotic plants at Black Canyon of the Gunnison National Park, Capitol Reef National Park, Colorado National Monument, Curecanti National Recreation Area, Dinosaur National Monument, Fossil Butte National Monument, Golden Spike National Historic Site, and Zion National Park.
Vital Signs: Early detection of invasive plants
Protocol Lead: Dusty Perkins
Publications and Other Information
Last updated: June 29, 2020