Heritage Documentation Programs celebrates National African American History Month
February is National African American History Month. The Heritage Documentation Programs of the National Park Service explores the African American experience through architecture, engineering, and landscapes, as well as through mapping projects undertaken by the Cultural Resources Geographic Information Systems (CRGIS) program. Please join the Heritage Documentation Programs in celebrating the accomplishments of all Americans of African descent.
Featured Properties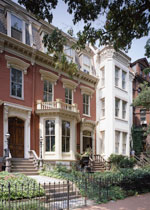 Mary McLeod Bethune Council House National Historic Site
HABS DC-775
HABS DC-775-A
Washington, DC
Mary McLeod Bethune, in her multiple roles as educator, organizer, and public policy activist worked endlessly in pursuit of what she called, "he unalienable rights of citizenship for Black Americans."
Learn more...
Contraband Slave Camp Mapping Project