Red Oak Creek Bridge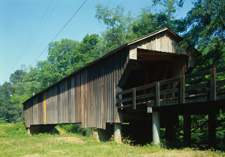 The Red Oak Creek Bridge was reportedly built in the 1840s, but no written records confirm that date or provide information on the road or crossing, which appear on William G. Bonner's 1847 "Map of the State of Georgia." Physical evidence, including the overall condition of the bridge, suggests that the bridge may have a somewhat later construction date, in which case, it may have been built to replace an earlier structure at this site. The bridge is attributed to renowned bridge builder Horace King. King and his sons built more than a 100 covered bridges in the South.
Horace King: Claiming Place in an Antebellum South
Horace King (1807-1887) built Georgia's first covered bridge in 1832 and continued building covered bridges and large-scale buildings throughout his life. He had extraordinarily long and prolific career as an American bridge builder, and his children and grandchildren carried his legacy into the twentieth century. While the true extent of the King family's work remains unknown, historians estimate that they collectively built over 100 covered bridges and dozens of important buildings in South Carolina, Alabama, Georgia, and Mississippi.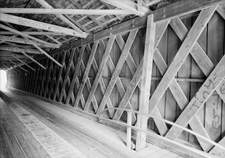 Horace King's story is remarkable for the region and time period in which he lived. He was born a slave in 1807 in Cheraw, South Carolina. Upon the death of his owner, Horace, his mother, and siblings were purchased by John Godwin, a contractor. During his time with Godwin, Horace King developed bridge engineering skills and worked side by side with John Godwin on several projects. Although he never attended school, King drew up contracts and plans for bridges, supervised work crews, and actively sought to expand his level of craftsmanship and engineering expertise. His genius in the craft and the respected relationship between King and his owner aided in his eventual emancipation; officially recognized by the General Assembly of Alabama in 1846.
Because of his skill in building bridges and large structures, King became a legend in his own time despite the racial and political social environment. He was conscripted by Confederate officials and the state of Alabama to build obstacles along the lower Apalachicola and Alabama Rivers during the Civil War.
Later in life, King was elected for two terms to the Alabama House of Representatives from 1870 to 1874. News of King's death circulated in many white-owned newspapers where his life and work were highly exalted.
The documentation of Horace King's Red Oak Creek Bridge is part of the National Covered Bridges Recording Project undertaken by the Historic American Engineering Record (HAER). HAER administers a long-range program to document historically significant engineering and industrial works in the United States.