Martin Luther King, Jr. National Historical Park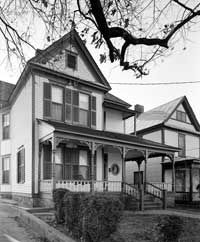 The Martin Luther King, Jr. National Historical Park contains many buildings significant to the life of Dr. Martin Luther King, Jr. HABS has documented seven sites within the National Historical Park, including the home where he was born in 1929 at 501 Auburn Avenue. Built in 1895, this frame two-story Queen Anne house is where Martin Luther King, Jr. spent the first 12 years of his life. The house is now a museum and daily ranger-guided tours are available.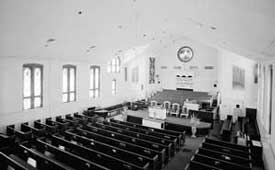 In 1985 HABS documented the modified Gothic Ebenezer Baptist Church, built 1914-22. The church was the spiritual home of Dr. King and was the location of many Civil Rights meetings. Martin Luther King, Sr. became the church's pastor in 1932. Martin Luther King, Jr. was baptized in the church and served as co-pastor from 1960 until his assassination in 1968. As a final farewell to this visionary leader of the modern Civil Rights movement, King's funeral was held in the church and King is buried nearby. In 1999 the Martin Luther King National Historical Park received a Save America's Treasures Grant. The grant, combined with with private funding, allowed the part to began restoration on the church. Phase I of the restoration project included design and installation of major systems including, electrical, heating and air conditioning, and fire suppression. Structural repairs were made to the roof system and the historic exterior Ebenezer sign was repaired and lit for the first time since 1990. Phase II of the project restored the appearance of the sanctuary and fellowship hall to the 1960-68 period when Dr. King served as co-pastor with his father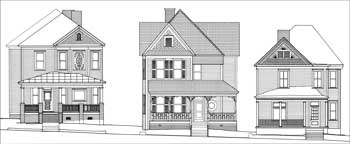 The surrounding neighborhood contains a variety of houses ranging from Victorian style homes built by Alexander Hamilton, an African American who owned his own construction company, to shot gun houses, and two family row houses built in the 1920s. HABS documented several houses along 400 and 500 blocks of Auburn Avenue in 1985. The restrained Queen Anne style home at 514 Auburn Avenue is an integral part of the National Historical Park and a good example of the residential architecture present in the district. Built ca. 1893, its most prominent occupants were the Shaw and Saunders families. In 1985 the house was renovated by the National Park Service and much of the original wood molding and fireplace mantels remain.
The Auburn Avenue area became the center of Atlanta's black community and contained a number of businesses and commercial establishments in addition to residential facilites. HABS documented the Brown-Hayes Department Store in 1985. The store stands in the once commercially active Edgewood Avenue area, second only to Auburn Avenue as the center of black business and social activities in the Martin Luther King, Jr. National Historical Park.