Magnolia Plantation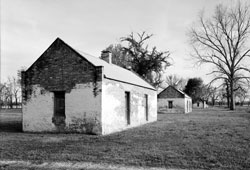 Lands within Magnolia Plantation have been owned and cultivated by the same family since the French land grants of 1753. Magnolia remains one of the South's most complete plantation complexes, with buildings and landscape features spanning its entire 250-year history. Noteworthy are the oak alley, a nationally significant cotton press, the brick slave quarters later used for tenant housing, a slave hospital, a blacksmith shop, the plantation store, and the big house with private chapel.
The original house, dating to the 1830s, was a regionally distinctive, raised Creole cottage style dating to the 1840s, up to 1851; it had a two-story brick basement, raised galleries on the front and back, and ringed by over twenty 18" brick Tuscan columns. This house was burned in 1864 by the Union General Banks as his army retreated after the battles of Mansfield and Pleasant Hill.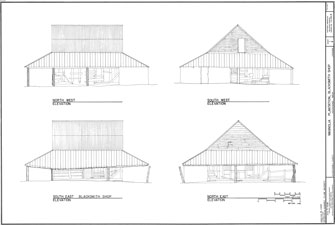 The present "big house" is a late-nineteenth-century interpretation of the raised Creole cottage traditionally built in the Cane River area, adapted to modern materials, technologies, and tastes. As one of the largest plantation homes in the area, Magnolia's big house reflects the wealth, status, and endurance of the Hertzog family at the end of one of the most turbulent periods in Louisiana history. The house tells much about the history of planter society, agriculture, and the rural South since the colonial era.
The big house is listed in the National Register of Historic Places and the plantation complex is a National Historic Landmark. The complex is documented by the Historic American Buildings Survey. The United States Department of Agriculture recognized Magnolia Plantation in 1989 as a National Bicentennial Farm, one of only two farms west of the Mississippi River that had been in the same family for over two hundred years. Congress established the Cane River Creole National Heritage Area in 1994, and the 19-acre Magnolia Plantation Complex was added to the Cane River Creole National Historical Park in 1996. Descendents of the original land grant recipients retain ownership of the Magnolia big house and plantation, and the agricultural lands remain in production.