Mary McLeod Bethune Council House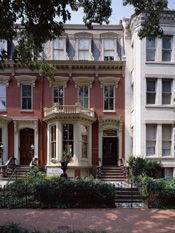 Constructed in 1875, the brick house with its three story facade, bay windows and mansard roof, reflects the Second Empire style popular at the time. The house has survived many transitions form a single-family home for the White upper-middle class in the late 19th century, to a boarding house and shop in the early 20th century, to the headquarters of the National Council of Negro Women from the 1940s to 1960s, and currently a National Historic site which hosts both a museum and the National Archives of Black Women's History.
The house attained its prestige as the headquarters of the National Council of Negro Women (NCNW) and as the Washington, D.C. residence of Mary Mcleod Bethune. The NCNW purchased the building in 1943 to use as a meeting place representing the unity of women of all races. It also served as a boarding house for many D.C. visitors who were unable to rent rooms due to laws prohibiting Blacks to enter certain establishments.
The Bethune Council House: Working Towards Citizenship for All People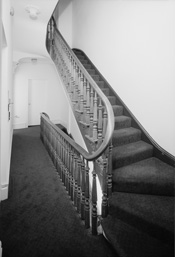 In New York on December 5, 1935, Bethune founded the National Council of Negro Women. Expressing a desire to see black women united to "meet the unfolding of larger things," the organization decided on the following objectives: to promote unity of action among women's organizations in matters affecting the educational, cultural, economic, political and social life in America; to build a fellowship of women devoted to developing friendly relations among all people in the world; to collect and preserve information about and affecting women; and to work for the complete elimination of any and all forms of discrimination and segregation based on race, religion, color, national origin, and sex.
NCNW's first office was located in Mrs. Bethune's living room at 1812 9th Street, NW. Several years after the organizatoin formed, the growing membership required a larger headquarters, and the organization moved to this house at 1318 Vermont Avenue, NW. It was at this Victorian townhouse that Mary McLeod Bethune, as president of NCNW, received heads of state, government officials, and leaders from around the world. The house was the first national headquarters of NCNW.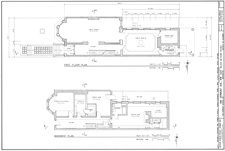 The Historic American Building Survey (HABS) documented both the Bethune Council House (HABS DC-775) and the Carriage House (HABS DC-775-A) that is also on the property in 1993 with photographs, measured drawings and written narratives. The house is now a unit of the National Park Service and is open to the public. The National Archives for Black Women's History, open by appointment, houses the largest manuscript collection of materials pertaining to Black women and their organizations, and contains extensive correspondence, photographs, and memorabilia relating to Mary McLeod Bethune.