Rosie the Riveter/World War II Home Front National Historical Park, Kaiser Shipyards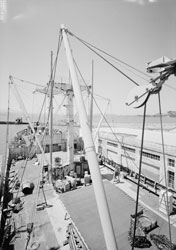 The Henry J. Kaiser enterprise operated four shipyards at Richmond, California for the United States Maritime Commission in order to meet the demands of World War II. The shipyards ranked as the most technologically and organizationally innovative and productive shipbuilding facilities in the United States during that period. Managers and workers at the shipyards pioneered rapid "prefabricated" shipbuilding techniques that greatly increased the speed of merchant-ship production. These processes were exemplified by such physical aspects as the giant "Prefab" plant and by the overall layout of the yards
.
Seeking Equality in the Workplace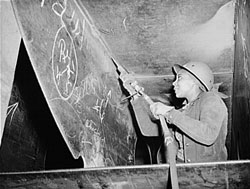 World War II forced the United States to open economic opportunities to minority populations and women in order to fulfill worker demands caused by an increase in war-time production and a decrease in male population due to military enlistment. The demand spurred a mass migration of African Americans towards the West in pursuit of economic, social, and political opportunities not otherwise afforded to them in their former hometowns. The Kaiser Shipyards began hiring large numbers of African Americans in 1942. The majority of Kaiser's African American workers came from the South.
Although wartime work in the shipyards presented many African Americans with a wide array of opportunities, including increased income, skills, and status, the experience was also fraught with hardship due to prevailing racism in the United States. A key struggle for African Americans was their exclusion from labor unions. This meant that African Americans had little power to address grievances about labor conditions and rights and had fewer avenues in which to seek employment at the shipyards.
In response, African Americans organized their own organizations that sought social change both within their workplace as well as their communities. Organizations such as the Shipyard Workers Committee against Discrimination, worked on such local issues as ending segregation within labor unions in addition to improving housing for local African American families. Other organizations like the United Negro Labor Council, moved the demands to the regional and national levels.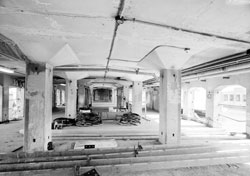 During World War II, many gains were made to improve the working and social conditions of African Americans but economic injustice structured by systemic racism was far from being solved. The experience of African American shipyard workers during the 1940s and their involvement in the larger challenge of unjust labor rights and civil rights helped pave the way for future movements which sought full equality as citizens of the United States of America.
Kaiser Shipyard No. 3 was documented by the Historic American Engineering Record (HAER) team during the autumn of 2001. The project was completed in partnership with the Rosie the Riveter/World War II Home Front National Historic Park and the California Coastal Conservancy through the City of Richmond. HAER also documented the SS Red Oak Victory, constructed at the Kaiser Ship Yards in 1944.