Nancy Davis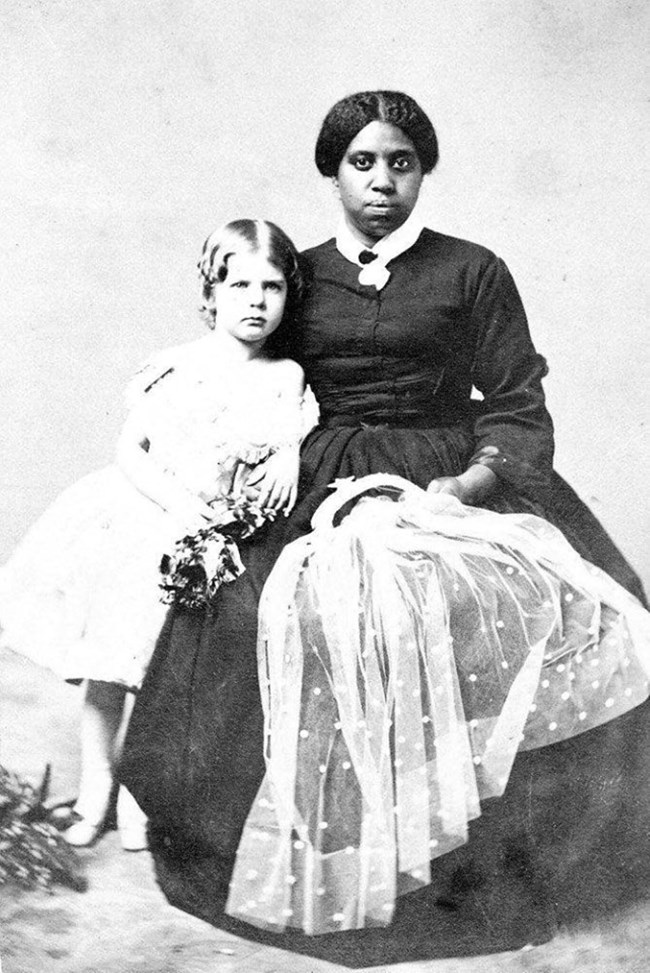 Nancy was born on Cowpens Plantation (the farm immediately east of Hampton) to Ambrose Brown, the Ridgely's "old marketman at Cowpens." The identity of her mother was unknown until discovered through recent Ethnography Project research. Her mother, Polly Batty had been enslaved by Gov. Charles Carnan Ridgely until 1829 and labored, along with several other Batty family members, at the Northampton Furnace. Polly Batty was freed in 1838, when Nancy was just five years old. Some members of the Batty family eventually settled in York County, PA, while another branch remained in the Towson area. Nancy could not leave with her mother, but she eventually received her freedom in 1858.

Nancy's principal role in the Howard and Ridgely households was childcare. She looked after three generations of children over her long life beginning with the four Howard boys (James Howard describes: "she used to have charge of my brothers and myself, as she was a big girl when we were little"); Charles and Margaretta Ridgely's seven children and John and Helen Ridgely's children. Nancy also served the family as a nurse and chambermaid, returning to the Howards in this capacity while the Ridgelys were in Europe in 1870-72. Nancy also traveled back and forth between Hampton and town when the family did. Sometimes she is also listed in census records as living in a separate household in town with her husband, Louis Davis. Louis had been a house servant at Hampton as an enslaved person and later worked as a freeman as a coachman to Mr. John A. Hambleton in Baltimore City. Louis and Nancy lived in a four-family house at 37 Orchard Street, Ward 11, Baltimore City.

Although Nancy and Louis Davis had no children, Nancy does have living relatives that descended from one of her younger brothers, Daniel Brown. Dan Brown and his brother Sam both worked at Hampton as paid farm laborers in the 1870s and 1880s. Dan's daughter Fanny Brown Jackson recalled living at Hampton in her early childhood and Fanny's great grandson has now visited Hampton and shared important family documents and information with the Ethnographic Study team.

She died at Hampton on April 21, 1908, in a room on the first floor of the Octagonal Servants Quarters. After lying in state in the Great Hall, she was buried in the Ridgely Family cemetery.
Last updated: June 6, 2020