Alerts & Conditions
Loading weather forecast...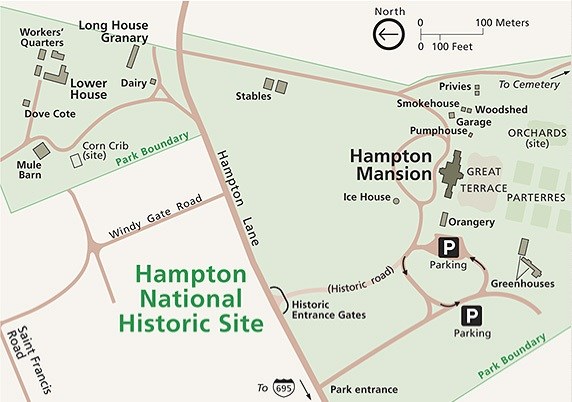 Parking
Parking is only permitted within designated areas of Hampton National Historic Site. There are three (3) parking areas within the park:
The Main parking lot located next to the Visitor Contact Station.

The Upper parking lot located near the Orangery.

The Lower Farm parking lot near the Mule Barn (not shown on map).
Parking is available 8:30 am - 5:00 pm, seven days a week. Parking will be unavailable on days when the park is closed. Overnight parking and parking outside of the designated times is not permitted.

Parking is not permitted within any other areas of the park. The following areas of Hampton National Historic Site are also closed to parking:
In front of and/or blocking park gates and roadways.

On the grass in front of the park along Hampton Lane. These areas are considered within the boundary of Hampton National Historic Site and are not designated for parking.
Violation of park policies and laws regarding motorized vehicles can result in a federal citation.36 CFR § 4.12 and 4.13. Additional information regarding park policies can be found in the Superintendent's Compendium.
Last updated: July 23, 2021