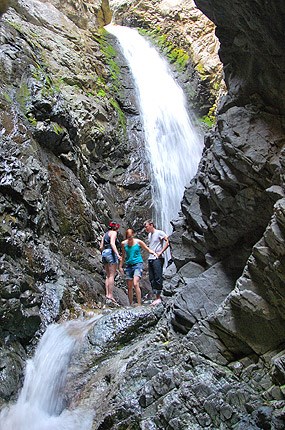 Zapata Falls
This popular short hike is located on BLM (US Bureau of Land Management) land south of the national park, off of Highway 150. It is a good option for summer afternoons when sand surface temperatures are high. Simply driving to the trailhead provides an excellent view of the entire dunefield and San Luis Valley. However, the hike to the falls requires wading over slippery rocks into a rock crevasse.
From the Visitor Center, drive south 8 miles, then turn left (east) onto a dirt road marked by a large sign. Drive 3.5 miles to the trailhead. To view the falls, hike 1/2 mile, and wade into a crevasse where the 30 ft. high falls cascade onto a ledge.
Caution: Rocks are slippery. Water may be deep and swift in early summer during snowmelt, or during heavy thunderstorms. Rarely, rocks may fall from above into the crevasse. In winter, the falls freeze, creating an icy sculpture. Ice and snow may make the hike very slippery. Falling ice may be a hazard in spring.
Near the trailhead is Zapata Falls Campground, a primitive campground open year-round.
Contact: Bureau of Land Management, 1803 West Highway 160, Monte Vista, CO 81144, 719-852-7074.