Basic Information

Welcome to Great Sand Dunes!






Exploring Dunes, Grasslands, Forests, Lakes, and Alpine Peaks
Many visitors are surprised at the huge size and diversity of this park, and wish they had planned more time. Plan your visit to experience at least two or three ecosystems during your stay to have the most fulfilling visit. Discover Things to Do and how to experience them. View a Map of Permitted Pet Areas.
Spending the Night
Find detailed information on camping and lodging options in and near the park, or link to make reservations at Piñon Flats Campground in the national park. Plan ahead to experience the night at Great Sand Dunes.
Be Prepared
Be sure to check our Conditions to Expect Each Month to be prepared for the time you plan to visit.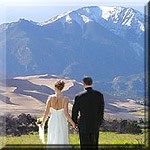 (Weddings, Filming, Research)
Last updated: June 14, 2022