Calendar
2018 Calendar of Events
More events will be added as they are confirmed!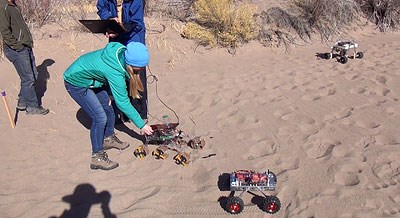 Saturday, April 14, 8:00am-11:30am
Sand Robotics Challenge, Sponsored by NASA and Adams State University
Great Sand Dunes are very similar to the dunes on planet Mars, where NASA rovers explore and do scientific research. Each spring, NASA and Adams State University sponsor a sand robotics challenge, where college student teams and the general public can compete with their own homemade rovers and learn about the technology of Mars rovers! The competition takes place in the Medano Creekbed, outside the designated wilderness area of the dunefield. Learn more on the
Colorado Space Consortium's website
. Free entrance to the park this day!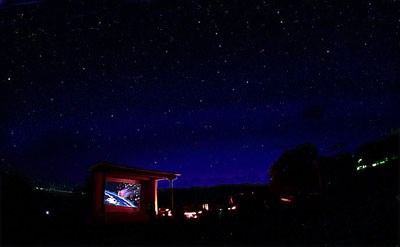 Friday, May 25 - Saturday, September 29
Summer Ranger Programs
Evening programs or night hikes will be offered on most weekends in the summer at the outdoor amphitheater. Afternoon programs on weekends and some weekdays will allow visitors to learn more about the unique resources of Great Sand Dunes. View the current
ranger program schedule
.

Friday, May 25 - Monday, September 3
Extended Visitor Center Hours
Great Sand Dunes will offer extended visitor center hours starting Friday, May 25 through Labor Day weekend. The visitor center will be open daily from 8:30am to 5pm.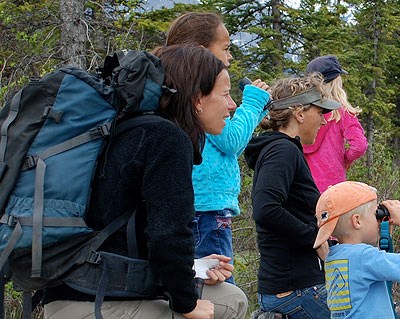 Saturday, July 28
Free Guided Bird Walk along Mosca Pass Trail
Celebrate the
Year of the Bird
! Join
Dr. Tim Armstrong of Adams State University
for a morning guided walk along the Montville Nature Trail to learn about the species of birds that call Great Sand Dunes home. Meet at the visitor center at 8:00 a.m. for a 2 hour walk.
Please call the visitor center at 719-378-6395 to register by July 27; group size is limited to 10 people.
Bring water and binoculars.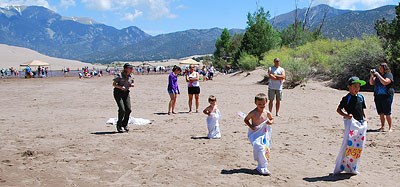 Saturday, August 4, 9 am – 1 pm
Junior Ranger Day
Junior Ranger Day is an opportunity for kids of all ages to participate in exploratory activities at the South Ramada picnic area, adjacent to the Dunes Parking Area. Participants will have the opportunity to earn prizes after completing a variety of activities. This event is made possible with generous support from Friends of the Dunes and the staff and volunteers at Great Sand Dunes. Free entrance for all visitors this day!
Saturday, August 11, 11:00 am - 3:00 pm
Celebrating Cultural Experiences in the San Luis Valley: Mountain Man Encampment
In the 1700s, "Mountain Men" were some of the earliest known people of European descent to live in the San Luis Valley. They had to be savvy and rugged, able to negotiate with American Indians, soldiers, and settlers while living off the land in the remote Rocky Mountain backcountry. San Luis Valley historian, Jack Rudder, will create a mountain man encampment at the visitor center, with numerous items that would have been used by mountain men in this area. Stop by and discover this little-known part of San Luis Valley heritage!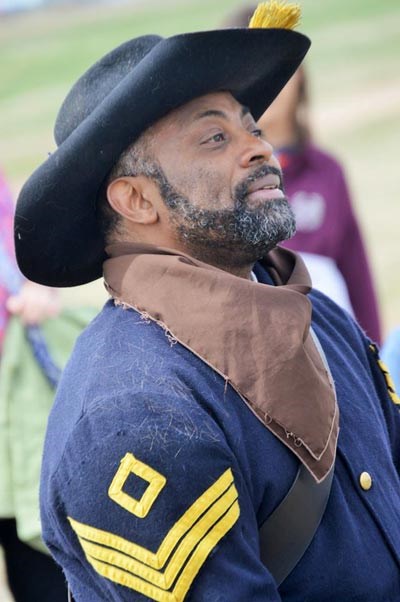 Saturday, August 18, 11:00 am - 3:00 pm and 7:00 pm - 8:00 pm
Celebrating Cultural Experiences in the San Luis Valley:
Buffalo Soldiers Living History
Few realize that African American Buffalo Soldiers from the US Army patrolled the Great Sand Dunes area 140 years ago. Based at nearby Fort Garland, these soldiers sometimes faced prejudice, yet courageously and sometimes heroically served their country while protecting area settlers and American Indians. Stop by the visitor center this Saturday, August 18, between 11am - 3pm to visit with Buffalo Soldier reenactors with encampment gear, and learn about their life on America's frontier. There will also be a more formal presentation from 7pm to 8pm at the park Amphitheater. Discover this little-known part of San Luis Valley heritage!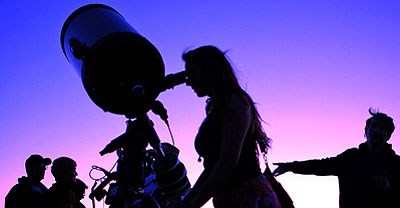 Saturday, September 8, 8:30 pm
Amateur Astronomy Night
Astronomers of all levels are invited to Great Sand Dunes to share their time and telescopes to engage the public with unique astronomy experiences. Participate in telescope viewings of deep space objects, planets, and other unique celestial objects from a variety of scopes. Visitors are invited to bring their own telescope and share their knowledge, experience and passion with visitors, alike. Warm clothing, rain gear, head lamps with red lights, and sturdy shoes are recommended.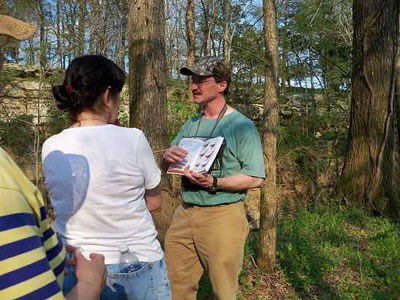 Saturday, September 15, 4:00-5:00 pm
Guided Bird Walk along Mosca Pass Trail
Celebrate the
Year of the Bird
with a free guided birding hike along Mosca Pass Trail. Join
Joe LaFleur
for a free guided bird walk that features hands-on identification of migrant and resident birds in habitats including forest, creek and meadow. Beginners are welcome, ages 10 and up; bring binoculars and good walking shoes.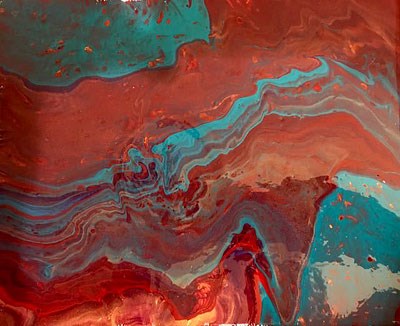 Saturday, October 6, 2:00-4:30pm
Abstract Painting Workshop with Paula Jo Miller
Painters of all ability levels are invited to a free workshop with Colorado abstract painter Paula Jo Miller. You can bring your own paints and canvas, or materials can be provided at no charge. The workshop will take place at the Great Sand Dunes Visitor Center, with a mix of indoor and outdoor work.
Great Sand Dunes, with their sweeping forms and colors, are abstract art in themselves, so an abstract approach is a natural way to capture the subtle colors and shapes of the dunes and their surroundings.
Class is limited to only 8 participants, so reserve your spot before this workshop fills up! Call 719-378-6343 to leave your information for a callback.
Learn more about Paula Jo Miller's work on her website:
http://www.paulajomiller.com/
.
Event Results
Sorry, but there are no events between 08/17/2018 and 09/16/2018