Calendar
2019 Calendar of Events
More events will be added as they are confirmed!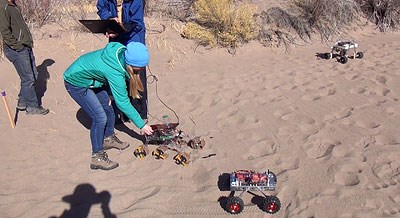 Saturday, April 13, 8:00am-11:00am
Sand Robotics Challenge, Sponsored by NASA and Adams State University
Great Sand Dunes are very similar to the dunes on planet Mars, where NASA rovers explore and do scientific research. Each spring, NASA and Adams State University sponsor a sand robotics challenge, where college student teams and the general public can compete with their own homemade rovers and learn about the technology of Mars rovers! The competition takes place in the Medano Creekbed, outside the designated wilderness area of the dunefield. Learn more on the
Colorado Space Consortium's website
. Free entrance to the park this day!
A free ranger program related to the event will take place at the visitor center from 11am-Noon:
Parks & Planets: How NASA Research in the National Parks Aids Space Exploration
. The ranger will discuss dune and wind research at Great Sand Dunes and the findings on Mars, as well as show research being done in other National Parks by NASA.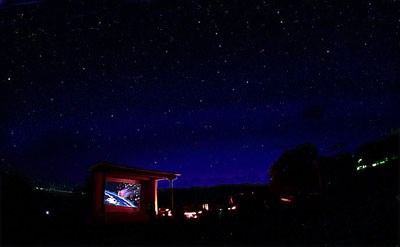 Friday, May 24 - Saturday, September 28
Summer Ranger Programs
Evening programs or night hikes will be offered on most weekends in the summer at the outdoor amphitheater. Afternoon programs on weekends and some weekdays will allow visitors to learn more about the unique resources of Great Sand Dunes. View the current
ranger program schedule
.

Friday, May 24 - Monday, September 2
Extended Visitor Center Hours
Great Sand Dunes will offer extended visitor center hours starting Friday, May 24 through Labor Day weekend. The visitor center will be open daily from 8:30am to 5pm.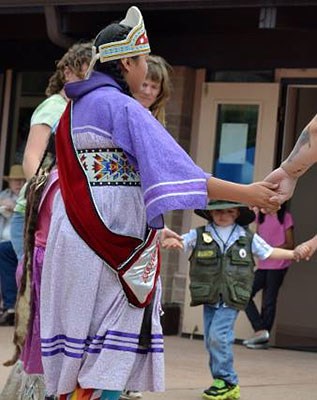 Saturday, July 13
Jicarilla Apache Stories, Crafts, and Dance
Jicarilla Apache have a longtime connection with Great Sand Dunes. Members of the tribe will share their culture through a variety of artforms during this special day. Informal storytelling, crafts, and sharing will take place at the Great Sand Dunes Visitor Center from 10:00 am -3:00 pm. Then at 6:00 pm and 7:00 pm, the Jicarilla Apache Mundo Dancers will take the stage at the park Amphitheater for two 30-minute presentations.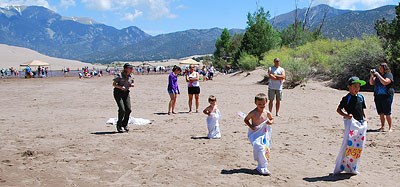 Saturday, August 3, 9 am – 1 pm
Junior Ranger Day
Junior Ranger Day is an opportunity for kids of all ages to participate in exploratory activities at the South Ramada picnic area, adjacent to the Dunes Parking Area. Participants will have the opportunity to earn prizes after completing a variety of activities. This event is made possible with generous support from Friends of the Dunes and the staff and volunteers of Great Sand Dunes.
Saturday, August 17, 1:00 pm
Visitor Center
Japanese Heritage of the San Luis Valley
Lifelong valley resident and historian Bessie Konishi will share photos and stories of the thousands of Japanese Americans who settled in this valley beginning in the early 20th century.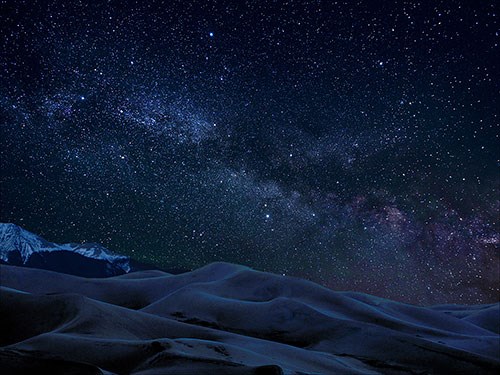 Saturday, August 24, 6:30 pm - 10:30 pm
Great Sand Dunes Dark Sky Celebration
Great Sand Dunes NPP has just been designated an official International Dark Sky Park by the International Dark Sky Association. Celebrate this important international recognition and experience the beauty of the night with park staff and amateur astronomers. More details will be posted as they are confirmed.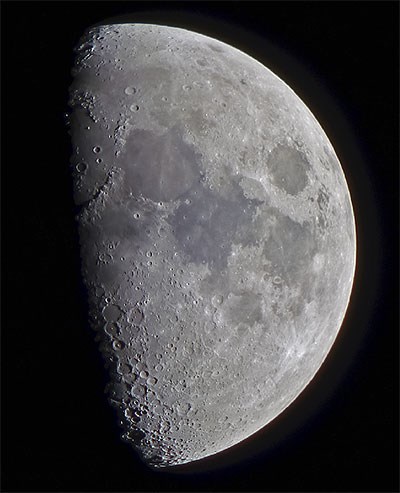 Saturday, September 7, 8:00 pm
Celebration of the Moon
In honor of the 50th anniversary of NASA's first Apollo mission to the surface of the moon, join us for a special evening program about our Moon and NASA's lunar exploration. This program takes place during a 2/3 full moon for optimum lunar crater viewing, weather permitting. More details will be posted this summer.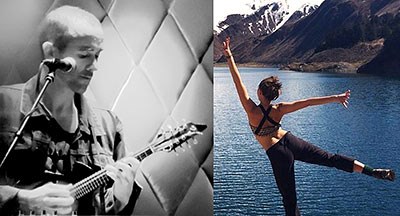 Saturday, October 5

Dunes Dance and Music Workshop
Dance and music duo Erica Prather and Kevin Larkin will create an opportunity for visitors to the Great Sand Dunes National Park and Preserve on October 5, 2019. Their concept "Micro Motus and Musicorum" - tiny movement and music - will engage park visitors to experience the park by exploring concepts that relate to both forms of artistic expression.
What aspects of the sand dunes ecosystem might we miss in our pursuit to climb them? How do you move differently on sand? What does sand sound like? What wildlife, large or small, can be found at the park? How do they move? What sounds do they make? Visitors will make shakers out of sand, imitate animal movements, and explore the unique landscape through creativity.

Time, length, and other details about this unique program will be posted soon!
Search Filters
By Park
By State/Territory
By Event Type


Last updated: June 12, 2019