Calendar
This page features special events planned for 2023 at Great Sand Dunes. There are no reservations or fees for these events, but regular park entrance fees are in effect.

For the schedule of regular afternoon and evening programs, please visit our Ranger Programs page.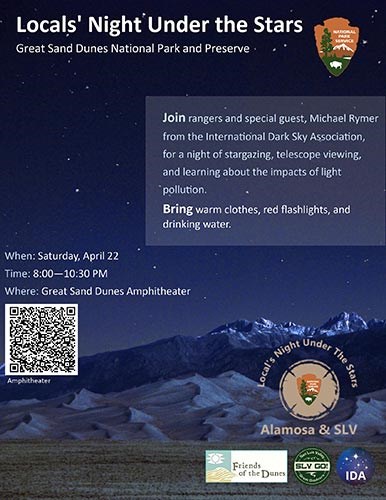 Saturday, April 22, 2023
Amphitheater
Locals' Night Under the Stars
Guest Speaker Michael Rymer from the International Dark Sky Association will present on the importance of preserving natural darkness. SLVGO will also share their work on the proposed Sangre de Cristo Dark Sky Reserve. Friends of the Dunes is helping to sponsor this event and will be present. The presentation will be followed by stargazing and telescope viewing.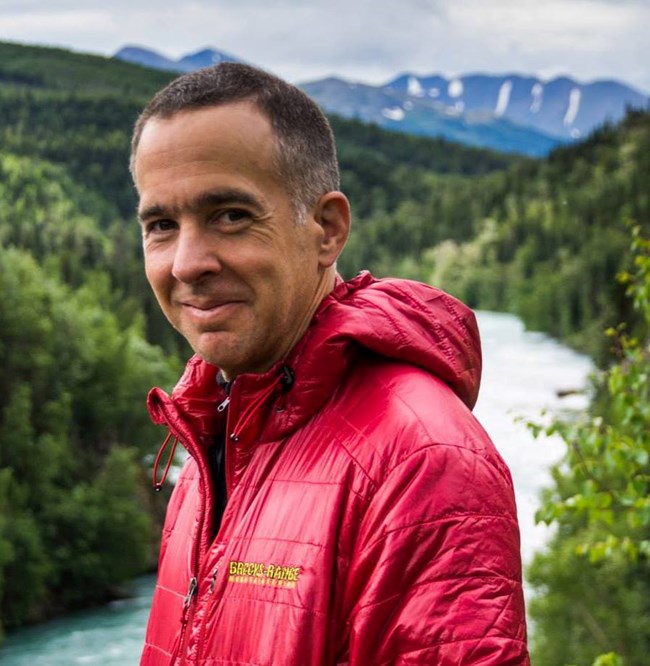 Thursday, May 4, 2023 and Friday, May 5, 2023
3:30 pm
Amphitheater
Wild Music: A Composer's Obsession with America's National Parks
with Composer Stephen Lias

What happens when the wildness of trail, river, and mountain intrude on the velvet seats and hushed silences of the concert hall? What does a sunrise sound like? How can violins express the movement of Caribou? Adventurer-Composer Stephen Lias thinks a lot about these questions. In his pursuit of answers, he has served as Composer-in-Residence for Rocky Mountain, Glacier Bay, Denali, and Gates of the Arctic National Parks, Glacier, and others, and his compositions have been performed in such far-flung places as Texas, Australia, Taiwan, Alaska, and Venezuela. In this engaging presentation, you will explore the many ways that adventure, scenery, fear, history, wildlife and geology can be translated into music. You'll hear audio excerpts from a variety of musical compositions and you'll learn how the worlds of Steinway and Gore-Tex go together like fine coffee and a mountain sunrise.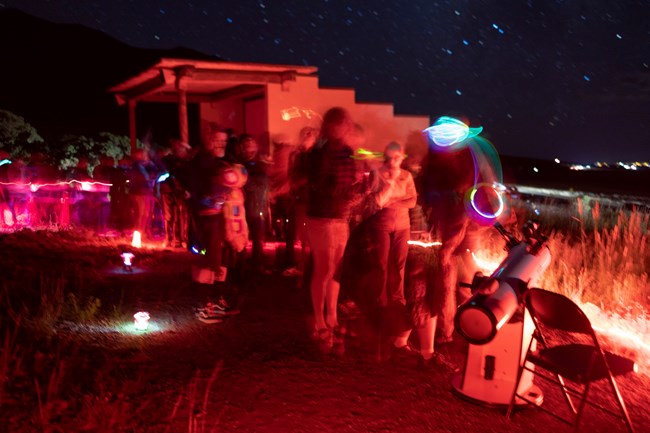 Saturday, May 20, 2023
Amphitheater
A Night with NASA
Guest speakers from NASA's Goddard Space Flight Center will share the next space telescope mission, the Roman Space Telescope. The presentation will be followed by stargazing and telescope viewing. Also attending this program are the Colorado Springs Astronomical Society, International Dark Sky Association, and other park partners. https://roman.gsfc.nasa.gov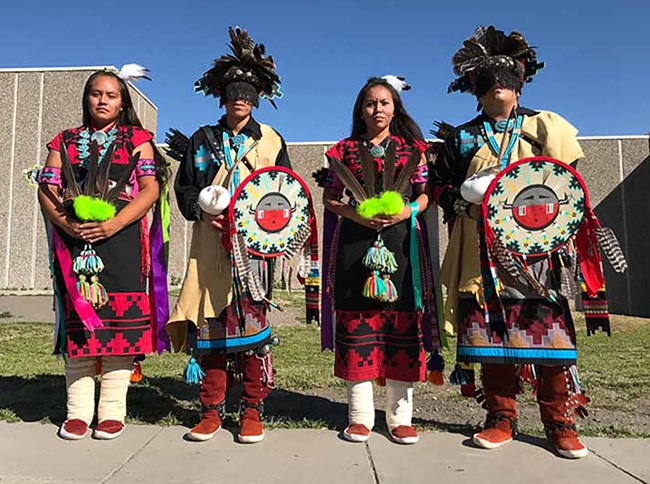 Saturday, June 3, 2023
Lecture on the Navajo Treaty of 1868

3:30 pm, Visitor Center

Dineh Tah' Navajo Dancers

6:00 pm, Amphitheater
The 1868 Navajo Treaty was a painful chapter in the history of the Navajo (Dineh) people. At 3:30 pm in the Visitor Center Auditorium, join Shawn Price for a 45-minute lecture about the history surrounding this controversial treaty. At 6:00 pm at the park's outdoor Amphitheater, the Dineh Tah' Navajo Dancers will perform traditional dances. The program is free, but regular entrance fees are in effect.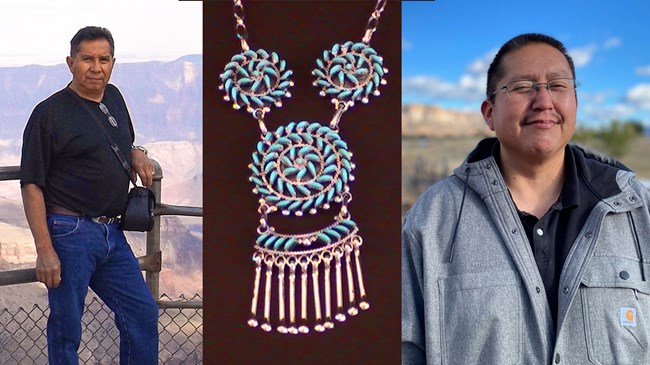 Saturday, July 22, 2023
10:00 am
Visitor Center Auditorium
Zuni Culture and Jewelry
with Guest Speakers Octavius Seowtewa and Curtis Quam

The Zuni are one of Great Sand Dunes' affiliated tribes, with a heritage in this region dating back countless generations. Using images and video in the Visitor Center Auditorium, Zuni guest speakers Octavius Seowtewa and Curtis Quam will present Zuni history, culture, and jewelry.

Octavius Seowtewa is a skilled silversmith by trade and with his wife, create beautiful award-winning needlepoint jewelry. His other area of expertise is being the Zuni Cultural Advisory Team Supervisor. Appointed by Zuni Tribal Council over 25 years ago, He has dedicated much of his time to ensure the voice of Zuni people are heard and present. Octavius is very knowledgeable in Zuni culture and makes every effort to pass the information onto the next generation of Zunis.

Curtis Quam was born and raised in Zuni, NM. He currently oversees the A:shiwi A:wan Museum and Heritage Center and has been with the museum since 2002. He has been fortunate to work alongside cultural bearers and elders to learn more about Zuni's deep history and transfer that knowledge to community members as well as outside interested audiences. Curtis has helped with all Museum programming and was the Project Manager for the A:shiwi Map Art Exhibition. Most recently, Curtis helped coordinate an effort to revive Delapna:we (Traditional winter stories), under, Ho'n A:wan Productions. He has also helped the Museum develop a virtual exhibition page on Google Arts and Culture.

Curtis is also a member of the Zuni Cultural Resource Advisory Team and on a few local committees and board member for organizations outside of Zuni. He resides in Zuni, NM with his wife Tara and two daughters, Amarii and Khloe. Included is the eldest daughter Lani and several godsons. Family is very important, and they enjoy traveling, exploring and learning about different cultures and how they may or may not be similar to Zuni.

This free presentation is sponsored by Friends of the Dunes and Western National Parks Association. Regular park entrance fees are in effect.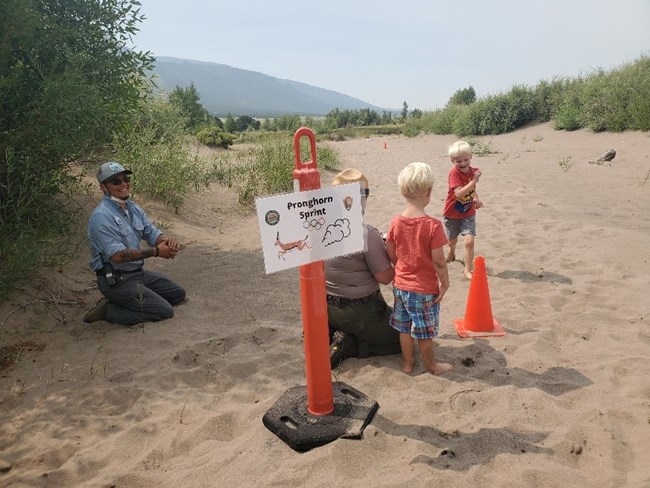 Saturday, August 5, 2023
9:00 am - 1:00 pm
Dunes Parking Area
Junior Ranger Day
Join us for Junior Ranger Day August 5 from 9am – 1pm! Park at the Dunes Parking Area and follow signs to the registration table to get started. There will be various stations where kids can interactively learn about the dunes, artifacts, fossils, and wildlife, and earn prizes upon completion. Stop by anytime between 9am and 1pm to participate!

This special annual event is sponsored by Friends of the Dunes, a non-profit citizen's support group for Great Sand Dunes National Park and Preserve. In cooperation with the National Park Service, the Friends provide a forum for citizen involvement in planning decisions, focus public interest on issues and need, and provide volunteer and financial aid for projects beyond the scope of the park's budget. Learn more: http://www.friendsofgreatsanddunes.org/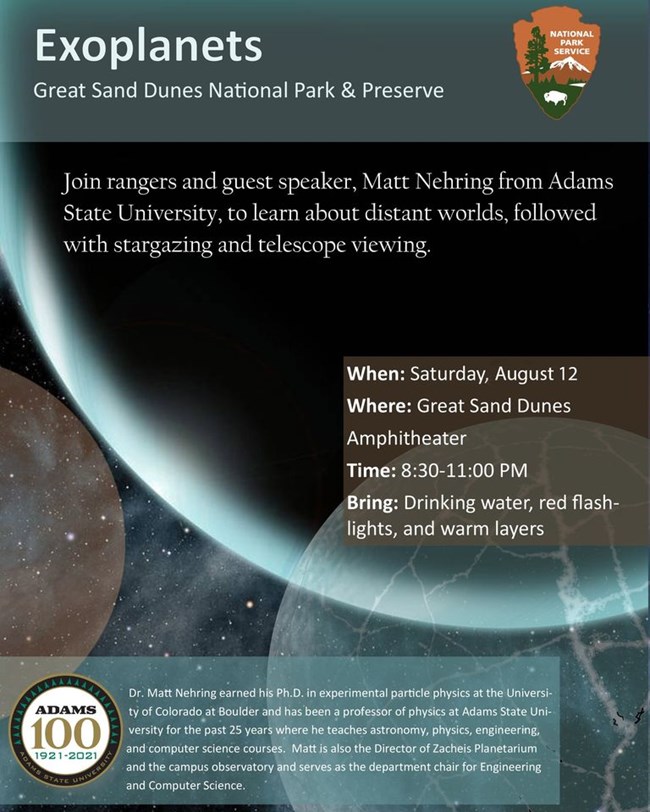 Saturday, August 12th, 2023
8:30 pm - 11:00 pm
Amphitheater
Special Evening Program: Exoplanets
Thousands of exoplanets (planets outside our Solar System) have been discovered in the past 25 years. A special evening presentation by Dr. Matt Nehring will consist of an intriguing, but non-technical presentation consisting of a brief discussion of the history of exoplanet searches; an introduction and description of methods for identifying these worlds; an overview of our current knowledge in this field; and finally, peer into what we might expect in the coming decade.

A kids' table will be available during the presentation. Bring drinking water, red flashlights, and warm clothing layers.
Dr. Matt Nehring earned his Ph.D. in experimental particle physics at the University of Colorado at Boulder and has been a professor of physics at Adams State University for the past 25 years where he teaches astronomy, physics, engineering, and computer science courses. Matt is also the Director of Zacheis Planetarium and the campus observatory and serves as the department chair for Engineering and Computer Science.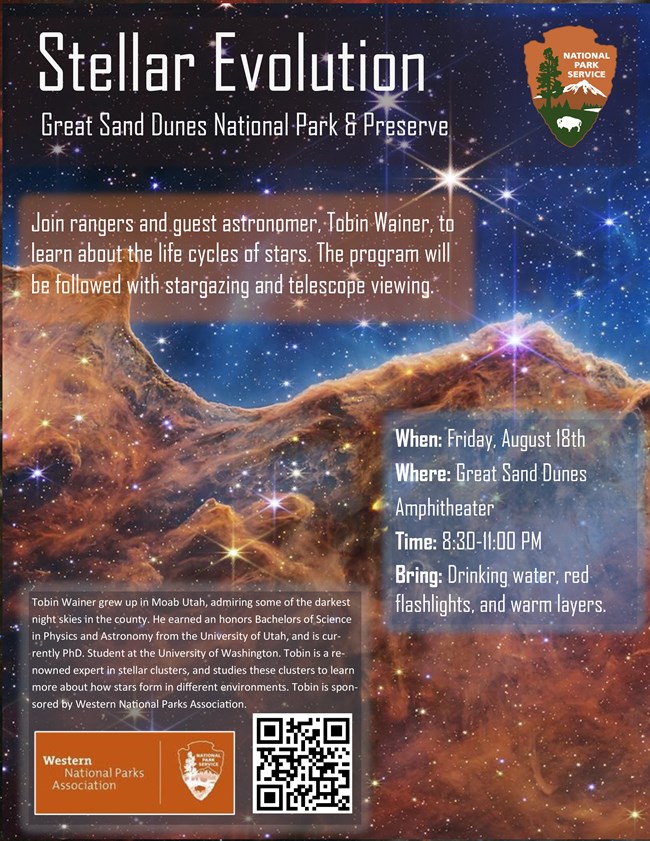 Friday, August 18, 2023
8:30 pm - 11:00 pm
Amphitheater
Special Evening Program: Stellar Evolution
Join rangers and guest astronomer, Tobin Wainer, to learn about the life cycles of stars. The program will be followed with stargazing and telescope viewing. Please bring drinking water, red flashlights, and warm clothing layers.

Tobin Wainer grew up in Moab Utah, admiring some of the darkest night skies in the county. He earned an honors Bachelors of Science in Physics and Astronomy from the University of Utah, and is cur-rently PhD. Student at the University of Washington. Tobin is a renowned expert in stellar clusters, and studies these clusters to learn more about how stars form in different environments. Tobin is spon-sored by Western National Parks Association.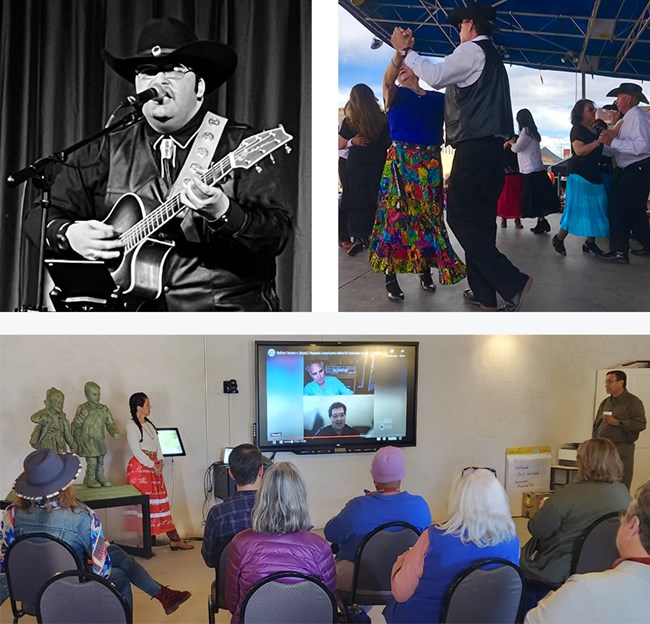 Saturday, September 16, 2023
Visitor Center and Amphitheater
Hispanic Heritage Month Celebration
Learn about and celebrate Hispanic heritage of the San Luis Valley to kick off Hispanic Heritage Month! All events this day are free, but regular park entrance fees are in effect. Amphitheater events are weather permitting.

3:30 pm
Visitor Center
The Maestas Case

In Alamosa in 1912, Hispanic students were segregated from white students, but parents organized to oppose it, resulting in the nation's first educational desegregation case. Martin Gonzalez and Katie Dokson present the background of this landmark legal decision. A bronze relief statue commemorating the case by artist Sonny Rivera will be on display during the presentation.

6:30 pm
Amphitheater (weather permitting)
Los Vecinos Bailadores

This traditional dance group from the San Luis Valley performs in the open air of the park amphitheater as the sun sets across the valley.

7:30 pm
Amphitheater (weather permitting)
Rubén Domínguez

Born and raised in northern New Mexico and the San Luis Valley, Rubén Domínguez plays guitar and sings in a blended style of traditional and contemporary Hispanic music.

8:30 pm
Amphitheater (weather permitting)
Evening Ranger Program

After dark, join a ranger to learn about aspects of the night sky and universe. Constellation tour after the program. 40 minutes.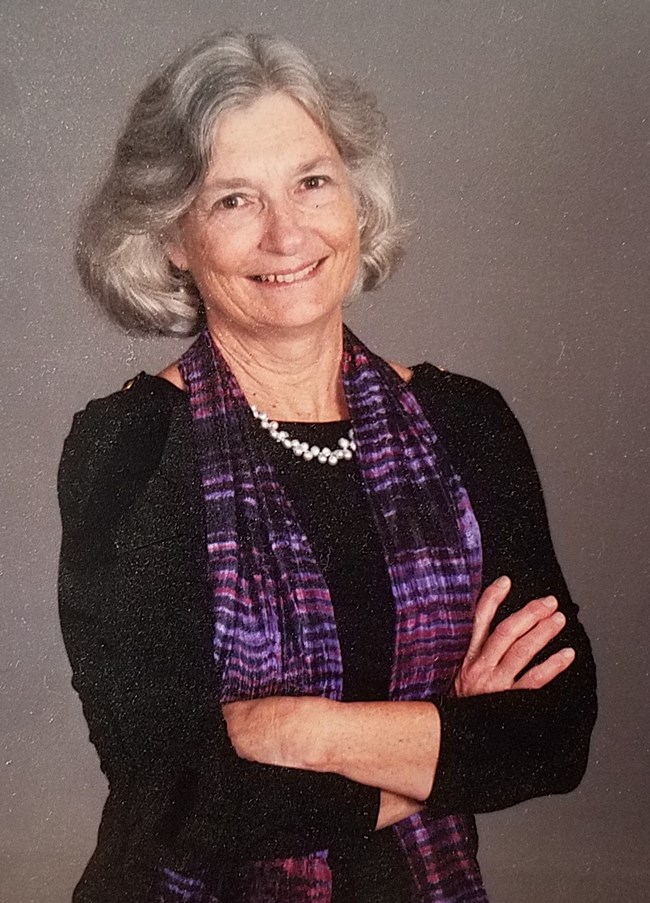 Saturday, October 7, 2023
10am-Noon
Meet at Dunes Parking

Sunday, October 8, 2023
11am-1pm
Meet at Dunes Parking

Free Nature Haiku Workshops
Watercolor artist and poet Nancy Arbuthnot will lead 'Nature Haiku' workshops on October 7, 10-12 am and October 8, 11-1 pm. These are designed for all ages, though parents should accompany children under 14. Materials are provided at no cost. There is a limit of 12 people for each workshop; sign up in advance by calling 719-378-6343. Please leave a message with participant names, ages, and a phone number; we will confirm your reservation.

Participants will first go on a short hike with brief stops to sketch and jot down observations of 3-5 different animal and plant species. The workshop itself will be devoted to creating a handmade journal of animal and plant 'portraits' from the sketches and poems from the written observations. We will use ink pens and origami papers for the final sketches, and look at examples of classic Japanese haiku to polish notes into short poems or prose pieces. Participants will also have the opportunity to decorate the journal cover and share their work.
View Nancy's work and biography at www.nancyarbuthnot.com . This program is sponsored by Western National Parks Association.


Last updated: October 2, 2023