Pets
Protect your pet, other visitors, and park resources by following these guidelines and regulations: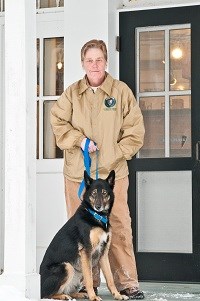 Regulations
Pets must be restrained on a leash that is six feet or shorter in length on all park lands at all times.
Pets should not be left unattended. Summer sunshine poses a threat to pets in vehicles.
Human companions are responsible for cleaning up and depositing pet waste in trash receptacles.
Where Are Pets Allowed?
There are over 110 miles of hiking trails and 20 of the Towpath Trail in the park where pets are permitted.
Where are Pets Not Allowed?
In any park building, with the exception of service dogs
On the Cuyahoga Valley Scenic Railroad Train
On the East Rim mountain bike trails
Pet Safety

Keeping pets on trail and on leash will minimize exposure to poison ivy and ticks.
Restrictions on pets in parks are as much to protect your pet as to protect park resources.
Use extra caution when hiking in icy and snowy conditions with pets.
Carrying extra water is advised, especially during hot months and long trips
Tick Safety
Ticks can be found in tall grasses, on ground cover, and near structures and woodpiles. They cannot jump, fly, or fall from trees but will attach to pets and people as they walk by. The tick population is high this year. Ticks are active from early spring until late fall. The risk of exposure to ticks and disease can be reduced by using these precautions.
Consider purchasing tick prevention products for your pets, like tick collars, sprays, and gels. Talk to your local veterinarian for more guidance.
Avoid wooded or weedy areas on trails
Tuck pants into socks or boots
Wear light-colored clothing to easily find ticks
Use repellents and follow label instructions
Check children and pets for ticks after hiking or playing outside
Remove ticks as soon as you find them.
If you are bitten by a tick, do not panic. Carefully remove the tick, including its mouth parts, from your skin using tweezers . Monitor your health the following days.
For more information on ticks visit the
Ohio Department of Natural Resources
webpage.
Service Animals
Service animals may accompany their owner to all park locations.
Last updated: May 21, 2020