Pets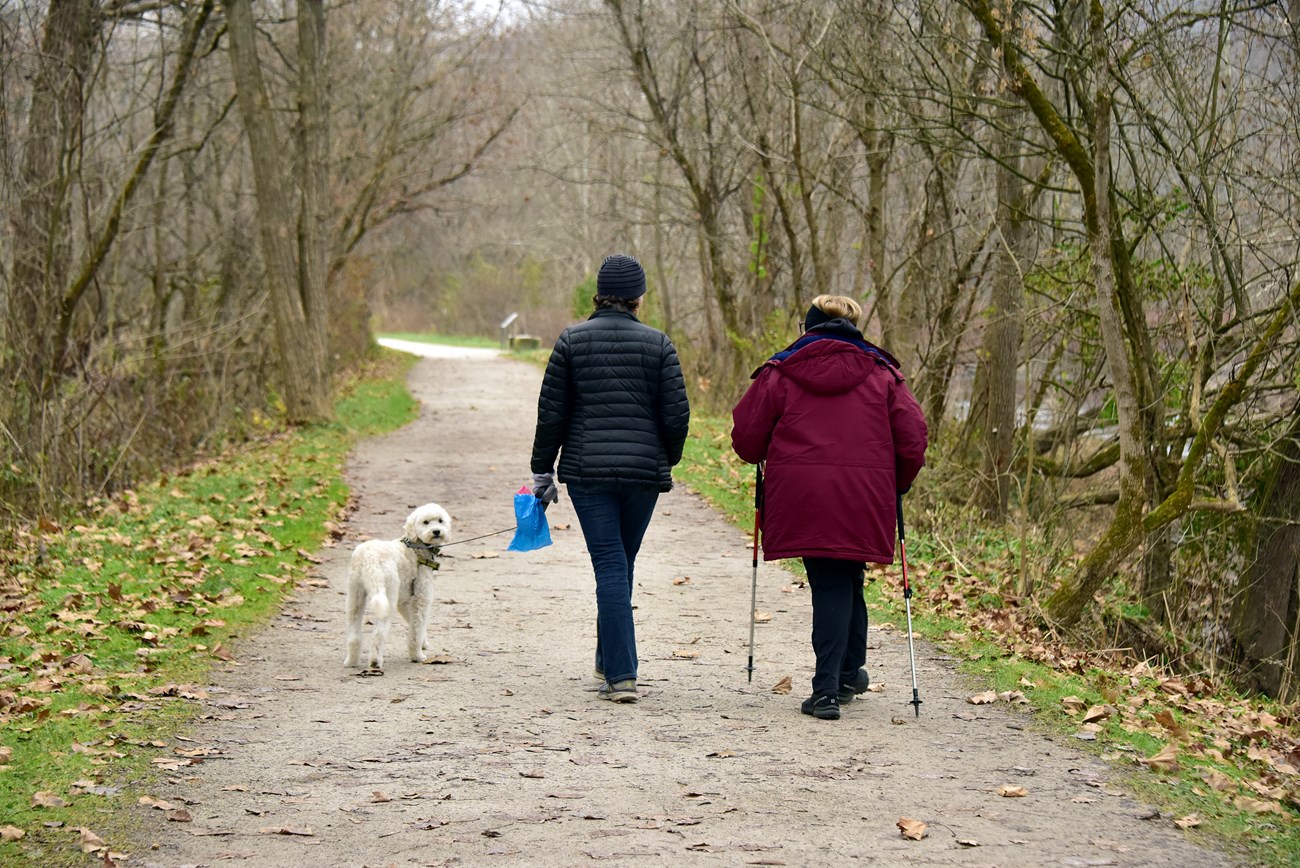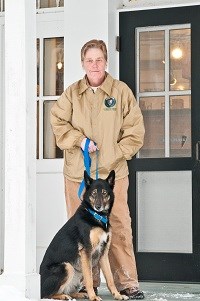 Fresh air and exercise are good for our health—and many of us enjoy walking in the park with a furry friend. With a few exceptions, leashed pets are welcome at Cuyahoga Valley National Park. Protect your pet, other visitors, and park resources by following these rules and guidelines:
What types of pets are allowed?
Within the national park, pets are defined as dogs, cats, or "any animal that has been domesticated."
Where are pets allowed?
Where are pets not allowed?
Only service animals are allowed in park buildings and on the Cuyahoga Valley Scenic Railroad.

Pets and service animals are not allowed on the East Rim mountain bike trails.
Looking for short hikes?
Looking for longer hikes?
Pine Grove Trail: This is a 2.2-mile loop trail with slight elevation changes. It has a dirt and gravel surface. This hike passes above several ravines and connects to the Ledges Trail and trails in the Kendall Lake area.
Cross Country Trail: This is a 2.5-mile loop trail that takes you along forest and meadow ecosystems. It has several hills and is a dirt and gravel surface that may get muddy in wet weather. This hike connects to several trails in the Kendall Lake area including the Lake Trail.
Tree Farm Trail: This 2.75-mile loop trail is mostly flat with dirt, gravel and tree-rooted sections. This hike passes through a former tree farm. It skirts past Horseshoe Pond, a popular place for fishing in the national park. This trail will be muddy in wet weather.
Salt Run Trail: This is a 3.3-mile loop trail that takes you through a wooded area. It is a hilly trail with dirt and gravel surfaces as well as stairs. This hike has a shorter loop that is 1.8 miles on the same terrain and connects to other trails in the Kendall Lake area.
Buckeye Trail: This 7.1-mile loop takes you from the town of Boston to Peninsula and back using the Buckeye and Towpath Trails. The Buckeye Trail is a steep, hilly path with dirt and gravel surfaces while the Towpath Trail has a flat, crushed limestone surface. Following the blue blazes or paint marks on the trees, this hike crosses Boston Mills Road and passes scenic vistas along the Buckeye Trail. Once in the town of Peninsula, the Towpath Trail skirts along the Cuyahoga River and Ohio & Erie Canal on your way back to the town of Boston. Using a map is recommended for this hike.
Rules
Pets must be restrained on a leash that is six feet or shorter in length on all park lands at all times.

Pets should not be left unattended at any time.

Owners must clean up pet waste and throw it in a trash can.
Pet Safety
Keeping your pets on the trail and on a leash will reduce their exposure to poison ivy, ticks, and wildlife.
Carry extra water, especially during warm months and on long trips. Note which trailhead restrooms have water.
Bring pet treats to reinforce good behavior.
Do not leave pets in cars. On a 75°F day, inside car temperatures can reach 100 degrees in a matter of minutes, even with partially opened windows! Learn more by reading these temperature guidelines.

Use extra caution when walkways and trails are icy, snowy, or muddy.
Be Prepared
Make your pets' visit enjoyable too! Remember that you are taking your pet into a different environment and you are responsible for your pet. Do you have enough water for you and your pet? Does your pet have the ability to hike the trail you have chosen? Are you able to carry your pet if it gets tired? Many wild animals call this national park home. How will your pet react if you encounter a deer, a skunk, a chipmunk, a coyote, or a snake? With a little preparation, you and your pet can have a fun park visit together.

If you enjoy traveling to other national parks, find out where your dog can become a B.A.R.K. Ranger.
Last updated: January 18, 2022