Pets
Protect your pet, other visitors and park resources by following these guidelines and regulations: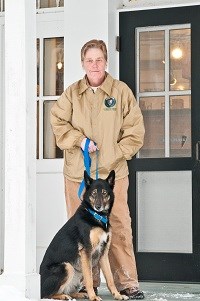 ---
Regulations
Pets must be restrained on a leash that is six feet or shorter in length on all park lands at all times.

Pets should not be left unattended. Summer sunshine poses a threat to pets in vehicles

.

Human companions are responsible for cleaning up and depositing pet waste in trash receptacles.
There are over 110 miles of hiking trails and 20 of the Towpath Trail in the park where pets are permitted.

Pets are permitted in the Stanford Campground
Where Pets Are Not Allowed
In any park building, with the exception of service dogs

On the Cuyahoga Valley Scenic Railroad Train
Pet Safety
Keeping pets on trail and on leash will minimize exposure to poison ivy and ticks.
Restrictions on pets in parks are as much to protect your pet as to protect park resources.
Use extra caution when hiking in icy and snowy conditions with pets.
Carrying extra water is advised, especially during hot months and long trips
Service animals may accompany their owner to all park locations.
Last updated: December 24, 2017